Latest News
Join the Green Team Summit Sept. 11–14 
Explore the intersection of spirituality, the environment, and justice.
Registration is free.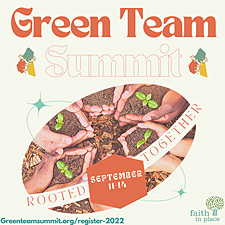 The United Women in Faith partner Faith in Place invites you to join this year's Green Team Summit: Rooted Together. The 7th Annual Summit takes place over six sessions, from September 11-14.
The summit will be a hybrid event, fully accessible online with in-person watch parties across Illinois, Indiana, and Wisconsin. The summit will engage faith and spiritual leaders from across the Midwest — connecting communities to environmental justice, healing, and climate resilience.
The summit's keynote speaker, Dr. Katharine Hayhoe, is the chief climate scientist for The Nature Conservancy and a distinguished professor and chair at Texas Tech University. She can often be found discussing why climate change matters and what we can do to fix it. United Women in Faith is a partner for this event.
All are welcome! See the agenda, learn more, and register for free at greennteamsummit.org.
Become a Sponsor
You can also help sponsor this event. This year Individual Sponsors can honor or recognize someone or something special. This special honor will remain on the Summit website for one year. Learn more here. Any donation is greatly appreciated! 
Faith in Place is a 501(c)(3) nonprofit organization that empowers people of all faiths to be leaders in caring for the Earth. They are the Illinois, Indiana, and Wisconsin Affiliate of Interfaith Power & Light.