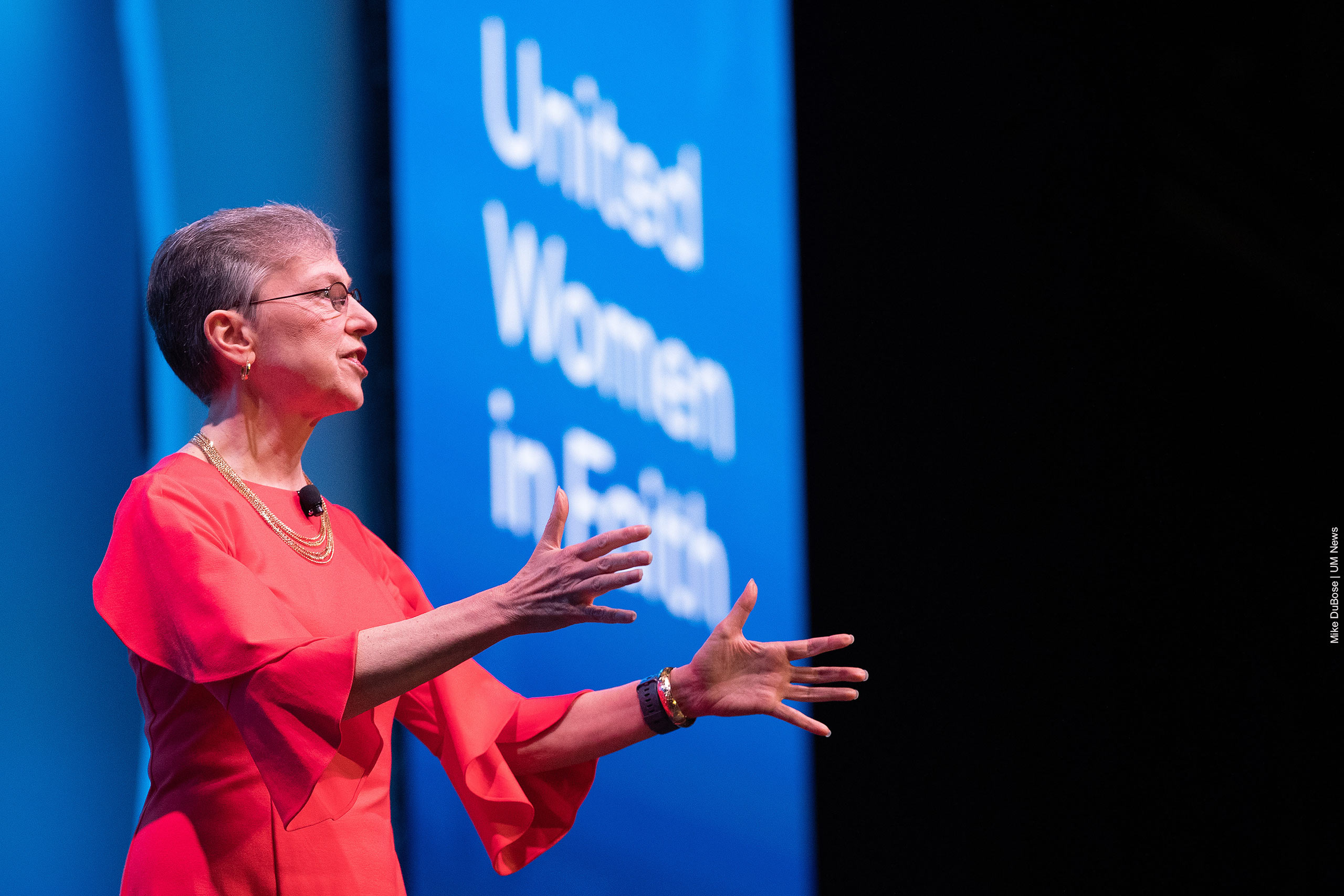 Latest News
July/Aug. response: Responsively Yours
Responsively Yours: Open to the Movement of God
Chances are, if you're reading this, you've been inspired by your faith, felt the Spirit calling to you, felt connected to a larger purpose. There's also a chance that when you've heard the Spirit call you've thought, "This can't be for me."
Sometimes we're nervous to say yes. United Women in Faith, this cannot be one of those times.
In this time, I challenge you to open yourselves to the movement of God. The vision we have set as United Women in Faith is based on deep listening and responding to what we have heard. We're working to offer women a space to breathe in God's Spirit and rest in God's love—the kind of place each of us yearns for.
Methodist founder John Wesley's understanding of coming to know God's love and holding onto God's love through ups and through downs is beautifully connected to the needs of our time. The women of every age encountered obstacles. They experienced setbacks and failures. But they were undeterred. We must not be deterred. God is calling us forward. It is a time to invite and welcome all who will join us.
The lives and livelihoods of women around the corner and around the world are vulnerable because of the cascading impacts of sexism, racism, bigotry related to sexuality and gender identity, country of origin, and on and on. United Women in Faith can be a place where women together address big challenges and inspire others to join in addressing big challenges.
I also challenge you to give. Our Mission Giving makes us part of something bigger than ourselves. This is something that women across the generations want to experience: being part of something bigger. Funding our work can be a challenge. But it can also be an opportunity. It's a chance to talk about the life-changing work of our national mission institutions, or the pilot projects led by our regional missionaries, or about our advocacy work making differences the world badly needs, or the powerful spiritual growth and transformative education offered through our events and resources, or the leadership development that helps us speak where and when it matters.
The debut of our new look and name has caught the attention of our members and of people across the church. Throughout our history we have consistently evaluated our work, looked at the needs of the world and redirected or innovated to better answer God's call. The needs of women and children compel us to look forward. Here we are stepping forward with joy and enthusiasm even in the unsettled times in our denomination. Share the enthusiasm. Share the excitement. Look for opportunities to answer questions. Try the new programs and resources. Point to the future. Tackle obstacles. Tell the story.
United Women in Faith, open yourself to inspiration. Remember the breath of God in all of the hard work and invite others to do the same. Be willing to talk about why what we do matters. This is a time to stand together with a long line of women. Thanks be to God for bringing us here and leading us in the exciting days to come.
Harriett Jane Olson
General Secretary
United Women in Faith
holson@uwfaith.org