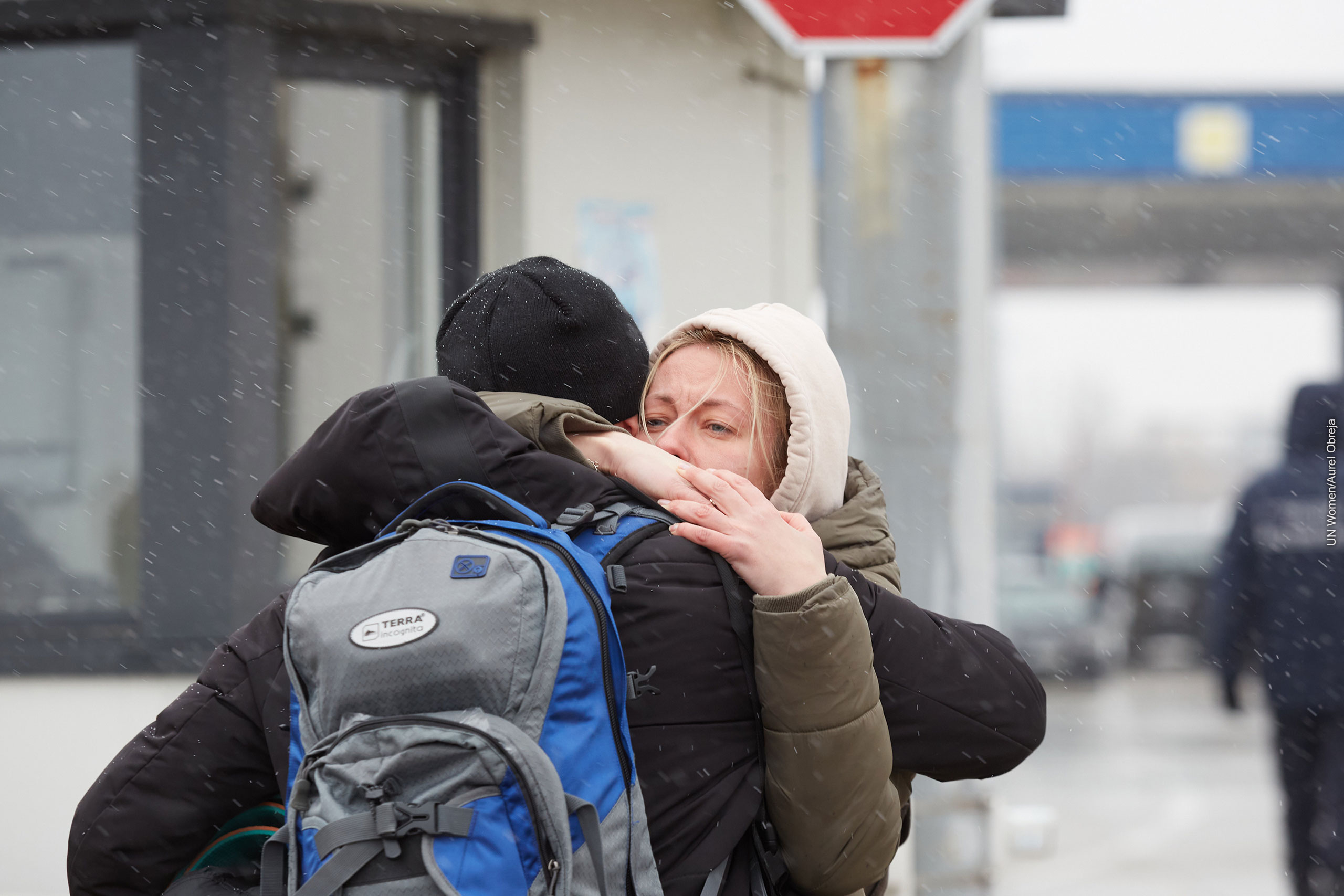 Latest News
In a Time of War, Eastern European Women Plan for Peace and Security
United Women in Faith holds the Women's Peace Dialogue Platform, where women share stories from Mariupol and Belarus.
by Tatiana Dwyer
When women gather for peace, change happens. Thirty women from 12 Eastern European countries attended the strategic meeting of the Women's Peace Dialogue Platform in Tbilisi, Georgia, in the summer of 2023. The meeting was initiated and co-sponsored by United Women in Faith.
As a founder of the Platform, UWFaith has supported a network of women peace and gender activists since 2015. This time it was more important than ever for Platform members to meet and discuss peace and security issues in the war-ravaged region, as well as update the strategic directions of the work.
Since February 24, 2022, when Russia invaded Ukraine, starting the brutal war which has killed and displaced thousands, Ukrainians have been living under constant heavy bombardment by Russian forces. Civilians have had to adapt to the horrible new realities of war.
One participant from Mariupol told us, "The city of Mariupol was under siege by Russian troops for almost three months of bitter fighting and constant Russian shelling. It is also known for a heroic resistance."
Natalia C.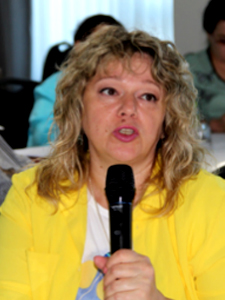 Natalia C. is from the city of Mariupol, Ukraine. Natalia is a tall, impressive women, a proud mother and wife. She was born and raised in Mariupol. In 2014, when people in Mariupol faced displacement, Natalia joined the city social services as a volunteer to coordinate aid. In six months she was promoted to manage a district center of social services, helping people who were displaced with basic needs, adaptation, jobs, and more.
When Russia invaded Ukraine in February 2023, Natalia was in Kiev, the capital of Ukraine, where she was facilitating a psychological assistance workshop. She immediately returned to Mariupol, hoping that her experience and skills working with the displaced would be of service.
"We did not know how serious it was," Natalia said. The city of Mariupol was closed on that day. The train did not reach the city, so she had to transfer to a car. "When the blockade started, we provided aid to local people. There was a shortage of everything and a particular shortage of baby food. The father of two-month-old twin girls came to our office asking for help; the girls had not eaten for 24 hours." The situation was worsening.
First, Natalia lived in the office where she worked. Then she broke a leg and had to move in with her parents who lived in the city center. "When all the glass broke, the house was shaking, it was very cold and there were drafts, and when Russian forces appeared behind our house, we moved into the basement. I was on crutches and needed help to get down to the basement. Then I had to learn to climb upstairs on crutches."
Natalia spent months with other people from Mariupol in the basement next to the under-fire Azovstal Iron and Steel Works and Azovstal metallurgical facility in Mariupol. Life in the basement without necessities and electricity was hard. During short hours of no shelling, people left the basement to fetch water, gasp for fresh air, cook food, or walk their dogs. There was a five-year-old boy in the basement who was afraid to leave it. Natalia used a game to encourage the boy upstairs to experience daylight.
Water was a huge problem. "When it snowed, we collected snow, when it rained, we collected rain," Natalia told me. "There was no water to wash the dishes, so we all ate from the same plates. The hardest thing was feeding the children."
Natalia is a professional psychologist, social activist, and midwife. Today she works and lives in Latvia, coordinating the Ukraine assistance programs. At the Platform strategic meeting, she co-facilitated a capacity-building workshop on preventing burnout for other Platform members. Work with the displaced and victims of violence can take a toll on the staff, who must learn how to identify risks and stress factors, signs and stages of burnout, and apply practical methods of self-help to prevent emotional burnout.
Anastasia N.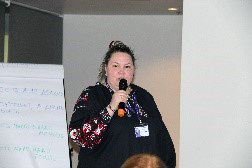 Anastasia N., Women's Consultative Center, Ukraine, held a workshop on territorial security audits and shared her experience of forming security audit focus groups in Ukraine. She also talked of successful strategies for advocacy. "Advocacy must be smart," she said. She shared how nonprofit organizations in Ukraine have successfully advocated for suitcases on wheels for women with children. For Ukrainians "the alarm suitcase" has become a vital too for survivorship. There is a list of things to pack into the alarm suitcase so that when the siren sounds, one can leave immediately for the nearest shelter. "Keep an alarm suitcase ready," has become a new reality for Ukrainian people and children. Children have alarm suitcases. Pets have them, too.
Tamara M.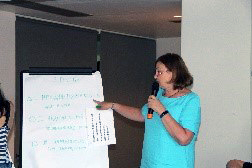 Another participant, Tamara M. from Belarus, is a physicist who became involved in nonprofit work part-time. It later became her full-time career. Tamara told me that when the Lyceum, where she taught physics, closed, she moved to the nonprofit sector. She coordinated a large project on methodology and civic education for teachers. She also introduced elements of democracy into the educational system. In 2020, when street protests took place and the Belarusians demanded change, the government responded with repression. Over one million Belarusians had to leave the country. Tamara's husband was arrested. Her apartment was searched three times in three days. Then she had to leave. Today she is working and living in Lithuania. "Our task is not to integrate but to go back and build democracy in our country," Tamara told me.
UN Security Council Resolution
For women of the world like Natalia, Anastasia, and Tamara, the United Nations Security Council Resolution is a powerful tool promoting equal participation of women in all peace processes and reaffirming that empowerment and gender equality are directly connected to peace and stability in society.
The Women's Peace Dialogue Platform is a uniquely inclusive, secure, and sustainable forum for women across the region. It is the sole existing project of its kind in the region. The situation in the EE/SE/CA (Eastern, Southeastern and Central) European region has been largely affected by the 2022 Russian invasion of Ukraine, leading to a refugee crisis and displacement, increased violence and human rights violations, active political resistance to women's organizing, and a lack of gender support in the region.
The Platform provides women leaders with a safe space to share their experiences, decide on appropriate actions, and receive the necessary tools and the expertise that they need to survive and thrive.
The 2023 strategic meeting solidified the Women's Peace Dialogue Platform as a regional forum for the practice of peace dialogue, as well as conflict mediation and prevention in the region. The third round brought together 30 women of diverse backgrounds from 12 countries in the region.
The strategic meeting fulfilled its objectives. In a safe space, women engaged in much-needed information sharing, updated their strategies, and determined actions for the future. The Platform also offered three capacity-building workshops that women leaders requested. Capacity building is critical for women leaders to take leadership positions in peace processes, including in official peace negotiations.
Tatiana Dwyer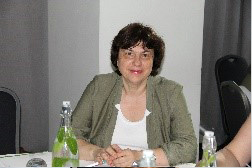 Tatiana Dwyer, executive for International Programs for United Women in Faith, was engaged with the Women's Peace Dialogue Platform since its onset. She has been coordinating the work, while building the leadership capacity of the regional organizations. The work of the Platform is currently led by a planning committee that includes United Women in Faith plus six regional organizations, and coordinated by the NGO IDP Women's Association Consent. When the Russian Federation invaded Ukraine in 2022, the work of the Platform became even more critical for the region.
Following the Ukraine invasion, United Women in Faith immediately embarked on providing vital assistance, ranging from organizing the Voices from Ukraine series to providing emergency grants. These grants to Ukrainian and neighboring countries' organizations helped thousands of displaced Ukrainian women and children. Through Voices from Ukraine, the women leaders had an opportunity to share their critical work and talk about realities on the ground. The war changed regional priorities — recognizing this, United Women in Faith initiated and co-sponsored the 2023 Strategic Meeting of the Platform. The results of the meeting demanded new strategic directions and action. Today, the peace-building work continues.
---
Tatiana Dwyer is executive for International Programs for United Women in Faith.