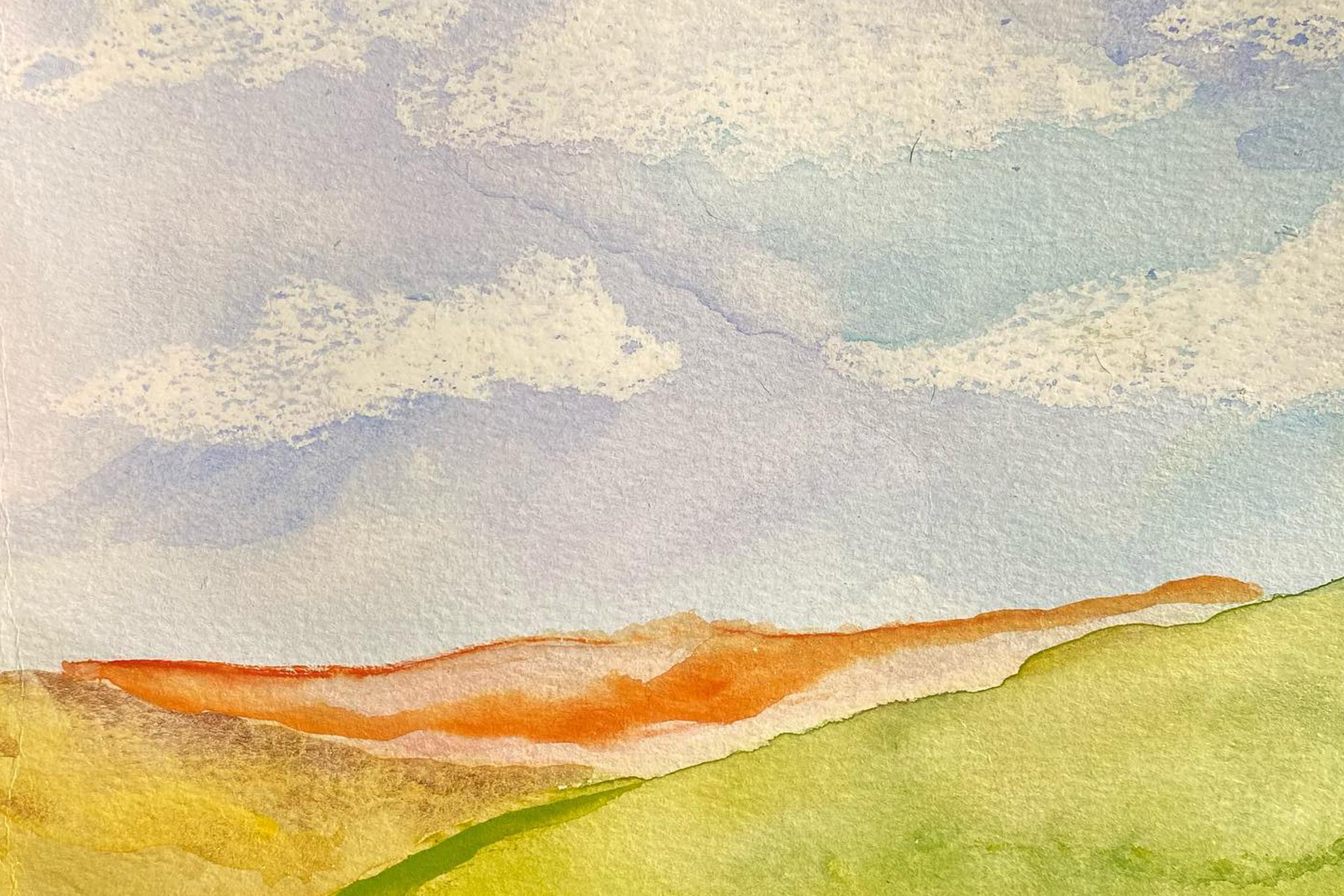 Latest News
Jan./Feb. response: Creating Hope
Bizzy Feekes brings her whole self to the work of climate justice.
by Maryann Verghese
Bizzy Feekes uses many words to describe herself: artist, seminarian, writer. Feekes is Indigenous from the Winnebago tribe and the Ho-Chunk People—People of the Big Voice, multiracial, and Christian. She does not feel that any of these descriptions is isolated, but that all are gifts bestowed by God. In her work, whether with children at church or with undergraduates at Seattle Pacific University where she is a seminarian, she brings all these connected elements of herself to the work of climate justice. Feekes says that integrating her identity and work has been a process, however.
"For most of my life I have tried to compartmentalize the different sections of my identity," she says, crediting time and teachings from other Indigenous people to helping shift that narrative. "I began to challenge that notion of seeing everything as separate, and instead I try to see my life as everything deeply interconnected, inseparable, and intrinsic to my being," she adds.
In turns, she says, her whole being, work, and passions are of "an act of reverence and worship to Creator."
Feekes brought all these passions and experiences together in her project for the 2022 Faithful Climate Action Fellowship. As one of the 15 Faithful Climate Action fellows, Feekes created a Bible study with original artwork featured in this article.
Faithful Climate Action Fellowship
The 2022 Faithful Climate Action Fellowship was a collaboration with United Women in Faith, Creation Justice Ministries, Wisconsin Green Muslims, Dayenu, Interfaith Power & Light, and Green Faith. Through funding from the United States Climate Action Network, the fellowship was a virtual and paid opportunity for young Black, Indigenous, and people of color aged 18-26 who identify as Christian, Jewish, or Muslim. The fellows participated in different skills-based trainings throughout the summer, completed a faith-based climate justice project for their fellowship, and received mentoring and guidance from the partner organizations.
Using her fellowship project as an opportunity, Feekes created a climate justice-focused Bible study titled "Mąąnegi Hirera—Belong to Earth," connecting her identities as Indigenous Christian artist, seminarian, and writer.
"My attentiveness to climate justice comes from the teachings of my Indigenous culture and the deeply held convictions of my Christian faith, and my response to all of it is almost always through art," she says. As Feekes does in her work, her Bible study integrates all these aspects of herself. Her goal in this study was to create a readable introductory text that shared both Indigenous and Christian teaching and included art as part of the practice of thinking about loving creation and acting for climate justice.
From start to finish, the artwork created for the Bible study was both personal and intentional. Although Feekes had no previous experience with watercolors, she decided to use paints made by an Indigenous producer with environmentally friendly ingredients. She chose to paint from photographs that highlight her personal connection to creation.
"Most of them come from moments where I stopped in my tracks and said, 'I love the beautiful creation that Creator has created,' and I also felt connected to it in those moments," she said.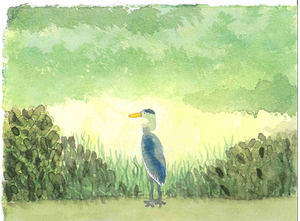 One painting, for example, highlights the recurring theme of blue herons throughout her life. Blue herons kept appearing in her dreams and are found in the original location of her people in Wisconsin, where she lived in Michigan, and in her current context in Seattle. Through conversations with her mother, Feekes learned that blue herons represent a sense of following your calling, and she now views them as guideposts for her life. Including artwork in her study, Feekes can share her own connection with creation and invite others to find their own connections.
Inspiration from All Creation and Stories
Feekes shared that her inspiration for her work for climate justice relates to both her Christian and Indigenous teachings. In studying both traditions, she found that they have similar views on the intrinsic goodness of creation. Additionally, in both traditions, God gives a mandate that people should care for creation. Feekes interprets this mandate as a "rulership that has everyone's best interest in mind."
Understanding these creation stories and the responsibility we as humans are given over the Earth, Feekes shares a familial relationship with God's creation. She views all of creation as her relative: the land, the air, the water, and all people. Because God says all is good, she says that means seeing not only people, but also all of creation as "image-bearers of God."
As Feekes says, "When I see [creation] as all related to me, I have a responsibility to care for these relatives and advocate for them and work for reconciliation."
In doing this work for reconciliation and right relationship with creation, one recent theme for Feekes has been lament. However, Feekes does not see this as despair or hopelessness.
"Lament isn't just being sad," Feekes says. "That's part of it, it's an important part of acknowledging your sorrow and your grief. But further than that, it helps us understand and recognize that things aren't the way they should be. It's an act of uncovering truths of life as we know it."
Feekes says uncovering the truth is a step to working on reconciliation and repairing our relationship with the Earth. "Things don't have to be this way. We can work on a future not marked by this hurt, this loss, this climate crisis." Through this process and focus on lament, she can see where God is already at work.
Inviting the Younger Generation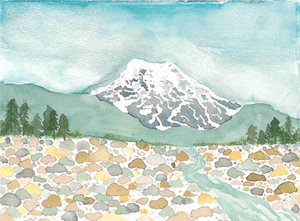 One place where God is seen in this work is within younger generations. In working with youth, Feekes notes that they often bring fresh perspectives and life into the conversation around climate justice. While many people of older generations may find it easier to escape or ignore the climate conversation, according to Feekes, most of the younger generation are aware of climate issues regardless of choice. As these climate issues are impacting all of us in so many facets of our lives, the conversation around climate seeps into many of the issues in our world. Feekes says she has seen this growing up herself and thinks it is even more prominent among today's youth.
While youth have so much to contribute, Feekes also notes the importance of not placing all the weight on the younger generation in these climate conversations. Youth should be invited into the ongoing work. She credits the Indigenous value of youth in her desire to make a better world for the next generation and notes that their hope for the future should be a center of our climate conversations.
This intergenerational work does not always have to be a huge project. Feekes talks about spaces such as Sunday school, vacation Bible school, and other natural opportunities that provide small teachable moments around climate justice. Inviting both youth and adults of all ages into intergenerational moments of climate justice helps everyone engage in ongoing work and explore new possibilities.
Feekes shared that her inspiration for this project came from not having resources such as Indigenous representation within her Christian faith or art utilized within faith spaces. In creating this project, Feekes hoped to invite others into her feelings and conversations around "loving creation, wanting to care for it, and wanting to do better."
Although Feekes did not have resources like this growing up, her work is allowing others a place to connect to her thoughts and experiences for climate justice. By sharing her interconnected gifts for climate justice, she invites others to explore their personal relationship to creation so they, too, can bring their whole selves to the work for climate justice.
You can see more of Bizzy Feekes' art, writings, and other work at: https://sites.google.com/view/bizzyfeekes/
Maryann Verghese is the managing editor of response.
---