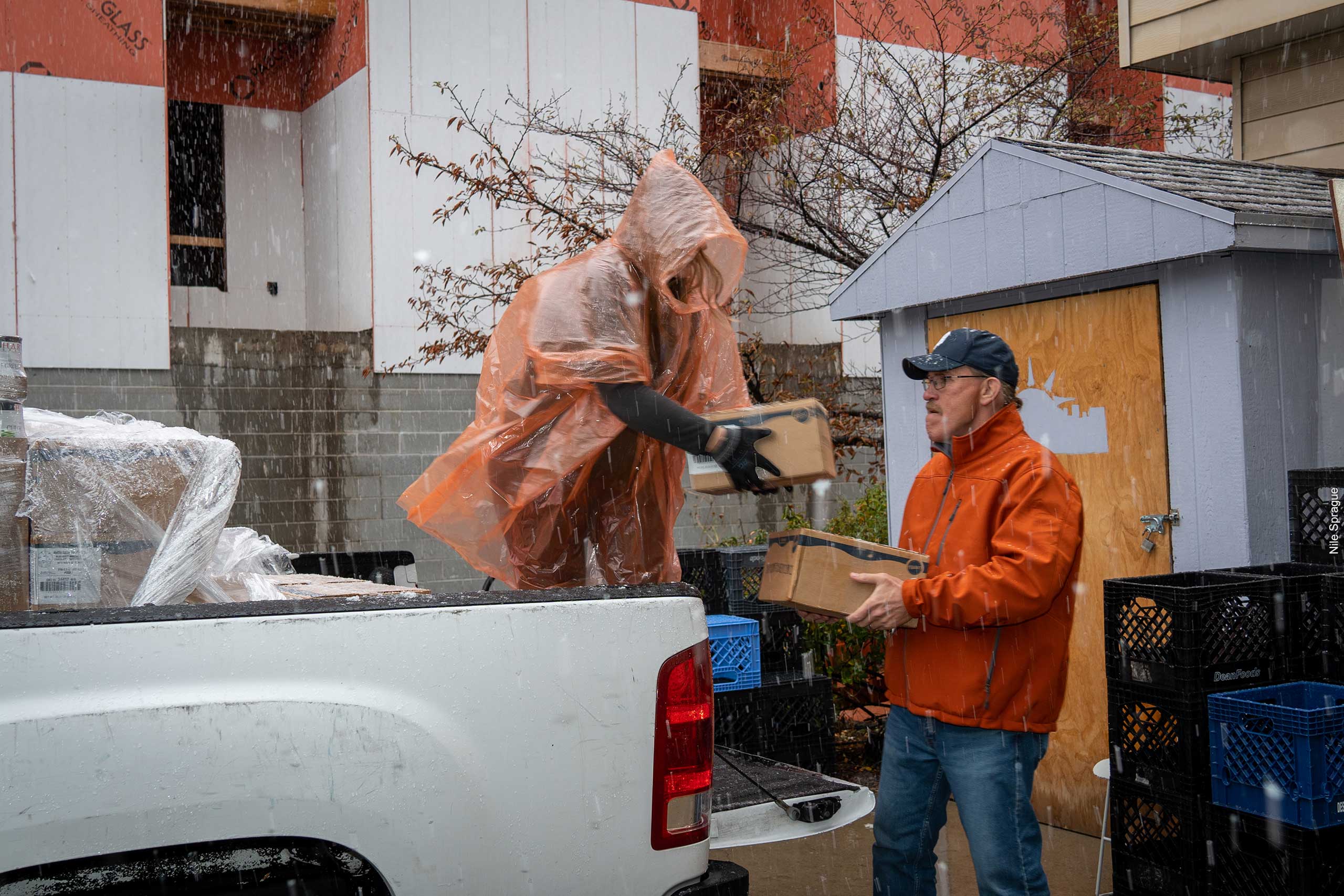 Latest News
July/August response: Crossroads Urban Center
Organization helps Salt Lake City's unhoused
by Nile Sprague with Audrey Stanton-Smith
It's a cold, rainy morning at Crossroads Urban Center in downtown Salt Lake City, and unhoused people are gathering on the steps of the old Victorian building that serves as an emergency food pantry. When the door opens, they file inside, pausing at an entry desk to let the woman behind it know what they need—shoes for a child, rent and utility assistance, a new ID, food, a rain jacket, a blanket.
In a little while, a delivery truck will arrive and employees will unload boxes of food and supplies as the rain turns to snow. Meanwhile, rent prices are on the rise, high-end high-rise apartment buildings are under construction less than a block away, and as temperatures plummet toward winter, at least 70 families aren't certain where they will sleep. Nearby shelters are at capacity.
Still, this grassroots organization does everything it can to help all people meet basic survival needs and to address essential issues affecting quality of life. And those gathered on the steps of this old building feel welcome.
"Having this place where there's always people sitting out on the grass, there's always people here getting food or services, it really just feels like a safe place, and a place where people can belong," said Pastor AJ Bush, a United Methodist pastor who works with and advocates on behalf of Crossroads clients. "And so I think that's really one of the values of this place, one of the benefits. … One of the gifts of this place is that it is a place to belong, for everyone downtown."
A history of serving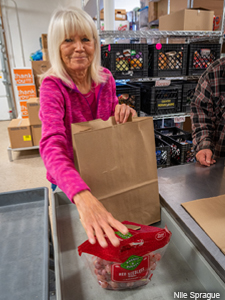 In the spring of 1905, the Women's Home Missionary Society of the Methodist Episcopal Church purchased a private downtown Salt Lake City home at what is now 347 South 400 East. The women dedicated the Victorian house, built in 1903, for use as Davis Deaconess Home.
"The home was named for Mrs. Eliza Given Davis, the second president of the Society, and served as a residence for women serving local Methodist parishes and surrounding local neighborhoods," the Crossroads Urban Center website explains.
But the deaconesses had been in the area since 1883, when nearby Davis Hall was built. The women organized it as the Davis Deaconess Home in 1896 and then made their move to 347 South 400 East in 1905.
In 1936, the Deaconess home closed, and, in 1937, the house became Davis Esther Hall, a home for young women working or attending school in Salt Lake City. It was part of a network of boarding homes operated by the Methodist Women. It closed in 1965.
On Feb. 8, 1966, Crossroads Urban Center was officially organized and housed at the same location. The building is owned by United Women in Faith and maintained by the Crossroads Urban Center Board of Directors.
Since then, Crossroads Urban Center, a multifaith, community-based project, has been in a covenant relationship with the United Women in Faith National Office.
It is Utah's busiest emergency food pantry, and the operation has expanded to include a thrift store and a second food pantry on downtown's west side. That's where Miguel Sanchez and Liliana Acosta found the help they needed.
"Here, they gave us food and clothes"
For at least a year (at the time of Sprague's visit in November 2022), the Sanchez-Acosta family has turned to the Crossroads food bank to help fill in the gaps until they are legally permitted to work in their professional fields.
"We arrived to the city without clothes, literally with only what we were wearing at that moment," Acosta said, explaining that their clothes from Venezuela were not appropriate for the much colder Salt Lake City temperatures. "… And here they gave us food and clothes, coats for the winter, shoes for the cold temperature, and we really are very grateful."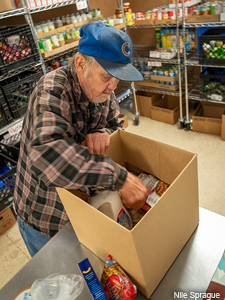 "We are professionals who had to emigrate because we felt pressured, coerced, and even tortured by that government," Sanchez said. They also wanted a better life for their 6-year-old daughter.
"We have used the food banks to cover basic needs because we are amidst a process of political asylum," Sanchez explained. "… We have needed that help sometimes and on those occasions when our incomes were affected and were too low due to our lack of having a work permit or a lack of having a constant stable job."
Even though things have not been easy for the Sanchez-Acosta family, they are better than they were in Venezuela, they say.
"This state has offered us protection and freedom of expression and has offered us political freedom, freedom of ideas, freedom of opinion, freedom to participate in society," Sanchez said, "and these are things that in Venezuela were lost, and that definitely forced us to emigrate. We are very happy to be here, very content to be here. We feel very protected. That is something that in our country, sadly, we didn't (have) because we belong to a political group that was different from the one that is currently governing Venezuela.
"… We arrived here to offer firstly that freedom of expression to our daughter so that our daughter could feel that she is in a country where she can freely express herself," Sanchez said.
For others helped by Crossroads, hope isn't about waiting for the opportunity to work legally and a promising future for a child. It's about surviving the winter.
"I ain't got it no better than anybody else"
Terry Wilkinson, a 61-year-old Crossroads Westside Food Pantry client, estimated he's been getting help from Crossroads for at least 30 years.
"I am unhoused because I want to be unhoused," he said. "I don't take apartments very well. I love the outdoors. I love the mountains. … I am living in a tent. I ain't got it no better than anybody else, you know? I do a lot of help out here on the streets myself."
Crossroads not only supplies immediate needs, it works toward long-term solutions through political action. Direct interaction with clients like Wilkinson gives Crossroads the ability to advocate on their behalf.
"They are really good people," he said, recounting a time when Crossroads Urban Center helped him deal with tickets he received for displaying a panhandling sign. Wilkinson said actions like that show him how much Crossroads staff care. He often sees staff and volunteers taking the time to get to know the homeless and low-income people they help.
"If you talk to some of these homeless people, they're a person and not some slime ball," he said.
And some of those people can't make it to the center for help.
"I even take bags (of food) out of here for other people that can't make it up here," he said.
Sometimes Wilkinson volunteers at the thrift store, helping to sort or scan, or breaking down cardboard, carrying boxes of food, and raking leaves. "Whatever the heck they need."
It's his way of giving back for all Crossroads has given him.
"You won't leave out of here with an empty stomach, that's for sure," he said. And you won't leave without socks, an important commodity for the unhoused, some of whom, Wilkinson admits, live that way by choice.
"Well, first, you gotta love the outdoors," he said when asked what it's like living in a tent. "And second, you got to handle it. I mean, it gets rough. … I lost my toes already on one foot from cold and frostbite. But other than that, you know, you got to like it. And I really do love it, but some people … shouldn't be out here. I feel so sorry for them, and that's who is helped the most."
He fears that in a world without Crossroads, more people could fall victim to crime.
"I believe more places will be robbed," he said, "and more things will be taken from homeless people. That's the … biggest problem we have, is homeless people getting robbed by other homeless people. Without Crossroads here, I don't know what people would do, really, unless there's another organization that's just like Crossroads. … These people are unbelievable. I love these people."
"I would have gone hungry"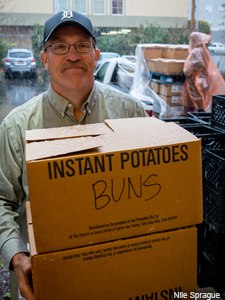 Timothy James Wentz shares Wilkinson's sentiment about the friendly staff. He enjoys talking with them as he shops at the Crossroads Urban Center Thrift Store near his Glendale neighborhood home. But he remembers a time before his packing job at Amazon, when he, too, was hungry.
"The support I got from the food pantry helped me out, helped me survive between paychecks, between cash periods," Wentz said. "Also, Utah has kind of strict food stamp EBT policies. So if you don't work enough, they don't give you any food, which is odd, because the only time I ever needed food I didn't have work."
"If I didn't have their support, I would have gone hungry," Wentz said.
These days, though, his thrift shopping helps to support Crossroads.
"It's always been a resource for cheap clothing, cheap footwear, knickknacks," Wentz said. "… Anything that was donated, that struck my fancy, I was able to get here."
And he likes the employees.
"I believe the people that run this establishment are some of the best people I've ever met," he said. "They're always happy."
Like thrift store Manager Tess Otero, for instance.
"So here is my toy room," Otero said, pointing out toys and books she gives away to children who are shopping with their parents.
Otero also pointed to a supply of socks. To make sure that plenty are on hand for the unhoused population who have been given vouchers for new, dry socks, Otero keeps a stash away from the sales floor. Blankets, too.
"And this is where all the magic happens," she joked. "This is our sorting area here."
Coats, jackets, pants, sweatshirts, warm clothes in all sizes—soon, they will be in demand. And the few sleeping bags and tents on hand, those Otero said, are reserved for the people who sleep outside.
Powerful Moms Who Care
Tamara White used to be one of those people who slept outside.
That was a few years back, when substance use disorder had a grip on her life, back when she had been evicted from housing, back when she was pregnant and had escaped a violent relationship.
"This says, 'We can do it,' which is Powerful Moms," White said, pointing to a logo featuring a Rosie-the-Riveter-type woman with a baby on her back and holding a bottle instead of a wrench. "And this is something I got through just another kind of group, but I wear it and it says on the back, 'never underestimate the power of a woman.' But I think it should say, 'in numbers, women in numbers.' "
Through Crossroads Urban Center, Powerful Moms Who Care is a group of women working together to create change.
"We are women—mothers—who come together to identify real solutions to the struggles that come with raising children while experiencing poverty," the Crossroads website states in its section about Powerful Moms Who Care. "We work with decision-makers from a variety of groups to create a community that is supportive and safe for all families."
And White—who has completed a treatment program and regained custody of her son—is one of its newest part-time staff.
"You know how they say it takes
a village to raise a child?" she said. "… We're more empowered together. And we can come up with solutions better when we're in a team. And I guess that's why I'm excited about my role, because I can work on building that team of support for one another and resolutions for problems that are really affecting the kids and safety of us, our mental health, and whatnot."
Now, she doesn't just worry and complain about the safety of local school crossings, for instance, she makes sure they're safer. She doesn't see a garbage problem in her apartment building, she works toward seeing that more garbage cans are placed there. She sees a dark, scary apartment hallway, and she networks for better lighting and security.
"The ones who actually want to do something about change are the ones that I want in our group, so that we can make change happen where it's been swept under the rug," White said.
"Me feeling like a woman having more power by being a part of Powerful Moms Who Care is because of the direction given," White said, explaining that she now understands where to voice concerns to people who will listen and help the group advocate effectively for change—not just her neighbors at Palmer Court but low-income and unhoused women throughout the community.
She says her dream is to help other women have a voice and to teach their children the value of service.
"And then also just having fun with the kids," she added, saying that she envisions a time when the group can volunteer in the community, wearing Powerful Moms t-shirts and growing because of recognition.
Crossroads Urban Center helps its Powerful Moms Who Care group use networking tools to increase the availability of low-income housing for families, as well as accessible and affordable child care, health care, education, and job training. They work with other connected organizations, including the Coalition of Religious Communities or, as it's known in Salt Lake City and by Crossroads Urban Center, CORC.
"It's part of our faith"
Bush is the pastor of First United Methodist Church and Centenary United Methodist Church in Salt Lake City, two churches with longtime connections to Crossroads. She's also a member of CORC, which brings people together to learn about the causes of hunger and homelessness and to support policies that would reduce those forms of unnecessary suffering.
"Well, as a pastor, I'm drawn to this work because I think it's part of our faith," Bush said. "And I think it's what we as Christians are called to be doing in the world. And so having an organization to partner with [that] is already doing that work … it's wonderful to be able to connect and to do that work."
Her churches not only collect food and other items and welcome Crossroads clients to worship, they also partner with and close gaps in Crossroads' services, such as feeding the hungry free breakfast Sunday mornings when Crossroads is closed. Some of the local United Methodist churches in CORC even provide emergency housing, she said.
"One of the other things that has been important for my local church is our local United Women in Faith chapter and their connection to Crossroads," Bush said, noting the group's hands-on support as well as financial support and food collections.
Local church groups and CORC members help Crossroads meet immediate needs and work toward long-term solutions.
"I think that political advocacy of CORC is very important," Bush said, "and it is one of the things that I love about Crossroads. … They do direct service, but they also do advocacy."
For instance, she pointed out, one recent campaign advocated to stop the food tax in Utah. Another reached out to let elected officials know that more funding is needed to keep homeless people off the streets in winter. These petitions with signatures from leaders representing several denominations can be effective.
"To be involved with CORC is to do a variety of things," Bush said. "Sometimes it is signing your name to a letter or to a campaign that they are doing. Sometimes it's recruiting other people to sign on to that letter.
"Sometimes as a pastor," she added, "it's just sharing with my congregation … so that people are aware of what's going on in their community and the things that we're advocating for."
Rallies, protests, advocating for affordable housing, and raising awareness about other issues that affect the unhoused are all core values for CORC, Bush said.
CORC member Olga Hard explained, "That's what [CORC] has been called to do, … to make the realities of our world visible, so that God's kingdom that way that God imagines the world can be brought to life."
And it comes together in this old Victorian house.
"You can hardly see this little house, and yet the impact of this little building is so much greater than even these two ginormous buildings that have come up next to it," Hard said.
The center could potentially relocate, perhaps even modernize. New construction is happening on all sides of the center, so selling could be an option. But relocating away from downtown could be taking away services from those who need it most, said Crossroads Executive Director Glenn Bailey.
"Because of Crossroads and [CORC] and because they have brought together diverse entities, different congregations, different denominations, we've been able to make an impact that possibly couldn't happen any other way," Hard said. "It has allowed us to cross political boundaries and denominational boundaries to work together on those core issues that are so important, of poverty and homelessness and hunger, and to be efficient."
For now, they'll continue to love people where they are, just as the predecessors of United Women in Faith did when their ministry in Salt Lake City began.
"It has been so important to Crossroads Urban Center, and really to Salt Lake City, that United Women in Faith and their predecessors have made a commitment to mission here and really, throughout the country," Bailey said. "I always say that the women are the backbone of mission in The United Methodist Church, and if that commitment … that started 150 years ago hadn't been there within the faith, I think we'd all be a lot poorer for it spiritually.
"I'm grateful," Bailey continued, "that Crossroads has been able to benefit from that firm commitment and dedication that the women have shown all these decades, and that's made a huge difference."
Nile Sprague is a California-based photojournalist. Audrey Stanton-Smith is editor of response.