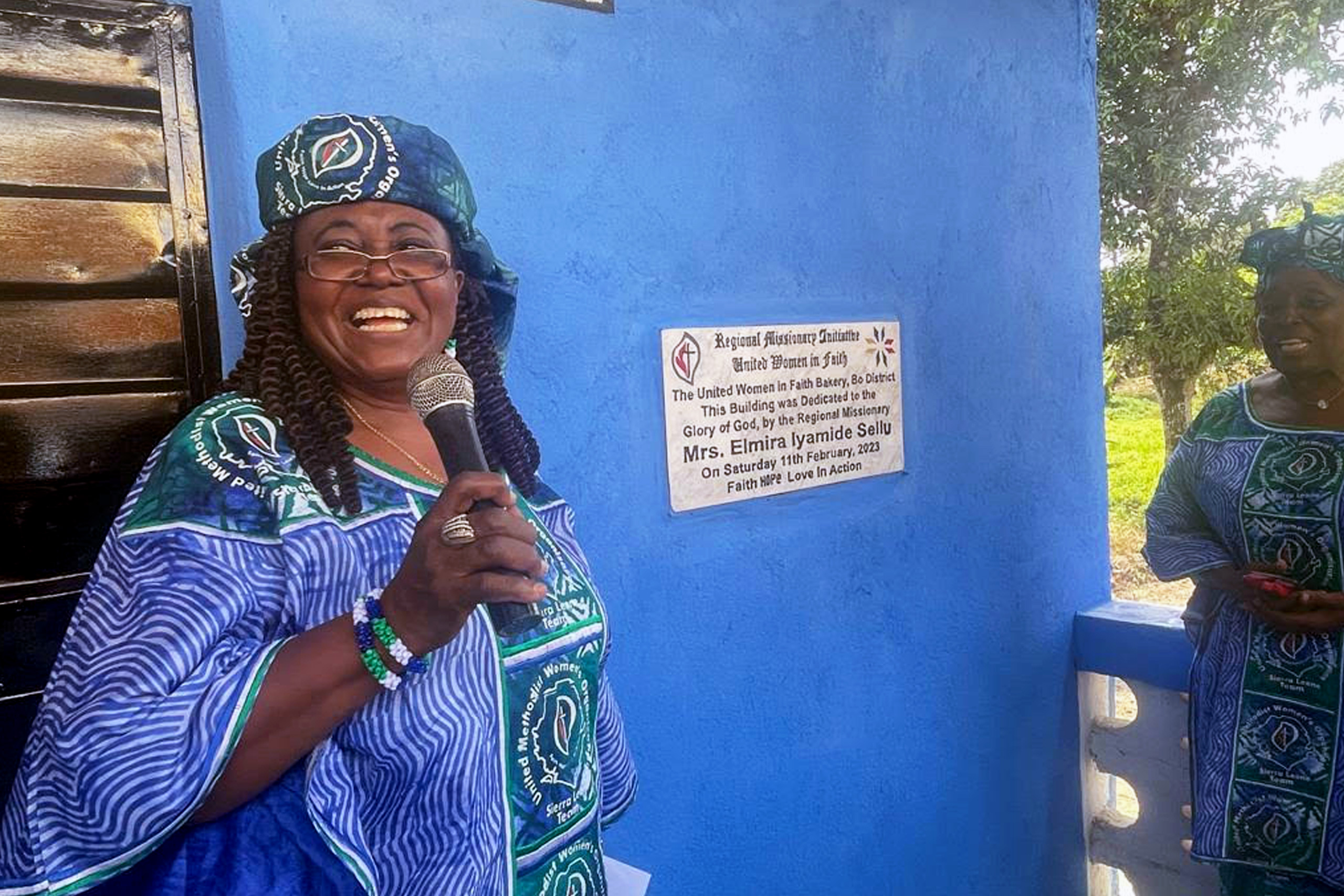 Latest News
In Sierra Leone United Women in Faith Dedicate a Bakery
by Keziah Kargbo
In an atmosphere of celebration, on February 11, 2023, the Sierra Leone country team celebrated and dedicated the United Women in Faith bakery in the Bo district in the southern region of Sierra Leone. The event was well attended by community leaders, dignitaries, and members of United Methodist Women organizations from all across Sierra Leone.
The women in Bo expressed gratitude to United Women in Faith for supporting them to accomplish this laudable project. Rosemarie Hawa Jalloh, a member of United Methodist Women in Bo, said the economic impact of the bakery will be enormous.
According to Jalloh, "The bakery is a legacy that will be profitable to the women today and to generations to come. It will empower and improve women and girls in bakery skills, and it will make them self-reliant. They will not be dependent but will be well positioned to contribute to caring for their families and themselves."
A Sweet Economic Opportunity
Many women expressed joy for the economic opportunities that the bakery will create. Doris Nemahun from United Grace Church in Kailahun said that the bakery will serve as a motivation for other women to initiate creative income-producing projects.
Regional Missionary and Sierra Leone country team leader Elmira Sellu cut the ribbon and handed over the bakery keys. Sellu conveyed her heartfelt joy and pride in the women's commitment and seriousness, despite challenges and setbacks. She said, "The bakery is one of the best in Bo district because the women were willing, and they gave their best." Sellu praised United Women in Faith for empowering the women in Sierra Leone economically.
Chief Sheku Margoo stated that the bakery will contribute to the economy as it serves the baking needs of the people in Messima community, Bo. The chief, expressing gratitude, said, "The bakery is a remarkable development which will help in skills development and create jobs for young people."
Management Skills
To support the bakery, the women of Bo were trained in management skills such as record keeping, bookkeeping, customer service, packaging, time management, and marketing, among other small business skills.
The conference lay leader of The United Methodist Church, Victor Massaquoi, advised the women to offer good customer service, treat every customer with respect, and advertise widely on the variety of products the bakery will produce. He expressed hope that the bakery will continue to bring positive transformation for the women.
Keziah Kargbo is the journalist on the United Women in Faith Sierra Leone Country Team.