 2014-2021 Press Releases
Strong NYC Real Estate Market, a Mission Opportunity for United Methodist Women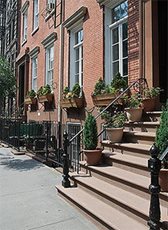 In a move that adapts to a changing mission context, the United Methodist Women's board of directors has voted to authorize the sale of Alma Mathews House, a guesthouse in New York City's Greenwich Village for United Methodist Church agencies and other nonprofits.
United Methodist Women's board of directors said high maintenance costs and rising property values created an opportune time to sell the facility and reinvest the funds into the mission addressing the needs of women, children, and youth today.
"Over the past few years, required repairs went from minor to major to keep the house operating," said Yvette Kim Richards, president of United Methodist Women's board of directors. "Due to the age and condition of the property, the current estimated cost of these repairs exceeds $1 million. After considerable due diligence, the board property task force directed staff to prepare a resolution for the board to consider authorizing the sale of Alma Mathews House. The vote of the board was unanimous. We were thinking about the future of mission in the 21st century."
Ms. Richards said the board will explore various proposals to reinvest proceeds from the sale back into mission work today with women, children, and youth, including immigrants.
Alma Mathews House was named after the longtime Woman's Home Missionary Society missionary who served at the Immigrant Girls Home, a residence hall for young women immigrants founded in 1889 and located at 9 State Street in New York City, a few miles south of the current facility. The home was a ministry of the Woman's Home Missionary Society of the Methodist Episcopal Church, a predecessor of United Methodist Women. In 1920 the organization purchased the current facility at 275 West 11 Street and continued the residential service to young women immigrants. In 1939, following a decline in the need for such housing, the immigrant program was closed after 53 years of service, and Alma Mathews House became one of the society's residence halls offering safe and affordable housing to single young women relocating to work in cities around the country. By 1964 the needs of women had again changed, and the residence hall program closed after 25 years of this service. The facility became home to a nonprofit community service organization until 1981. United Methodist Women renovated and reopened Alma Mathews House in 1982 as a guesthouse and conference center for United Methodist Church agency guests and other nonprofits.
Although the current location of Alma Mathews House is not the original site of the home for immigrant women at the turn of the 19th century, we remain proud of the home's once-vital ministries that will forever be part of our legacy. United Methodist Women's board of directors will explore proposals to honor the memory and mission of Alma Mathews and the other missionaries who ministered in similar ways to immigrant women upon their arrival to our shores and cities.
###
Contact: Yvette Moore, ymoore@unitedmethodistwomen.org