 2014-2021 Press Releases
United Methodist Women Makes Advances in Global Maternal and Child Health Initiative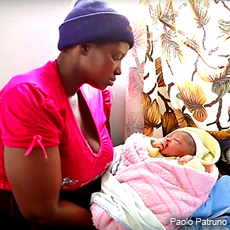 In 2015 United Methodist Women granted more than $1 million to U.S. and international partners providing health programs for women and children. The grants, awarded prior to the announcement of the United Nations' Transforming Our World: the 2030 Agenda for Sustainable Development, are part of United Methodist Women's year-old Global Maternal and Child Health Initiative.
"The Global Maternal and Child Health Initiative address [the United Nations'] Sustainable Development Goals number three and five. The two goals will empower women, promote gender equality and increase health care availability. They are at the heart of United Methodist Women's beginnings in 1869 and at the heart of our work today," said Andris Salter, assistant general secretary for mission opportunities for United Methodist Women.
About 100 U.S. and international programs have received grants through United Methodist Women giving, which is also providing scholarships to students for medicine, public health, nursing, and more.
Stories and videos from the Global Maternal and Child Health Initiatives are being featured on the United Methodist Women website. They include:
"Our foremothers built hospitals, clinics, and trained local women to serve as doctors. The issues are still relevant; impoverished communities still do not have access to affordable health care. Therefore, our initiative will increase health care support for women, children, and families across the globe," concluded Ms. Salter.
In 1869, the Woman's Foreign Missionary Society, a United Methodist Women predecessor, sent the first fully accredited woman physician missionary, Dr. Clara Swain, to India to provide quality health care to women. Today United Methodist Women is the largest denominational faith organization for women with approximately 800,000 members putting faith, hope, and love into action on behalf of women, children and youth for nearly 150 years.
---
Andris Salter is assistant general secretary for International and National Ministries with Women, Children and Youth and Deaconess and Home Missioner Office.
###
Contact: Yvette Moore, ymoore@unitedmethodistwomen.org