 2014-2021 Press Releases
IN MEMORIAM
Becky Louter, Deaconess and United Methodist Women Executive, Dies at 46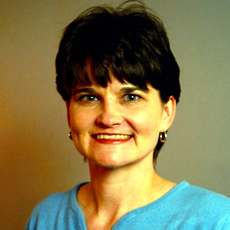 September 16, 2016 – United Methodist Women mourns the passing of Becky Dodson Louter, 46, executive secretary for the Deaconess and Home Missioner Office, which oversees the lay order of the church dedicated to workers in vocations that alleviate suffering.
Ms. Louter began serving as executive secretary of the deaconess office in 2003 when it was part of the General Board of Global Ministries and continued when the work was transferred to United Methodist Women oversight in 2010.
Ms. Louter was a tireless advocate for the law office, and the community grew. During her tenure, laymen were added as home missioners by the 2004 General Conference, and the 2016 General Conference recognized the deaconess/home missioner community as a lay order of the church.
"I am profoundly grateful for Becky's life, for her commitment to following Jesus, and for her leadership," said Harriett Jane Olson, chief executive officer of United Methodist Women. "She was a model of committed lay leadership focused on love, justice, and service."
Ms. Louter was consecrated as a deaconess in 2004. She talked about this in a 2006 interview in United Methodist Women's magazine, response. "I had always felt a sense of calling," she said. "I thought I was looking for a job, but I discovered I was called to be in ministry. As a deaconess, I may have 30 jobs in my life, but one call, one relationship. … God does the calling."
Ms. Louter was a devoted mother of four children, ages 10, 9, and 6-year-old twins, and was the wife of Michael Louter. She was a member of Wesley Memorial United Methodist Church in Johnson City, Tennessee.
United Methodist Women gives thanks to God for the life and ministry of Deaconess Becky Dodson Louter.
---
United Methodist Women is the women's mission organization within the United Methodist Church in the United States, focusing on the needs of women, children, and youth since 1869. Its programs promote spiritual growth, leadership development, transformative education, and service and advocacy.
###
Contact: Yvette Moore, ymoore@unitedmethodistwomen.org