 2014-2021 Press Releases
Faith Leaders Hand-Deliver Ford Headquarters a Petition to Stand by Clean Car Rules
Say there is a moral obligation to preserve maximum benefits to vulnerable communities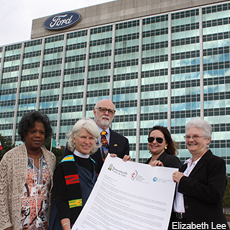 Dearborn, Mich. – Clergy and religious leaders from across Michigan and the Midwest walked into Ford Motor Company Headquarters today to deliver a message of faith that calls on the company to publicly stand by national clean car standards, without compliance loopholes or flexibilities, which would erode its strongest benefits for those who are impacted most by climate change and air pollution.
"As a person of faith, we were called to ask Ford to use their power and influence to stand up for strong clean car standards, as they exist," Marchelle Phelps, president of Detroit Conference United Methodist Women. "The standards are good for all humanity and creation, and we know automakers can meet them."
Recently, Ford and other automakers have claimed they need greater "flexibility" in meeting the standards. And the Environmental Protection Agency has followed suit with a proposal to weaken them. The delivery of the petition coincided with the last day of hearings being held across the country, where the public was invited to weigh in on the agency's proposal.
"As people of faith, we are sensitive to what is good and what is just," said Robert Chapman, executive director at Michigan Interfaith Power & Light. "Automakers are already delivering the safest and cleanest cars this nation has ever known. It would be good for Ford to keep doing what it is doing, make cleaner and cleaner cars. It would be just for Ford to say that we need to leave clean car standards alone."
In 2011, Ford was part of a historic breakthrough in cooperation on climate solutions when the company supported the clean car standards, which would raise fuel efficiency to a fleet average of 54.5 miles per gallon by 2025. This represents a 50 percent reduction in greenhouse gas emissions, in addition to reductions in air pollution. With 24 million Americans—including more than six million children—suffering from asthma, these standards safeguard the health of vulnerable communities.
"The natural world is a gift from God and we are called to care for this gift," said Bishop David Alan Bard, Michigan Area of The United Methodist Church. "Climate change is a significant threat to the health of our planet and human communities and it is, therefore, a moral and spiritual imperative to address climate change. For these reasons, we oppose any attempts to weaken the nation's clean car standards. We hope Ford will join us in supporting the health of people and the planet, keeping its past commitments to reduce carbon emissions."

"We are called to be stewards of God's creation and care for the 'least of these,'" says Elizabeth Chun Hye Lee, executive for economic and environmental justice for United Methodist Women. "We are deeply concerned that the increase in air pollution will disproportionately affect communities situated near freeways and high traffic areas, often low-income communities and communities of color. We urge Ford to strengthen, not weaken existing clean car standards."
"Transportation is the number one emitting source of greenhouse gas emissions in the U.S., with pollution from that sector impacting the health of our families and communities," said Rev. Susan Hendershot, president of Interfaith Power & Light. "By meeting with Ford Motor Company today, people of faith are living out our calling to care for our neighbors and God's gift of this beautiful earth."
---
United Methodist Women is the largest denominational faith organization for women with approximately 800,000 members turning faith, hope, and love into action to improve life for women, children, and youth around the world.
Interfaith Power & Light is mobilizing a religious response to global warming. With a network of 20,000 congregations across the country and 40 state affiliates, Interfaith Power & Light (IPL) reaches millions of people of faith.
With 5,000 churches and nearly 900,000 members across the U.S., the United Church of Christ (UCC) serves God by seeking a just world for all. With roots among the Pilgrims and Puritans, it today strives to embody and further God's love through a rich diversity of ministries across the United States.
###
Contact: Yvette Moore, ymoore@unitedmethodistwomen.org