 2014-2021 Press Releases
Women Faith Leaders Deliver over 1,800 Letters to Chevron Headquarters Citing Dangerous Methane Waste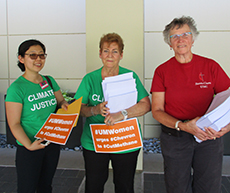 United Methodist Women note Chevron's poor performance day before Annual General Meeting
San Ramon, California – May 29, 2018:
A day before Chevron's annual meeting, leaders of the 800,000-member United Methodist Women organization delivered more than 1,800 letters to the firm's corporate headquarters calling on CEO Michael Wirth to improve the company's performance on methane waste.
Chevron representatives met with the women and received the letters.
Methane, the main component of natural gas, is a powerful greenhouse gas that is 87 times more potent than carbon dioxide when released into the atmosphere.
"Helping to stem climate change is a priority for us because women, children and young people in vulnerable communities are the hardest hit by the impact of greenhouse gases in the earth's atmosphere," said Harriet Jane Olson, CEO of United Methodist Women.
Methane and other toxic pollutants leak into the environment throughout the natural gas supply chain.  The oil and gas industry emits more than 8 million metric tons of dangerous and wasteful industrial pollution like methane, benzene, and other pollutants into the air each day. In California alone, 1,126,071 people live within a half-mile of oil and gas facilities.
"Exposure to pollutants from fracking, compression or distributions site, and pipelines are linked to respiratory diseases, heart attacks, reproductive problems, blood disorders, neurological problems, and cancer. Today, over 15 million Americans live within a mile of oil and gas facilities," said Elizabeth Chun Hye Lee, an executive for economic and environmental justice for United Methodist Women and part of the delegation that delivered the letters. "Such leaks harm vulnerable communities and pollute God's creation."
United Methodist Women affirmed the company's recent decision to sign onto the Guiding Principles on Reducing Methane Emissions across the Natural Gas Value Chain. Companies signing on to the guiding principles, companies agree to voluntarily reduce leaks across the supply chain.
The women pushed Chevron to do more.
"We are urging Chevron to reduce emissions of methane and other co-pollutants that harm the health of our grandchildren and God's earth," said Marlene Ward, president of Cal-Nevada Conference United Methodist Women and also part of the group delivering the letters. "Cutting methane emissions is one of the most cost-effective ways to address global warming today."
The letters that the group delivered also call on CEO Michael Wirth to encourage the American Petroleum Institute and other trade associations to support common-sense methane regulations, to stop the development of new natural gas assets, and invest in clean renewable energy.
On May 30th Chevron's shareholders will vote on a methane resolution citing the company's lagging performance on methane disclosure.
###
Contact: Yvette Moore, ymoore@unitedmethodistwomen.org