 Press
United Women in Faith CEO Harriett Jane Olson to Retire in Spring 2023
For Immediate Release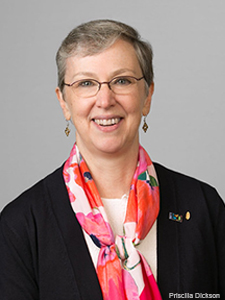 NEW YORK, Oct. 13, 2022—United Women in Faith General Secretary and CEO Harriett Jane Olson announced her planned retirement in the spring of 2023 in a closed session of the board's annual meeting, held virtually Oct. 7-8.
Ms. Olson took the helm of what was then the Women's Division of the General Board of Global Ministries in 2007 and began a 15-year tenure marked by programmatic and structural innovations and bold changes to strengthen the organization and position it for a future of growth and increased impact.
"What a blessing it has been to speak and teach from this vantage point about the overflowing love of God and the abundance that God offers as I have focused on the spiritual growth, service and work for justice of our members and all who are touched by the work of United Women in Faith," Ms. Olson said. "We sang 'I Love to Tell the Story' at my first board meeting, and we have been singing it and living it out ever since."
Ms. Olson began her tenure with internal innovations, introducing more flexible organizing structures that required fewer local, district, and conference officers, empowering members to customize their respective organizations to best suit their context. In 2010 the organization reconnected with some of its historic work, including National Mission Institutions and the Deaconess/Home Missioner community and took on the tag line "turning faith, hope and love into action on behalf of women, children and youth" to describe its work.
Under Ms. Olson's leadership the national body, which was already self-funded and self-governing, became an autonomous agency within The United Methodist Church in 2012 when the General Conference approved its separation from Global Ministries after operating as a part of the denomination's mission board for more than 70 years. The organization also took a step toward regionalization in that year, as the term "national office" was used to describe the former Women's Division. In 2015 Ms. Olson led the organization in launching a 150th anniversary celebration including the creation of The Legacy Endowment Fund designed to cover the core expenses of mission.
And in 2022, Ms. Olson ushered in a broad refreshing of the organization's brand that opened opportunities for women to join and participate through an online All Access National Membership option and that introduced the new name United Women in Faith, making clear the organization's lifetime open door to women within and beyond The United Methodist Church.
Programmatically, during Ms. Olson's tenure the organization's popular Schools of Christian Mission was updated to the 21st century Mission u program. The program now offers annual mission studies for adult, children, and youth focusing on a single, Bible-based, justice-oriented theme and are easily adaptable for use in small or large groups, intergenerational studies, vacation Bible schools, and other venues.
Ms. Olson has represented United Women in Faith through leadership in ecumenical organizations by being a board member of Church World Service (twice) and as a representative at the World Council of Churches. She has also spoken in forums around the United Nations raising concerns of women and children and peace.
Prior to heading United Women in Faith, Ms. Olson served from 1996-2007 at the United Methodist Publishing House in Nashville as senior vice president for publishing, responsible for the development, production, and trade distribution of resources from Abingdon Press, Cokesbury and Kingwood Books
An attorney and graduate of Harvard Law School, Ms. Olson was a partner at the Pitney, Hardin, Kipp, and Szuch law firm of Morristown, New Jersey, specializing in environmental law from 1983-1996.
From 1988-96, Ms. Olson was a director of the United Methodist General Board of Discipleship and was a delegate to the 1988, 1992, and 1996 General Conferences. She was elected to the postponed 2020 General Conference by the merged Greater New Jersey Conference. She served on many committees of the former Northern New Jersey Conference, including the conference's task force on sexual harassment policy and Commission on the Status and Role of Women. She was instrumental in teaching and interpreting the landmark Words That Hurt, Word That Heal document that identified the need to use inclusive language in the church.
The United Women in Faith board of directors is following the organization's by-law to begin a search process for Ms. Olson's successor.
Gifts in Honor
Gifts in honor of Harriett Jane Olson's more than 15 years of service to United Women in Faith are gratefully received. To make a gift to The Legacy Endowment Fund, which builds a permanent financial resource for all of United Women in Faith work, visit uwfaith.org/legacy. To make a gift to one of United Women in Faith's targeted giving opportunities or "where most needed" visit uwfaith.org/give. Be sure to check the box marked "gift in honor or memory," and when prompted provide the name of the honoree. For questions, please contact the Development Office at 212-870-3705 or legacy150@uwfaith.org.
Contact: Yvette Moore, Director of PR and Marketing, ymoore@uwfaith.org