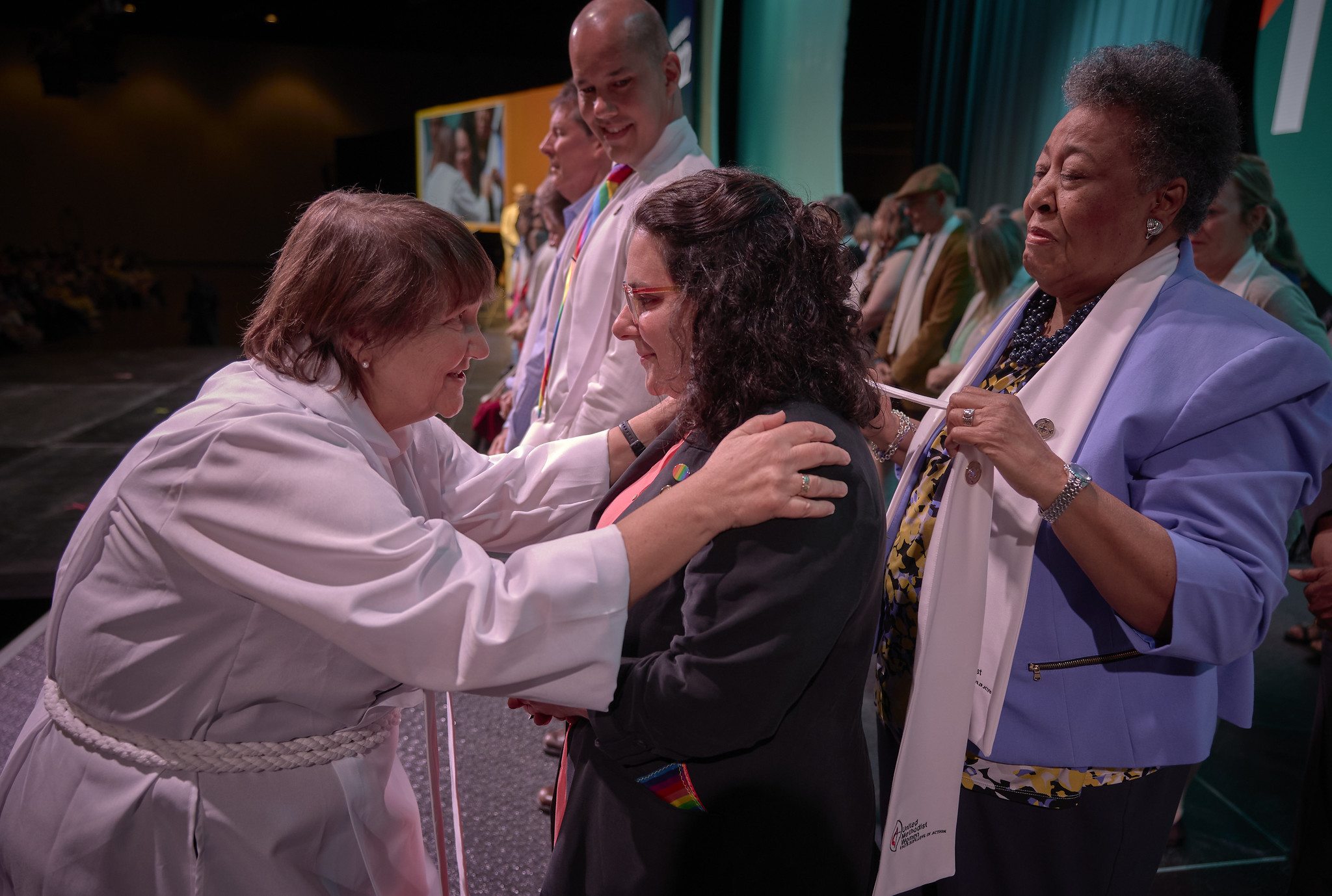 Blog
Called to Love, Justice, and Service
Deaconesses and Home Missioners Consecrated at Assembly 2022
by Tara Barnes
Sixty deaconesses and home missioners from 29 conferences were consecrated at the United Women in Faith Assembly 2022 in Orlando, Florida.
Deaconesses and home missioners are laypeople in The United Methodist Church who have responded to the call of God to full-time ministries of love, justice, and service. Individuals consecrated and commissioned to the Office of Deaconess and Home Missioner, administrated by United Methodist Women, form a covenant community in service as a lay order.
"I'm excited to be consecrated as a deaconess because it confirms my call to ministry as a laywoman surrounded by a community that supports me," said new Deaconess Gail Douglas-Boykin.
Life happens in connection
Bishop Peggy Johnson opened the service by reminding Assembly attendees that the source of our greatest power comes from understanding that we are not alone, that we share the yoke with Christ and with the Body of Christ.
The six United Methodist bishops who participated in consecrating the largest-ever class of deaconesses and home missioners were Bishops Kenneth Carter, LaTrelle Easterling, Cynthia Fierro-Harvey, Tracy Malone, Karen Oliveto, and Ann Sherer-Simpson. Joining to bishops to place scarves on the new deaconesses and home missioners were United Women in Faith General Secretary Harriett Jane Olson, executives for the Office of Deaconess and Home Missioner Scott James-Vickery and Megan Hale, and Deaconesses Clara Ester, Melba McCallum, and Ellen Dizon.
"I felt called to a lifetime of servanthood to God, and I knew that ordained ministry was not for me. I was not sure what the best course of action would be for a layperson," said Caesar Marciales, consecrated at Assembly 2022. "My wife, Kelly Tazuko Marciales, is a deaconess, and it was through her journey and consecration that I came to learn about the Order of Deaconess and Home Missioner."
Marciales is a high school math teacher in rural Alaska. Success in high school mathematics, he says, is crucial for success in college, trade school, or employment. Teaching is a ministry that helps give children and youth a chance at a thriving future.
Sharing God's love
This consecration also included, for the first time, two deaconesses from the Kenya-Ethiopia Conference of The United Methodist Church.
"There could not have been a better time than now to be consecrated a deaconess—a time to Turn It Up for the deaconess and home missioner movement in the African region," said Deaconess Leah Wandera of Kenya. "When I learned that we've never had a deaconess in Africa, I almost gave up. But the deaconess movement spoke to my heart, and I could not think of a better way to continue to be in ministry, being the feet of Jesus in the world. I am happy today to be affirmed and confirmed, to be part of sharing God's universal and eternal love, dismantling injustices and being in service with communities."
After discerning the call to lay ministry, deaconess and home missioner candidates finish a course of study to ensure biblical, sociological, and theological grounding in their ministries. They dedicate their lives to mission-oriented service as part of a lay diaconate.
Could this be a calling for you? The next deaconess and home missioner discernment event takes place June 2. You can register here on Zoom or e-mail deaconess@uwfaith.org to learn more.
"Deaconesses and home missioners today, as throughout their history, serve in a wide array of areas," said Deaconess Megan Hale, executive for candidacy for the Office of Deaconess and Home Missioner. "They go to places where the church has not been, was not aware it should be or was afraid or unwilling to be. Wherever they serve and regardless of the task, deaconesses and home missioners find and represent the presence of God in the midst of those with whom they serve."
The list of deaconesses and home missioners consecrated will be shared in the September/October 2022 issue of response magazine. Subscribe today!
Tara Barnes is editor of response magazine.