 Blog
First Sunday In Lent
Sunday, March 6
Deuteronomy 26:1-11
Luke 4:1-13
Encountering God and Finding Joy
by Grace Musuka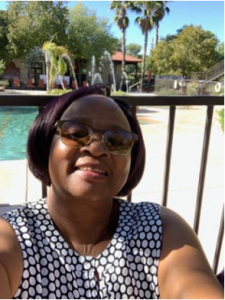 In Deuteronomy 26 (NRSV), God instructed Israelites to give their first fruits to him when they possessed the land God was giving them as inheritance. On their journey to the promised land they encountered God in many ways. I also continue to encounter God, without even noticing. First of all, God loved me so much that God gave Jesus to die for my sins. That is reason enough for me to find joy and also help others to have joy.
In my work, I find joy in observing women and children's faces illuminate because some of their needs have been met through grants provided by United Women in Faith. Grants for soap making, grinding mills and personal protective equipment have
transformed many in the region I am assigned. I am joyful that God placed me in this position where I can witness sorrow becoming joy, need becoming self-sufficiency through advocacy and justice in a Christian environment.
Luke 4:7 encourages me to worship God and serve God only. Jesus, through his encounters, taught us how to live in the world with joy. As we prepare to go through this Lenten season, may we experience joy through encountering God.
Prayer
Help me oh Lord to inspire others to encounter you so that we may all find joy in you. Amen.
Grace Musuka is United Women in Faith Regional Missionary serving in Central Africa.