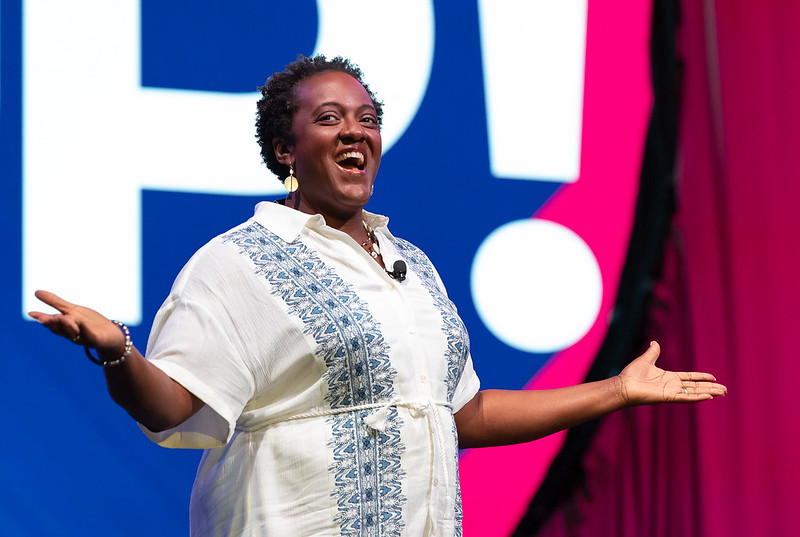 Blog
Putting Faith in Action for Climate Justice
Assembly Calls Women to Care for Creation
by Jessica Brodie
Assembly's second morning turned it up with a worship centered on how women can live out their faith through action, whether for climate change or justice in neighborhoods around us.
After a rousing time of music, including South African anti-apartheid song "Freedom Is Coming," several brought a word on creation care and the need for environmental justice.
U.S. Department of the Interior Secretary Deb Haaland joined via video, speaking on the moral responsibility women of faith have when it comes to climate change, environmental reform and caring for the earth.
As the first Native American to serve as cabinet secretary, Haaland is a member of the Pueblo of Laguna and has long advocated for the importance of treating our land and its resources wisely and with compassion. She said it's critical to advocate for reform.
"Every community deserves clean air and water. Your advocacy turns up the volume on the moral responsibility we have to each other and to our earth."
Next, Heather McTeer Toney, climate justice liaison for the Environmental Defense Fund and senior advisor to Moms Clean Air Force, took the stage. She shared how growing up, her congregation embraced Psalm 23. She was fascinated with the visuals: the shadow of the valley, the green pastures lying beside peaceful, still waters. But the beauty of the Scripture contrasted starkly with the environment around her, the Mississippi Delta, which "is not necessarily a pasture you want to go lay down in."
She began to understand the intricate, intimate connection between us and the land God provided, something interwoven throughout Scripture. Yet in a world increasingly sick, experiencing extreme weather, food disparity, lack of water, debilitating pollution and more, it can be difficult to see that connection.
"Nature loves us all the same, but we don't show nature that same love back. Nature doesn't look at us to figure out what color we are when water rushes by our feet and we step into it. It doesn't discriminate against us. So why do we discriminate against it?"
We are the answer
Toney invited women to look to their neighbors, for the answer is already within us. We must connect the dots between social justice and climate action in the church, for we have an obligation to care for the places of others as if they were our own.
"We are the answer," she said to resounding applause, pointing around the room and acknowledging the 1,200 also gathered online. "It is you, and you, and you over there in the back, and you in the corner. It's you finding ways you can connect to this work whatever they may be."
Whether it is joining a faith-based climate action group or giving our time and money to advocate for environmental justice, there is much we can do.
"When people tell us it's too big, that environmental justice is too hard, that climate crisis is just too massive, our response should be: 'But you don't know my faith because nothing is too hard for God," Toney concluded to a chorus of amens.
Theologian-in-residence the Rev. Janet Wolf echoed the need for action in caring for the earth.
"There is work to do: temperatures are rising, cities sinking, birds and humans dying from a poisoned atmosphere," Wolf said, sharing statistics of an increasingly sick planet. "The world as it is is not the way God intends for it to be. God cries for the healing of all creation, for justice that rolls down like mighty waters, for congregations to show our faith through our actions."
The church is not a haven to avoid the problems of the world, she said, a community that empowers us to wade into struggles for justice in Jesus' name.
Worship closed with "Ain't Gonna Let Nobody Turn me Around," urging women to press on in the fight for climate change.
Jessica Brodie is editor of the South Carolina United Methodist Advocate.