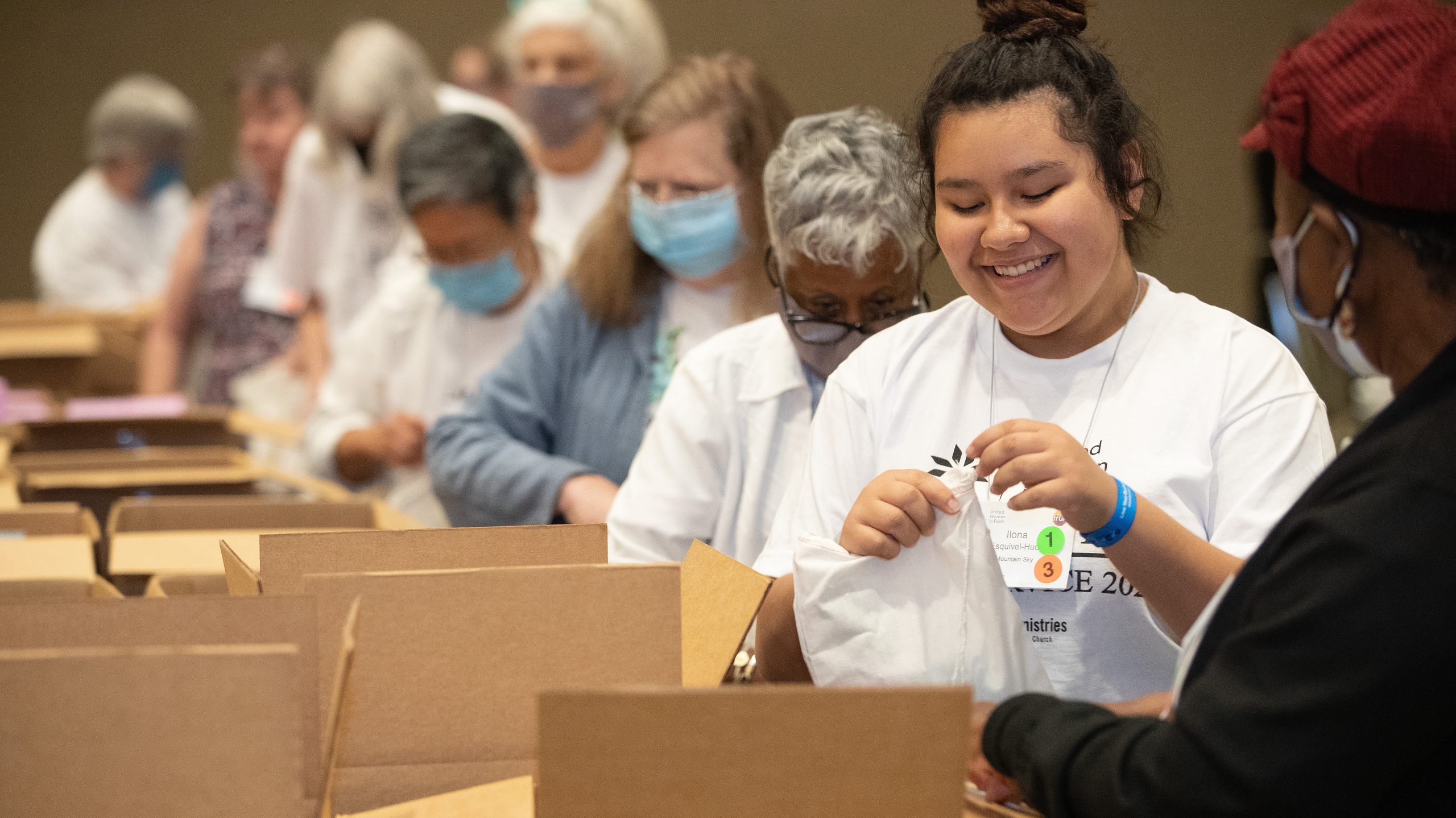 Blog
Ubuntu Day of Service at Assembly 2022
Assembly attendees serve Orlando community
by Tara Barnes
Three hundred women came to Assembly 2022 a day early participate in an Ubuntu Day of Service, a day of volunteer work supporting outreach organizations in Florida, site of this year's Assembly event. The day was sponsored by the United Methodist General Board of Global Ministries.
Participants put together meal, hygiene, and community garden packets to benefit three organizations: Rise Against Hunger, My Neighbor's Children, and Cornerstone Family Ministries.
The event took place at the Orange County Convention Center and began with an opening devotion, led by United Women in Faith's Michelle Clemons, co-organizer of the event along with Zelda Jones. The devotion focused on the Assembly Scripture passage James 2:14-24.
"Ubuntu is the being of mission," Clemons said. "It focuses on relationships, shared experience, and mutuality. Having a positive impact on someone else's life reminds us of the value we bring and gives our lives purpose."
Traditionally Ubuntu Day of Service participants visit various organizations in the city in which Assembly takes place, but this year safety precautions were necessary with the ongoing COVID-19 pandemic. Busses and site visits once scheduled were reorganized to become onsite projects. The kit assemblies were a way to support the community while not also putting community members at risk.
"Even with the COVID restrictions this year, my hope was to give the women the same feeling of community service by working with the community organizations in the convention center as they would have experienced in previous Ubuntu Days of Service," said Jones, who serves as human resources generalist for United Women in Faith.
The orientation included presentations from each of the partner organizations.
Partnering with the community

Rise Against Hunger is a global nonprofit working to end hunger by empowering communities, with a location in Orlando. It was founded by a United Methodist pastor in 1998 and has partnered with The United Methodist Church since then. Ubuntu Day of Service participants assembled packages of rice, soy, dehydrated vegetables and a flavoring mix.
According to the organization, this combination includes 20 essential vitamins and minerals, and the packets have a shelf life of 2 years. Packages include 6 servings are shipped around the world to support school feeding programs and crisis relief, a "safety net" to meet immediate needs while the organization works to build long-term food security. This project was sponsored by the Florida Conference of The United Methodist Church.
"I love that faith in action is a main tenant of United Women in Faith, and having an opportunity to put my faith into action at Assembly is one of my favorite parts of the event," said Amanda Heeren, who helped put together the meal bags and who is attending Assembly with her mother for the fourth time. "Each time I have been able to participate in ubuntu days over the years has been inspirational and life-giving."
One thousand meal packets were assembled.
Hygiene kits included a toothbrush, toothpaste, shampoo, body wash, lotion, soap, and washcloth. Attendees decorated and filled 1,400 reusable bags. The Apopka outreach organization My Neighbor's Children will work with Christian HELP to distribute the kits to those who need them.
The hygiene kit provides people necessities, but also hope, said Vickie Martin, executive director for Christian HELP. "It helps reduce expenses and helps people feel less self-conscious. The kits meet a real need and make a real difference."
Love in action

Cornerstone Family Ministries in Tampa, Florida, is a United Women in Faith-related national mission institution supported by members' generous Mission Giving. One of its programs is community gardens, providing families and children nutrition education and access to fresh fruits and vegetables.
"The seed packets will be used in our Garden Movement program," said Cornerstone Executive Director Cathy Stone. "This garden was started with some 'seed money' from United Women in Faith and serves as the hub for our nutrition education program and a source of food for the neighborhood. The majority of the seeds will be sent to over 150 early learning centers and afterschool programs sponsored by Cornerstone in the five-county Tampa Bay region."
Cornerstone is one of the nearly 90 organizations across the United States providing vital services in vulnerable communities, empowering women, caring for children, supporting seniors, educating youth, providing housing for domestic violence survivors, and offering residences for special needs children and youth. Learn more about national mission institutions on our national ministries web page.
More than 500 seed packages were put together, with three to four seed packets per package. Seeds included collards, kale, amaranth and spinach. All of the seeds were donated by members of United Women in Faith. More seeds will arrive as more members arrive to Assembly over the weekend.
"I love Ubuntu!" said Vickie Newkirk, member of United Women in Faith from Indiana. "'I am because you are.' Each of my Ubuntu experiences has deepened and strengthened my response to Matthew 25:31-40. I have been so blessed by serving in unity, sharing with our sisterhood in faith and hope to help make a difference to one, to all."
Though this year's service day looked a little different than those at Assemblies past, members of United Women in Faith still found creative ways to come together to put love in action.
Stay tuned to our blog for more news from Assembly 2022, and visit our Flickr page for photos!
Tara Barnes is editor of response magazine.