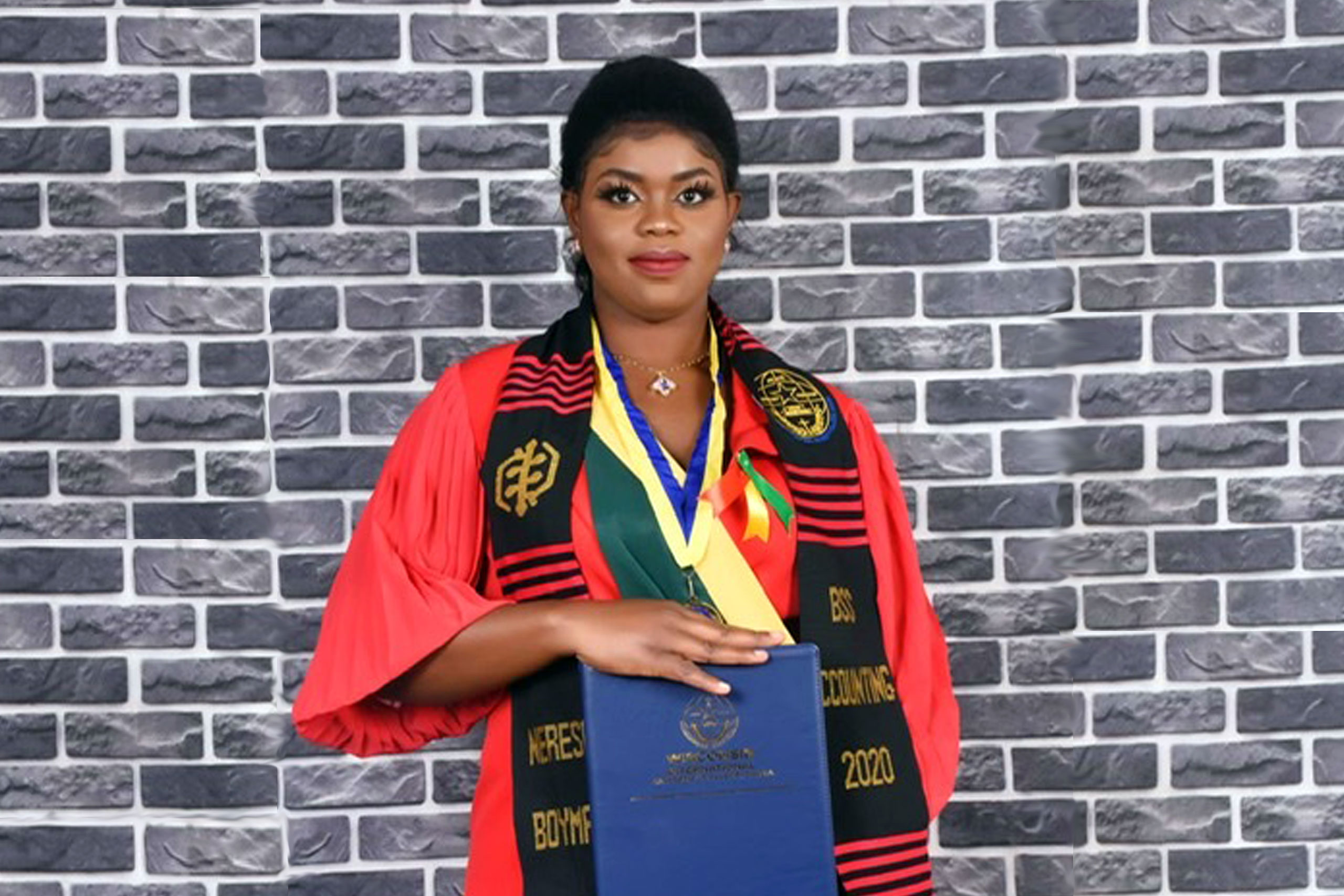 Blog
From Refugee Camp to World Class College
Gaining Confidence with United Women in Faith International Scholar Neresa Boymah
by Mary Beth Coudal
Neresa Boymah will receive her MBA in Finance from Wisconsin International University College in Ghana in a year and a half. This achievement is remarkable because Boymah, originally from Liberia, grew up in Buduburam refugee camp in Ghana, never believing that she would receive her college degree.
"By the intervention of the almighty God through the Methodist women's scholarship, I have gotten full financial support and I was able to enroll at the university and have successfully completed my first degree through this scholarship. This scholarship has indeed helped me to overcome my financial barriers," says Boymah.
Her bachelor's degree, she believes, has increased her marketable skills, thus allowing her to pursue her advanced degree, gaining confidence as she learns skills, celebrates the diversity of the world, and prepares for the workforce.
What follows are excerpts from a recent correspondence from Boymah.
Confidence
College has provided me with my first opportunity to take charge of my life and make my own decisions. In college, l had the opportunity to choose what courses to take, decide on the extracurricular activities in which to participate, and make choices about how to spend my free time. While I wasn't completely on my own in these responsibilities — college offered many types of support, such as academic advising, and plus my friends and family contributed — at the end of the day, I had to lead myself, and this has helped me develop into a mature, responsible, and independent adult.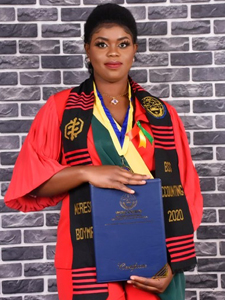 In addition to paving the way to my independence, college also has enabled me to discover and/or fine-tune my values, beliefs, and goals. By opening myself up to a wide range of activities, people, and experiences, I have learned more about myself and what I stand for. I have followed and satisfied my curiosity, and discovered what I am passionate about. College has provided me with opportunities that may not be available otherwise, which is hugely beneficial to my personal growth and life path.
Furthermore, my college experiences have generally boosted my self-confidence. Personally, my confidence level was very low when I began college, but by interacting with different people during lectures, group tasks, sports activities, social events, joining clubs, etc., I have become very confident in myself. I'm now able to express myself anywhere at any time and make my points strongly.
Diversity
I have met new people and created lifelong bonds. One of the most important personal benefits from my college experience is the chance to meet new people and develop enduring friendships. As a high school student, I valued my friends; the idea of parting with them and making equally meaningful connections with new people felt uncomfortable and seemed impossible.
However, I had the chance to meet different people at college who share my values and interests, and I also developed new interests by connecting with people who have different backgrounds and life experiences than mine. It's not to say my high school friends won't stay lifelong friends as well, but college certainly provides a way to make more (and more varied) lasting bonds and connections.
Job Readiness
My college experiences have prepared me for a future job. I'll have to interact with different people from diverse backgrounds; and I have learned to get along and accommodate different people, despite our individual differences as humans.
As the world changes, the job market changes as well. Technology, education, and healthcare are three of the most rapidly growing fields currently; they evolve so often that only the most accomplished individuals can do the work.
Acquiring a bachelor's degree through this scholarship has helped me acquire higher knowledge and learn skills and habits needed to secure a good quality job and make a good living. Last semester, for example, I was privileged to study in the following courses: auditing and assurance, Tally software and business accounting.
In Conclusion
Furthermore, as I mentioned, one major struggle of my life, from infancy, is low self-esteem. With the help of this United Women in Faith scholarship, I have been able to rise high above low self-esteem and have grown personally with a very improved/high self-esteem through my tertiary education process.
Conclusively, this scholarship has generally helped me overcome my uncertainties, fears of failures, and limitations in life and has given me a great hope to a certain successful life and has prepared me for a fulfilled life.
Neresa Boymah received a United Women in Faith scholarship for her full undergraduate degree from 2017 to 2021. This year, United Women in Faith is funding more than 270 scholars, internationally and nationally.
Join our members in supporting work with women, children, and youth by giving now.