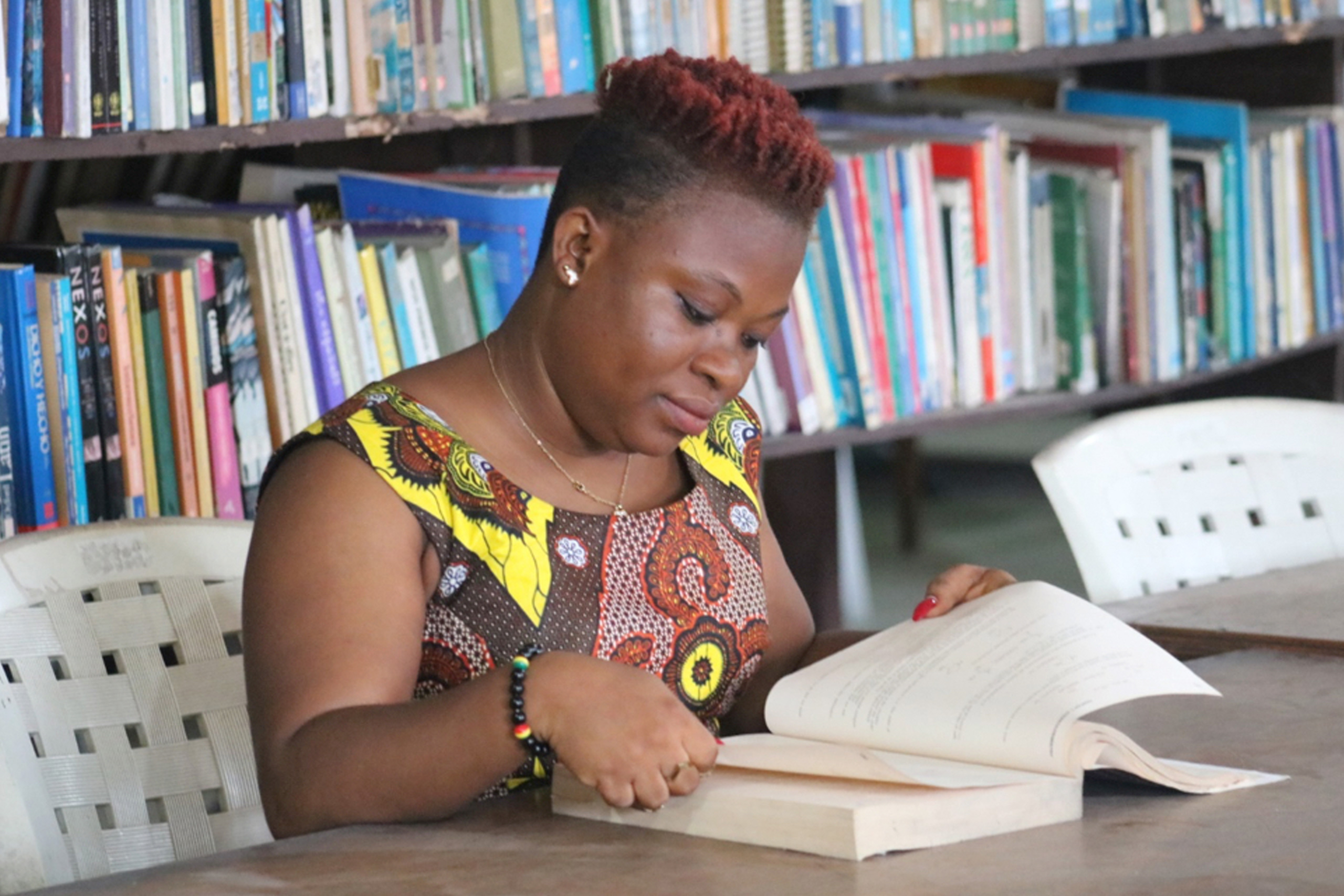 Latest News
July/Aug. response: United Women in Faith International Ministries
Our international work empowers women and youth to find local solutions and make positive, measurable change in their communities.
by Betty Gittens and Tatiana Dwyer
"Many women cannot afford to feed their families. We are blessed that we can sell the eggs and use the proceeds to buy food," said Pauline Juma from Busia United Women in Faith in Kenya, who has, like many in her circle, received chickens for rearing as part of a program to empower women.
Small acts of economic empowerment such as raising chickens can go a long way for women around the world. When women thrive, entire communities benefit. For more than a century, United Women in Faith and its predecessor organizations have focused a large part of their efforts, resources and time on international work, with an aim to lessen the impact of poverty through enhancing the capacities of local women and supporting their self-determination.
Over the past several years, the focus of United Women in Faith's international work has been leadership development, economic empowerment and skills building. We work in partnership with women in United Methodist central conferences so that they can develop the skills to identify their own needs and address priorities in their communities. Local ownership is an essential element of this work and, to ensure this, United Women in Faith established local coordination teams called country teams in countries in which we work. These country teams are composed of United Methodist and United Women in Faith leadership and a young woman representative and are led by the United Women in Faith regional missionaries. Our international work with country teams is five-fold: women's leadership development, economic empowerment, skills building, peace with justice work and emergency response.
Leadership development
United Women in Faith recognized the essential role leadership development plays as a basis for building women's capacities to improve their own circumstances and that of others in their community.
"Leadership development is a major need in developing full human potential spiritually, psychologically, culturally, socially, economically, politically toward responding to basic needs and wider needs of the majority," said Emma Cantor, regional missionary for Asia. "Leadership development is basic to help alleviate suffering, uplift the participation of women and youth, prioritize resources for their basic needs and engage people in active participation towards their full potential."
The country teams play a pivotal role in creating the leadership development program in their respective countries. As local program implementors, the country teams are trained using the methodology of the "Training for Transformation" program. The program uses a community-based approach to identify the strengths and needs of local women. Ultimately, the country teams gain skills and tools that will allow them to train other women in their communities. The first country team training was held in South Africa in the fall of 2019. Currently, there are country teams in Sierra Leone, Mozambique and the Democratic Republic of the Congo; countries that are most in need of economic and social recovery after wars and poverty have upended lives.
Economic empowerment
"Economic empowerment helps the vulnerable, who are more dependent on social benefits. By empowering individuals to become economically or financially self-sufficient, they are removed from social or welfare benefits and become more productive members not just to themselves but to society as whole," explains Finda Quiwa, regional missionary in Africa.
The international work of United Women in Faith provides seed funding as women develop and manage small-scale businesses in fisheries, farming, vegetable gardening, soap making and sewing. Within the past year, United Women in Faith provided 23 economic development seed funds for a total of $234,400 to increase women's ability to move and stay out of poverty. For example, the women in Moyamba United Women in Faith in Sierra Leone have developed an organic detergent as part of their entrepreneurship activities. And with the seed funds they received from United Women in Faith in February 2020, women in Mozambique North Annual Conference got a space, acquired necessary equipment and, despite the rainy season, built water tanks for fish. They faced the challenges of finding technical expertise and of birds and lizards eating the fish. The women persevered, finding solutions to their problems, and today the fish farm is a rewarding local business run by women.
A recipient of chickens is Mary Nangira Obuya in Kenya, who says, "We are blessed with five children, between the ages of 2 and 14. I thank United Women in Faith for remembering us women during this pandemic. I received five chicks and I have raised them all. I am soon receiving eggs. My target is to have more hens, fertilizer for my kale and a tomato garden. From this project I will be able to pay part of my school fees for my children."
Skills building
Hand-in-hand with the economic empowerment of women, United Women in Faith offers opportunities to build skills. Once learned, skills can never be taken away. These programs are and have been vital, especially through periods of lockdown during the pandemic when jobs were scarce, and women most frequently lost work.
When provided with new skills and learning opportunities, future leaders emerge. For example, Esmenia Morais at the United Women in Faith Mozambique North Annual Conference studied sewing at the Nicoadala Training Center.
"Finally, I can develop a skill that will help me make a living," she said upon learning that her training would be funded. She could imagine sewing clothes for herself and her family and taking orders and earning income from community members.
"I am so grateful for the opportunity to be part of this course," she said, "because, at the end of it, I will not be the same, and I will not be facing the same financial challenges as before."
Peace with justice
United Women in Faith has long been involved in peace and advocacy work, providing a place at the table to marginalized voices through its Church Center for the United Nations office. Since 2000, with the adoption of United Nations Security Council Resolution 1325 calling for equal participation of women in all peace processes, United Women in Faith has been in the vanguard of advocating for women's role in peacebuilding. Women's leadership in peacebuilding is critical to stopping modern wars and conflicts.
In 2015, after the conflict between Ukraine and the Russian Federation, United Women in Faith provided space to women from Russia and Ukraine to engage in peace dialogue. The women decided not to stop there but to expand the dialogue to include more women leaders from other countries in the region. United Women in Faith helped them create the Women's Peace Dialogue Platform, a unique regional network that unites women's organizations working on peacebuilding and gender in the Eastern and Southern Europe and Central Asia region.
The peace work of United Women in Faith and WPDP has never been more important than when the brutal invasion by Russia in Ukraine took lives and destabilized the region in 2022. Peace remains an abstract concept until a war starts. Through our special Voices From the Field event, our members heard directly from our partners in Ukraine and its neighboring countries about the situation on the ground and its impact on civilians, especially women and children. Today women are proven leaders in peacebuilding, and the WPDP project supported by former National President Shannon Priddy's United Women in Faith President's Initiative, confirms and manifests their leadership.
Emergency response
To address the immediate needs of the most vulnerable women and their families during the height of the pandemic, upwards of $100,000 was provided to dozens of local projects requested by United Women in Faith country teams to offer clean water, nutritious food, reusable face masks, sanitation and hygiene items to people in need. Medical equipment, test kits and personal protection equipment to prevent the spread of the virus were also given. In addition, financial support was provided for trauma counseling to domestic violence and sexual abuse programs, as more women survived domestic violence during extended lockdowns.
During the official lockdown in Mozambique, Antónieta Massingue, a single mother, sold vegetables at the local market out of necessity. Police tore down her vegetable stand, and she was thrown in a jail for breaking restriction laws. When she was released and received the food package from the country team, she was overcome with emotion.
"I just see God acting through these women," Massingue said. "I can now wash clothes using soap and my children can eat porridge again. This gift has changed the direction of my spiritual life, my faith is renewed."
After receiving the COVID-emergency grants, many women had enough food at home and didn't have to risk their lives by going to the market every day, facing the possibility of contracting and spreading the virus.
A new way of telling stories
United Women in Faith is intentional in bringing the authentic voices of local women in mission around the globe to our members. Local journalists on the country teams capture the experiences of grassroots women in the articles, photo and video. The online quarterly program, Voices From the Field, features women leaders sharing stories from their work and life. Voices From the Field connects our members to the programs of United Women of Faith. It also showcases the impact of their gifts on women and their families. With Voices From the Field, our members can travel across the oceans, see programs and learn of creative ways women in faraway countries like Mozambique start a fish farm.
United Women in Faith partners with grassroots women leaders, and together we can create a better and more peaceful world. The expansiveness of God's love, shown through the work, is transformative. And we continue this critical work by building leaders, empowering them economically, providing skills and critical support, advocating for peace and standing in solidarity with women in most difficult times.
Betty Gittens is executive for international ministries and Tatiana Dwyer is executive for global justice for United Women in Faith.