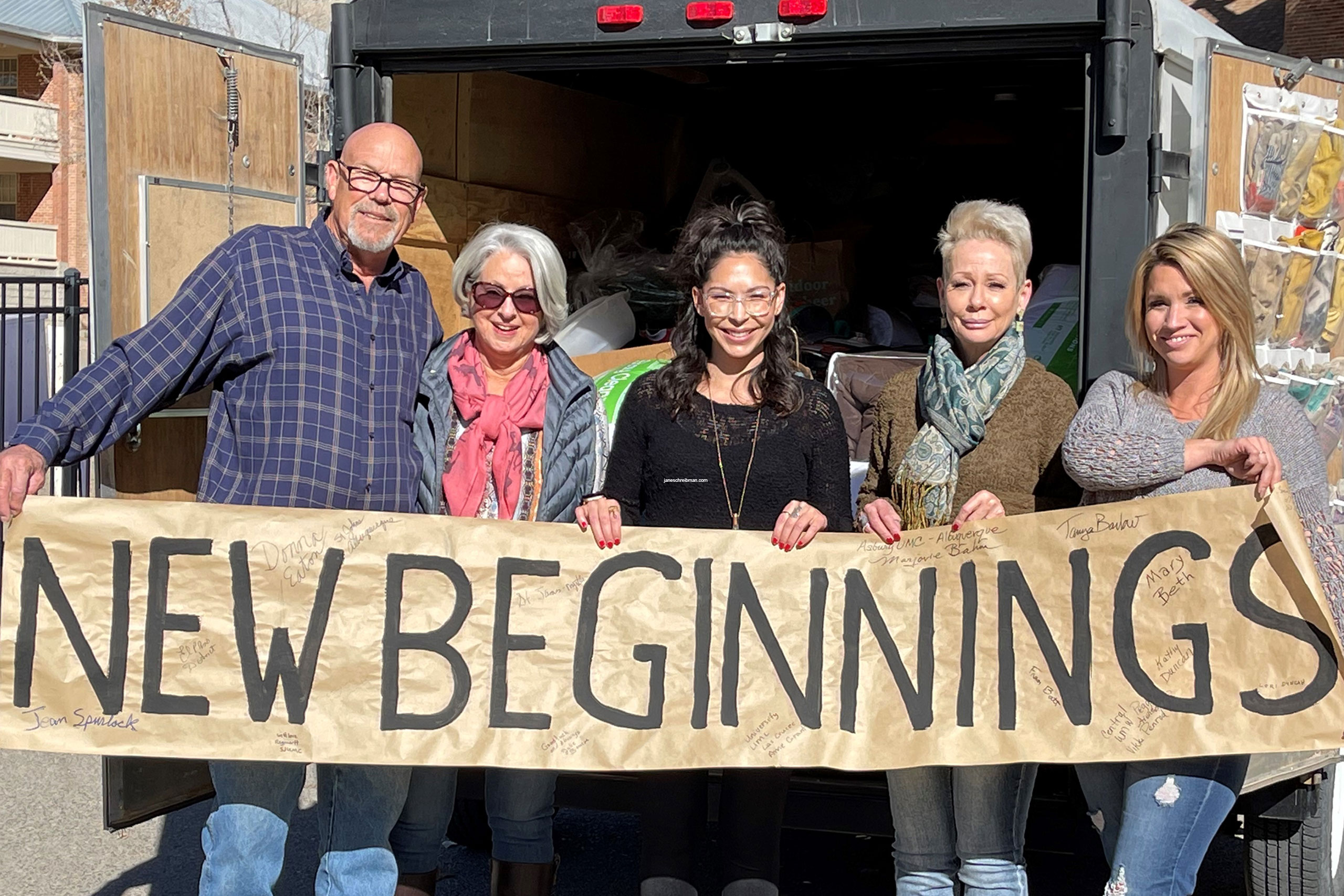 Latest News
March/April response: A Place for New Beginnings
Navajo United Methodist Center in New Mexico gives women, children and youth a chance for a fresh start
by Devin Long
It's a story often told: A woman takes her children and runs after years of intimate partner abuse. She is why New Beginnings exists.
New Beginnings, Navajo United Methodist Center in San Juan County, New Mexico, provides on-campus transitional living for survivors of physical, emotional and sexual abuse and stalking. New Beginnings is the next step from a crisis shelter. It allows participants to live rent-free during their 1-year stay, giving them the chance to become more emotionally and financially independent. The campus includes three multi-family homes and two single-family trailers. The program is welcoming to all genders, ages and backgrounds, because intimate partner violence does not discriminate. It is one of just four transitional living programs in New Mexico. New Beginnings is a United Methodist Women-related national mission institution supported by members' Mission Giving.
According to the National Coalition Against Domestic Violence, nearly 20 people per minute in the United States are abused by an intimate partner, with 1 in 4 women and 1 in 9 men experiencing severe intimate partner physical or sexual violence and/or intimate partner stalking. ­You likely know someone who has experienced this violence, even if you don't know you know. New Beginnings is usually at full capacity at all times.
Understanding and encouragement
In addition to the transitional living program, in 2020 New Beginnings opened the first trauma-focused child-care center in the state of New Mexico. The staff is specially trained to engage with children with emotional or behavioral challenges.
Children who have experienced trauma like those at New Beginnings often suffer from depression or engage in high-risk activities such as alcohol use, drug use and promiscuous relationships. Boys are more likely to become perpetrators themselves. These students benefit from the small classrooms the school offers that are limited to a ratio of 3 children to 1 teacher.
Instead of traditional punitive forms of discipline, the New Beginnings Childcare Center works to help students learn to understand their emotions and how to handle them in a healthy way. It maintains a calm environment and employs a child advocate to work with children one-on-one.
"Sometimes it can be really challenging, trying to help traumatized kids learn how to recognize and cope with their emotions," said New Beginnings Child Advocate Whitney Lengstorf. "I have found that you should never push a child to overcome their trauma, especially during a triggering episode. Sometimes the best thing in that moment is to give them love and let them know you understand. A lot of times with young children, they don't see their emotions are a reflection of something that has happened, and therefore it's hard for them to recognize their emotions and triggers. This is why I get on their level and emotionally support them during times when they are unable to do so themselves."
The center is available for children ages 6 weeks to 16 years, Monday to Friday, 7 a.m. to 7 p.m. School-age children are able to come to the afterschool program, where the afterschool teacher assists with homework and remote learning. She also offers routine STEAM-based (science, technology, engineering, arts and mathematics) lessons. Child-care center teachers engage in various trainings to ensure the center is most up-to-date on trauma education.
Community support
For many, holidays are a joyful time with family and friends. For the residents of the New Beginnings program, holidays can be filled with stress and anxiety as they remember not-so-joyful times. In 2021, the United Methodist Women at St. John United Methodist Church in Albuquerque, New Mexico, decided to bring some Christmas joy to the New Beginnings families. In October 2021 the group filled a 10-foot trailer with Christmas trees and décor, essential household items and a wide variety of gifts and delivered them to New Beginnings.
"I am so grateful for president Regina Hampton and all of the members of the St. John United Methodist Women for their generous donations," said Melissa Tarazon, executive director of New Beginnings. "They helped us make Christmas merrier."
A new project planned to begin in spring 2022 is called From Houses to Homes. This will renovate one of New Beginning's houses once a year. The houses were built in the mid-1900s, and it is time to give them a facelift. This renovation project will involve the community and supporters of New Beginnings.
When residents come into the program, they often feel alone. From Houses to Homes will show residents that they have many people cheering them on. The new homes will display a list of names of the people, businesses and civil groups that worked to make that house into a home and serve as a visual reminder of an extended support system.
The first house to be renovated is called the House of Faith, a long-term children's home that is a program of the Four Corners Home for Children, the most accessible house for persons with disabilities. This new project will be one more way New Beginnings works to show love and care to its community.
Continuing care
In 2020, New Beginnings provided a total of 4,485 bed nights to 19 women, 3 men and 28 children sleeping safely away from their abusers. Of these men, women and children, 82.7 percent were Native American.
According to the United States Census in 2019, San Juan County's population was composed of 41.6 percent American Indian/Alaskan Indians, comparable to 1.3 percent in the United States. In 2021, New Beginnings has served 17 adults—16 women and 1 man—and 30 children. New Beginnings will never stop expanding its services to ensure that residents can put their best foot forward and have a chance to thrive.
Your generous Mission Giving helps national mission institutions such as New Beginnings continue its mission and help its community. You can support national mission institutions by visiting our giving page. Together, we can change lives.
Devin Long is grant manager and community outreach specialist for New Beginnings, Navajo United Methodist Center in Farmington, New Mexico.