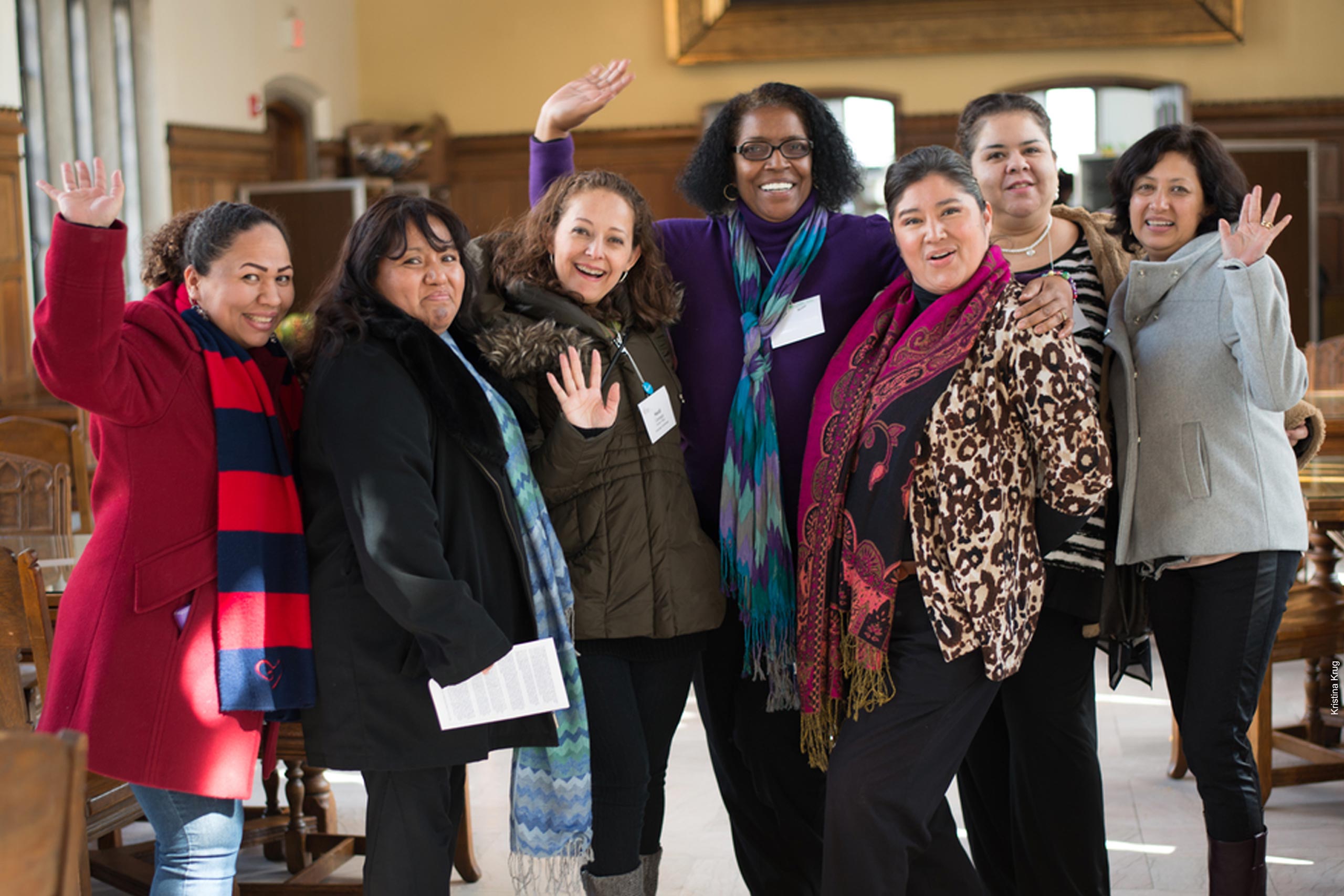 Latest News
March/April response: We Are United Women in Faith!
As United Methodist Women refreshes its look, it embarks on a bold journey of nurturing sisterhood with a new name to reflect a bright future.
by Yvette Moore
In 150 years in mission, our organization has had more than 25 names, each reflecting the varying times, ways women lived their lives and the states of union of our many predecessor denominations. We've been "Ladies," "Woman's" and then "Women's" societies, associations, guilds and circles. We've even had multiple names at the same time to include women in different life stages or styles, such as Wesleyan Service Guild for working women and Woman's Society of Christian Service geared to the day's many homemakers in the 1940s. The name United Methodist Women was adopted in 1972, signaling a change not only in the life of the church but in the lives of women and how they could organize for mission.
We are again facing a change in the life of the church and in how women live and choose to engage the world in faith. It is again time to take on a new name.
A new name
Beginning this year, United Methodist Women will call ourselves United Women in Faith.
Our new name is part of a refreshment of our organization that includes a new look, new feel and new and improved programs designed to better nurture current members and welcome new women into our sisterhood to put their love in action too.
As United Women in Faith we are a powerful, fearless force driven by God's love and united in sisterhood with a focus on women, children and youth. We act for justice and transform communities. We invite United Methodist and other like-minded women to join us, because love in action can change the world.
Adopting the name United Women in Faith and introducing new and improved programs acknowledges the great changes that have occurred in the lives of U.S. women over the past four decades and in the ways they're engaging their faith. It acknowledges the changes you need to continue to grow in your faith and make the differences you want to make.
We will maintain the legal name United Methodist Women while operating as United Women in Faith, similar to our time as United Methodist Women while officially the Women's Division from 1972 to 2012. You'll continue to see the name United Methodist Women used in some places, but as we move into the future, together we'll be United Women in Faith.
We remain the official women's organization of The United Methodist Church. We remain the organization training women for leadership, growing spiritually, transforming through education, and providing opportunities for service and advocacy. We remain women in mission who follow God's call for our time.
"This is an exciting time for our organization!" said Harriett Jane Olson, CEO of United Women in Faith. "Looking back, we see the through lines for our organization—faith in God and commitment to women, children and youth—and how this has been expressed in different ways at different times, always calling women into action that changed the world. This refreshment opens up new opportunities for us to continue to make that happen."
As of printing, a United Methodist General Conference is scheduled to take place this year. No matter what happens at General Conference, churches will leave the denomination, and the denomination will change. Our new name lets women know they can remain a part of our organization, and it lets them know we will not leave them behind. It also lets the church know that we've been on a path of listening and discerning that will help us lead the church into its full potential.
Faith, action and sisterhood
Over the past two quadrennia, the United Methodist Women board of directors, with input from the United Methodist Women Program Advisory Group, has guided the organization's rebranding work, program innovations and new initiatives. A committee of these leaders created a new mission statement for our organization: United Women in Faith seeks to connect and nurture women through Christian spiritual formation, leadership development, creative fellowship, and education so that they can inspire, influence and impact local and global communities.
Board President 'Ainise 'Isama'u said the changes express our core values in ways that will excite our members and invite new women to join us.
"I'm confident our members will be excited about these changes. Together we are creating more opportunities for engagement with more women through new programs and updates of long-standing programs that embody our core values. Things change. People change. But God remains, and that continues to be the purpose behind everything that we do in this organization."
Faith, action and sisterhood are our calling cards as we reach out to invite new women to join us on this wonderful journey and find new ways to support one another and women, children and youth. Faith, because at our heart and in our soul, we are a faith-driven organization. Our beliefs bring us together. And our spirituality pushes us to do more. United Women in Faith enables women to boldly live our faith and connect to something bigger. Action, because our actions have always spoken as loud as our words: Acts of love, acts of faith, acts of change. For more than 150 years, our members have been showing up and getting things done. Together, we're making the world a better place: locally, globally, fearlessly. Sisterhood, because we welcome and connect women together. We are on a mission to boldly act and transform communities.
Our new logo features our new name of United Women in Faith next to a Christian cross in muted yellow, blue, orange and green to reflect our forward-looking faith and the diversity of the organization and God's world.
"The wonderful qualities of our beautiful new logo are that the colors and the cross symbol are fresh, open and align with the goals of United Women in Faith to remain modern, inclusive and relevant," said Rae Grant, senior art director for the organization. "It really does embody the goals of the organization and hopefully makes all the members proud and excited to be part of the future of United Women in Faith."
This is indeed an exciting time for our organization, as we move forward into our future. Together, we can do more. Our strengths and steadfast Christian faith are needed now more than ever. Let's stand united as, together, we continue to put love in action. You are our future. Welcome to United Women in Faith!
Yvette Moore is the director of public relations and marketing for United Women in Faith.
---
Frequently Asked Questions on United Women in Faith
Are we still a part of The United Methodist Church?
Yes! We are still the only official women's organization of The United Methodist Church, and our legal name will remain United Methodist Women.
What do we call ourselves now?
You are United Women in Faith! It's okay to ease into it; it's a big change. We'll have the new logo ready for download on our new website, and other materials are available there to help us all and transition together.
How were these decisions made?
Our new programs are fruits of the research the national office conducted over the past quadrennium along with prayerfully seeking to discern the times for our organization. The member-elected United Methodist Women board of directors, with input from the program advisory group, has guided the organization throughout this process.
We've conducted surveys, focus groups and interviews with more than 24,000 United Methodists and women of other denominations and Christian traditions. The changes and programs are data-informed and tested to address the needs and life stages of current members and new women.
Will these changes impact me and my local unit?
All of our traditional structures on the conference, district and local levels—circles included—remain intact. These new tools and programs are additional options available to you and your unit to help you better nurture current members, recruit new women into the organization and manage your unit's
finances.
Can we be members if our church leaves The United Methodist Church?
Yes. Changes to the bylaws allow for women to be involved and be leaders in our organization even if they become affiliated with another denomination. Our new name makes our organization more inclusive.
Where can I learn about all of the changes underway?
New Wineskins resources available on the website at uwfaith.org will give you an overview of the changes underway. Changes include the new name, new website, templates for Soul Care retreats, innovations to Mission u and Leadership Development Days, a national membership option, more targeted giving options, new online tools for treasurers and new and improved resources.
What is the New Wineskins Campaign?
United Methodist Women—now United Women in Faith—is again saying yes to being part of what God is doing in the 21st century by creating new and improved ways for women today to gather for faith, sisterhood and action for women, children and youth.
In other words, we are making new wine and new wineskins to fulfill our role in God's mission today. The New Wineskins Campaign is about these exciting changes and spreading this great news with members during this time of transition.
Why the rebranding?
Brand is a term most often associated today with commercial marketing, but in reality, everyone has a brand. Brand is just a term to describe what people can expect to experience when they encounter you. Branding encompasses the things we do—our look, our actions, our messages—that help let people know who we are and what we deliver.
Rebranding United Methodist Women means we are refreshing the way we tell our story and updating our programs, resources and outreach efforts so that we better nurture current members and are more attractive to and welcoming of women of diverse backgrounds and life stages by meeting them where they are.