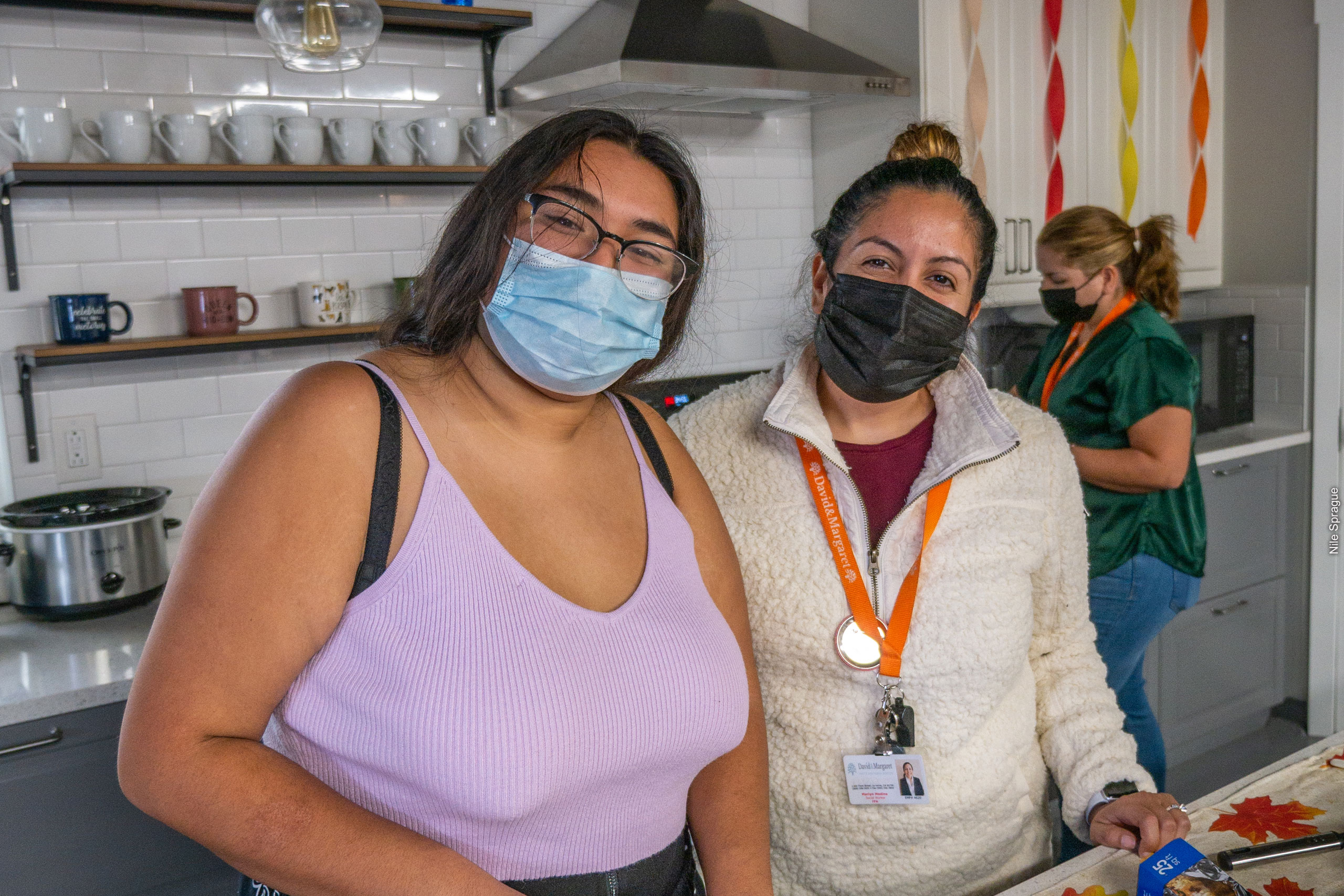 Latest News
Nov./Dec. response: Finding Home
David and Margaret Youth and Family Services helps young people in its community get the support they need for thriving futures.
by Nile Sprague with Tara Barnes
When both of her parents passed away within two years, Cecilia Flores turned to David and Margaret Youth and Family Services for support. Flores, 20, lives in an apartment near the organization's La Verne, California, campus while studying psychology at Mt. San Antonio College and working part time at a local bakery, a job David and Margaret helped her find.
"They've been helping me with everything I need so far," she said. "Right now, my main focus is my schooling. They've been helping me with financial aid, my classes, how to schedule everything, how to take classes online. I almost fell behind in school because I couldn't figure out the online platform. Thankfully, someone here was able to show me how to do it—how to log in, how to stay logged in, how to schedule an appointment, how to contact my counselors and my teacher through e-mails. They taught me how to navigate through all of it.
Her apartment is subsidized by David and Margaret through its transitional housing program. Participants also receive a monthly stipend. Flores can focus on school and what it means to live on her own without having to worry about finding and paying for a safe home.
For a short time after her father died, Flores, a recovering drug addict, lived with a cousin, a situation she called "not good."
"I had to get out of there. Now, it's a lot better because I'm not around people drunk all the time. I'm not around the mess, the fighting. When I would try to sleep, all I heard was screaming, arguing, video games," she said. "Now it's more peaceful. I have more time to myself. I have a freedom that I did not feel before. Now I know I'm safe. I'm going to be okay. My apartment is very nice. I love it."
Transitional housing is part of David and Margaret's COMPASS program, which also includes a permanent supportive housing program, one-on-one employment and education support and a drop-in center with a lounge, laundry, showers, kitchen, tutoring, computer lab, social events and more.
According to the University of Chicago's Voices of Youth Count, 33 percent of youth who are homeless had once been part of the foster care system, and 50 percent of homeless youth have been in the juvenile justice system, in jail or detention. Not having a high school or general equivalency diploma is the highest risk factor for youth homelessness.
In addition to finding children foster families, David and Margaret offers support for youth who age out of foster care at age 18 and out of extended foster care, which ends at age 21.
"Our primary goal is to help our clients become as self-sufficient as possible," said Wayne Wolcott, social work supervisor for the transitional housing program. "Housing isn't our primary goal, but it's the first thing we provide. Our primary focus is independent living skills. We want to help our youth learn the skills to become self-sufficient adults: enrolling in school, getting a job, maintaining a job and things many of us take for granted like budgeting, how to file taxes, how to clean your apartment—skills that we learned through life experience, but our clients haven't had the opportunity to learn these experiences."
David and Margaret is a United Women in Faith-related national mission institution supported by members' Mission Giving.
We take them in
The Foster Care and Adoption Agency at David and Margaret works with surrounding counties to place children awaiting homes. According to the organization, 55,000 children live in foster care in California, with over 50 percent of those children residing in Los Angeles County. In addition to complete adoption services, the agency offers training, screening, child and family therapy and around-the-clock support. As part of its commitment to serving participants as whole people, David and Margaret offers mental health programs, both a child full-service partnership program to help keep children and parents together and intensive services foster care, with foster parents who have received specific therapeutic training to better support the children and youth in their care.
The organization also offers a safe home for unaccompanied minors who have migrated to the United States, through a partnership with the U.S. Office of Refugee Settlement, a program they call New Beginnings.
"New Beginnings is a shelter program for youth that don't have an identified sponsor or guardian in the United States initially," explained Michael Miller, senior director of residential programs at David and Margaret. "We take them in and provide care for them: food, clothing, shelter, medical care, mental health services, schooling, and we work to identify a sponsor, usually a relative that's in the United States who will be able to take them in and provide safe care for them."
Most New Beginnings staff speak the children's first language, and the trained team ensures children receive the care they need, including recreational and leisure activities, providing a safe haven while they go through the reunification process.
"Children stay here from 15 days to sometimes three months, depending on their case. Our main goal is to reunify these children with a sponsor, either a family member or family friend," said Veronica Mendivil, program director for New Beginnings. She's worked at David and Margaret for 16 years. "I thought I'd be here a year or two. Little did I know I'd be here 16 years," she said. "I started as a youth counselor working in the homes, just doing everything I possibly could to help the girls get a better life."
David and Margaret's 17-acre campus is calm and peaceful, with grass and trees and plants and a view of the San Gabriel Mountains. Almost all of the staff I talked with had worked there for many years. Inside and out, it was clear that David and Margaret works to help clients feel safe and respected.
At the time of the interview, around 45 children between the ages of 6 and 17 were living onsite as part of New Beginnings, about half capacity to follow COVID-19 safety protocols. Mendivil said it's often a steady stream of departures and arrivals, with about 10 placements weekly and 10 children moving in.
In addition to New Beginnings and transitional housing residential programs, David and Margaret offers a short-term residential therapeutic program for adolescent males.
Opening up
School was never easy for Jaelynn T. Public school didn't give her what she needed. Her father tried homeschooling her, but Jaelynn said she would lash out at him when she didn't understand or she would shut down.
"It took a toll on him," she said.
She started attending the Joan Macy School at David and Margaret in 2019. When the COVID-19 pandemic shifted schooling to a virtual setting, she moved to a residential program in Utah. She came back to David and Margaret a year later.
When her public school district reached out to David and Margaret, who recently merged with Haynes Family of Programs to even better serve their community, they accepted her immediately.
"I didn't even have to look at the paperwork," said Cecilia Schumm, director of education. "I remembered when she was with us before. It was an automatic yes. There was no question that we would accept Jaelynn back."
Jaelynn, 15, appreciates the support and encouragement she receives from the school.
"This school actually helps a lot with my trust issues, because you have to be able to talk to the teachers when you need help. I'm opening up," she said. She's happy to have a chance to make friends in a place she feels safe.
According to the U.S. Department of Education, Black girls are six times more likely to be expelled from public schools than their white peers, and three times more likely to be suspended for the same behaviors. They are four times more likely to be arrested than white girls. Members of United Women in Faith learned about this together reading the book Pushout: The Criminalization of Black Girls in Schools by Monique W. Morris as part of the organization's Interrupt the School-to-Prison Pipeline campaign.
"Sometimes this place feels like the only place I can make friends because I'm scared of the outside world," said Jaelynn. "It's nice to know that there are people here who actually understand."
Jaelynn is part of the school's work program. She has a job helping the cafeteria staff clean after school. She's saving to buy a cell phone.
Building futures
Nathan D. lives in a group home off campus and also attends the adult program at David and Margaret, working on his Certificate of Completion. Nathan, 18, hopes to study auto body mechanics at a nearby career college. He says seeing everybody at the school makes him happy. He's also happy to have trusted staff to talk with when he isn't feeling happy.
"I see Miss Stephanie, Ernie, Miss CeCe, Mr. Ralph. And my teacher, Mr. Quach. I like to talk to him sometimes when I'm not feeling happy," he said. "I talk to them about how I'm feeling." Ernie helped me find my way around campus when I first arrived for my visit.
Nathan is a big fan of the campus's weight room. He can nearly bench press his own weight. He also volunteers at the senior center and works at the David and Margaret store, called Dave and Maggie's Center, a retail shop offering staples and other goods at deeply discounted prices. It doubles as a training center for youth aging out of foster care and other in-need adults who need work experience to build their futures. He stocks shelves and helps customers. He's the first student in the new adult program.
"When he comes in, he's always got a smile," said Schumm. "The minute he sees somebody, he wants to shake their hand and ask them their name and tell them his name. Everybody loves having Nathan around. He's just a joy."
In fact, he says customer service is his dream job.
"I like to help people," he said.
A long history of compassion
After his hotel failed, Henry Kuns, then president of First National Bank, donated the building and land to the Woman's Home Missionary Society of the Methodist Episcopal Church in 1910. He did so under two conditions: that the women's organization use the building for the region's first orphanage, and that they name it after his parents, David and Margaret. The name and the partnership remain today.
In a 2020 interview, Julie Asuncion, president of the East District United Women in Faith in the California-Pacific Conference and then board member for David and Margaret, described the partnership between the women's organization and David and Margaret as a union "based on faith and trust" in a shared mission to "empower children, youth and women for their development and welfare."
Within 10 years of receiving the property, the orphanage provided a safe and nurturing refuge for hundreds of children, where they received health care, education and life-skills training. Before women could legally vote in the United States, they were organizing and running crucial programs to uplift communities.
"David and Margaret is one of four national mission institutions of United Women in Faith in the California-Pacific Conference and as such is a vital agency in carrying out the core values of United Women in Faith," said Asuncion.
As both organizations have grown and changed to meet changing needs, the collaboration remains. In addition to generous financial support through Mission Giving, members of United Women in Faith support the essential work of David and Margaret and other national mission institutions through board service, volunteer time and prayers.
Meeting missing needs
Like the women did over a century ago, David and Margaret provides an environment focusing on the whole person and on services lacking in greater society. Executive Director Daniel Maydeck talked about the importance of the diversification of services but also of meeting missing needs.
He acknowledged that children with learning disabilities, emotional disturbances and other impairments can express themselves in frustrating fashions. Many schools just aren't equipped to give the children and youth what they need.
"What we do try to do is educate, first of all, but it's about engagement and connection," he said. "For anybody to be successful with a youth or a child that has challenges and problems, you have to develop a level of connection, and it really has to be at a personal level."
All staff of David and Margaret, he said, are available to the children and youth on campus.
"It's really who works with them every day—could be a counselor, could be a teacher, could be an aide—it's whoever they connect with every day, they develop that connection, because then you can begin to get through to somebody. On this campus, for example, if you go out during the day, you'll see a number of instructors or counselors on a one-on-one with a child because they're trying to impact that child."
The organization makes decisions with input from the youth and young adults served, said Emily McCool, coordinator of community relations and marketing.
"Everyone at COMPASS cares a lot about these youth, and they will drop everything to help them with whatever their problem is. We have regular surveys that we give out, to see how the youth are feeling and engage where they're at and how they feel about the services they're receiving. And they always give glowing remarks about our social workers, and how they help them and support them, no matter what their issue is, and they don't give up on them when things get difficult."
She talked about the drop-in center, with a washer and dryer, full kitchen, even music programming software, built around their feedback. McCool herself is 23, around the same age as the young adults who participate in the COMPASS programs. She's proud to work at an organization that gives her peers a chance at success.
"I think this, this specific population of transitional age youth is so often overlooked. I think one of my favorite parts of this job is being able to see them. I think shedding light on them as they exist is going to be very, very powerful."
Changing lives for the better
Joel Ramirez has been part of David and Margaret since he was 14. Now 23, he lives in a David and Margaret apartment with his daughter. A mentoring program helped him as a foster teen. He still keeps in touch with friends from the program. Growing up, his parents were "functioning addicts," as he called them, and he was sent to live with his grandmother at a young age, then with an aunt after his grandmother passed. He lost a brother to gang violence. He and his sisters moved into the foster care system when it became unhealthy to stay with their father.
"If I'm being quite honest, I was kind of being rebellious. My case manager noticed that," he said about why he started the mentoring program. "They kept us busy. That mentorship was all about having fun. But they also had moments where they brought us to tutoring where we could get our homework done."
Amusement parks, skate parks and meals were some activities he participated in, along with workshops on different life skills. He appreciated the chance to be with others who understood what he was going through and cared.
"It definitely helped me out, you know, because I was in a dark, dark area at that time of my life," Ramirez said. "David and Margaret has changed the trajectory of my life."
With David and Margaret's help he's been able to finish college and hopes to soon study for his master's degree. He wants to be a therapist and work with foster youth.
Flores said David and Margaret staff helped her get financial aid, find appliances for her apartment and set up dentist and doctor appointments. She attends cooking and finance classes and other helpful workshops connecting her to community resources. For Flores, it's her support network. And she's learning how to live on her own.
"It's a good thing, so I don't have to rely on other people. It makes me more independent. Even though it's also kind of scary in a way, adjusting to everything is pretty great, because I have more sense of freedom and more responsibility on myself," she said. "But when I need support, when I need help, David and Margaret has my back."
Nile Sprague is a photojournalist based in Santa Rosa, California. Tara Barnes is director of denominational relations for United Women in Faith.
---