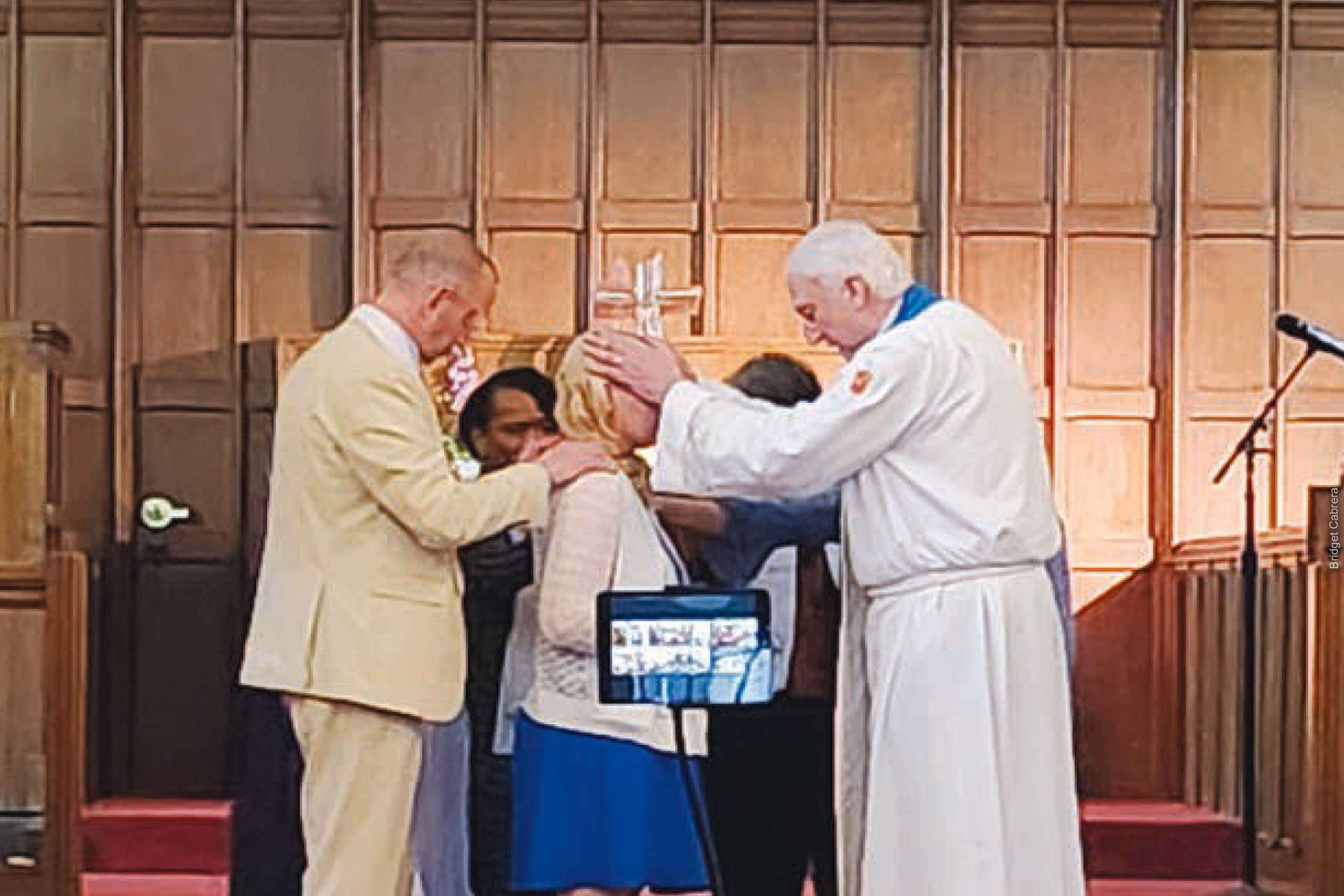 Latest News
Sept./Oct. response: A Holy Moment
United Women in Faith Celebrates Consecration and the Office of Deaconess and Home Missioner.
by Amanda Mountain
"Consecration is a holy moment between you and God," says Scott James-Vickery, executive for the Office of Deaconess and Home Missioner. "As deaconesses/home missioners, you will find yourselves in places where you will need to respond. You will find yourselves called to places you never imagined."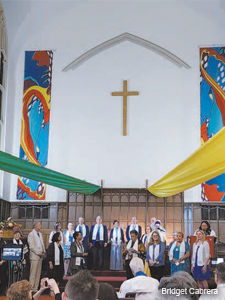 Deaconesses and home missioners of The United Methodist Church are consecrated to a lifetime of Christlike service by a United Methodist bishop, and they are commissioned locally at their annual conference to their appointed ministries.
This past April, 18 anxious and excited deaconess and home missioner candidates sat in the basement room of Church of the Village in New York City preparing for their consecration, which would take place as a part of the closing worship service for the United Women in Faith Board of Directors meeting. Most of the candidates had traveled to New York City for one final weekend of training and coaching, culminating in their consecration into the Office of Deaconess and Home Missioner. They had felt a tug on their hearts to serve the church in an official connection as a deaconess or home missioner.
So, what is a deaconess or home missioner? Deaconesses and home missioners are laypeople who are called by God to be in a lifetime relationship in The United Methodist Church for engagement with a full-time vocation in ministries of love, justice, and service. Together we form a covenant community that is rooted in Scripture, informed by history, driven by mission, ecumenical in scope, and global in outreach.
The deaconess and home missioner call to ministries of love, justice, and service is defined in ¶1913.1 of The Book of Discipline of The United Methodist Church, which states:
Deaconesses and home missioners function through diverse forms of service directed toward the world to make Jesus Christ known in the fullness of his ministry and mission, which mandate that his followers: a) Alleviate suffering; b) Eradicate causes of injustice and all that robs life of dignity and worth; c) Facilitate the development of full human potential; and d) Share in building global community through the church universal.
United Methodist deaconesses trace their roots back to the ministry of Phoebe found in Scripture in Paul's letter to the Romans, when he writes, "I commend to you our sister Phoebe, a deaconess of the church at Cenchreae, that you may receive her in the Lord as befits the saints, and help her in whatever she may require from you, for she has been a helper of many and of myself as well" (Romans 16:1-2, RSV). Not much is known about Phoebe, but the word deaconess derives from the Greek word diakonos used by Paul, meaning servant.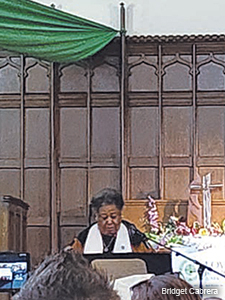 The Methodist deaconess movement in the United States began when Lucy Rider Meyer and her husband started the first deaconess training school in Chicago in 1885. The school, first named the Chicago Training School for City, Home, and Foreign Missions (later renamed the Chicago Training School for Home and Foreign Missions), taught single young women in the areas of—according to the General Commission on Archives and History—"biblical studies, theology, church history, sociology, economics, basic medical training and courses in chronicling the accomplishments of women."
Methodist deaconesses in the late 19th and early 20th centuries are credited with starting schools and hospitals in communities where they did not previously exist, and the need for such ministries was great. They too felt the "tug on the heart" to serve the church, often in areas where others had not dared serve before.
"There is only one other relationship in The United Methodist Church that is consecrated, and that is the Office of Bishop," says Megan Hale, executive for the Office of Deaconess and Home Missioner. "Consecration is for a lifetime. We often joke that deaconesses/home missioners never really retire, they just retread. Brooks-Howell Home, a retirement community in Asheville, North Carolina, owned and supported by United Women in Faith, is full of deaconesses who are still very actively engaged in ministry!"
Deaconess and home missioner candidates go through a tedious process that includes applications, interviews, biblical and United Methodist studies, and a theology of mission course. They are approved through a process defined by United Women in Faith and are consecrated and commissioned by a bishop at settings approved by the board of directors of United Women in Faith.
At the Church of the Village, the 18 candidates for consecration gathered for a moment of prayer, took a few more moments to prepare, and headed upstairs to the sanctuary for the consecration service.
The sanctuary, decorated with life-giving, colorful tapestries draped across the length of the ceiling, held an aura of anticipatory joy. The room was filled with the candidates' families and friends, several United Women in Faith staff and board members, and members of the Order of Deaconess and Home Missioner (identified by the white scarves draped around their necks adorned with the order's logo).
The candidates sat in the front rows of the congregation with their supportive community at their backs. Many of these witnesses knew the gravitas of the moment, having once been in the anxious shoes of the candidates themselves.
The in-person service was simultaneously broadcast via Facebook Live for the United Women in Faith board members, friends, and family to join the service in real time. It began with a liturgy celebrating the 135-year history since the Office of Deaconess was first established in the Methodist Episcopal Church in 1888. A dramatic reading and dance highlighted the legacy of the United Methodist deaconess movement and the continuous support of United Women in Faith and our predecessor organizations. From music to a creative Scripture reading from Matthew 5:13-16 and a celebration of Communion, everything flowed beautifully as the hymns and liturgies reflected Jesus' call to his followers in Matthew to not hide their light, but to shine, open up to others, and be generous with their lives.
Following Communion, as the congregation sang "For Everyone Born," Deaconess Clara Ester moved toward the pulpit. The room went quiet with all attention turned to Ester. Like many in the community, Ester's life has been dedicated to serving the church and standing up for justice. Many in the community see her as having a living legend sort of status. When she takes the pulpit, you listen. (You can read more about Ester's life and ministry at https://www.umc.org/en/content/inspiredby-mlk-to-make-a-difference-through-love-clara-ester.)
Her words highlighted the need for the deaconess/home missioner candidates and laity of United Women in Faith to be the light in the dark times of the world. She called on them to be brave, knowing they would not be standing up for justice alone because they would do so with a supportive community by their sides. She said that, like times in her own ministry, they would feel a tug to step out on faith, but that they could do so with courage, knowing they had an entire community stepping with them. She called the candidates and the witnesses present to step out in love and serve without recognition, but with the reward that they may serve. Using the words Bishop Woodie White used to close General Conference 1996, Ester closed with the benediction:
And now, may the Lord torment you.
May the Lord keep before you the faces of the hungry, the lonely, the rejected, and the despised.
May the Lord afflict you with pain for the hurt, the wounded, the oppressed, the abused, the victims of violence.
May God grace you with a burning thirst for justice and righteousness.
May the Lord give you courage and strength and compassion to make ours a better world, to make your community a better community, to make your church a better church.
And may you do your best to make it so, and after you have done your best, may the Lord grant you peace.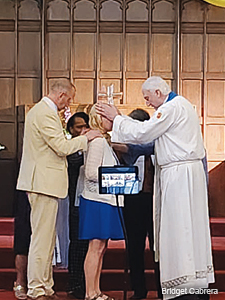 Each candidate was consecrated by Bishop Thomas J. Bickerton of the New York Conference and with a laying on of hands by a small group of deaconess/home missioner staff and leadership. The moment was indeed a holy celebration of each candidate's call to shine their light in the world through their lifetime ministries of love, justice, and service, knowing they were not stepping out in faith alone, but accompanied by the cloud of witnesses who had gone before them and supported by their new deaconess and home missioner siblings at their sides.
For more information on the deaconess/home missioner relationship or to sign up to attend an upcoming discernment event, e-mail deaconess@uwfaith.org.
Deaconess Amanda Mountain is a transformation experience specialist for United Women in Faith.
Deaconesses and home missioners who were consecrated at our 2023 Board of Directors Closing Worship and Consecration Service include:
Beth Bartel
California-Nevada
Carla Blackmon
Virginia
Ruth Campbell
Peninsula-Delaware
Florence (Becky) Gaar
North Georgia
Jak Henderson
Minnesota
Mark Hrabe
East Ohio
Emma Hylton
Western North Carolina
Pennie Hughes
Desert Southwest
Daphne Hurd
Baltimore Washington
Ray Jellison
California-Nevada
Robert (Bob) Pezzolesi
New York
Steve Pierce
New England
Bobbi Ruddock
West Ohio
Bonnie Reckinger
Oklahoma
Linda Tucker
Oklahoma
Jeffrey Warren
Susquehanna
Nicole Weydt
Minnesota
Amanda Zbacnik
Minnesota
---