 Latest News
Hortense Tyrell Retires as Director of National Ministries
Hortense Tyrell has retired as United Women in Faith's Director of National Ministries, after serving the General Board of Global Ministries and United Women in Faith in a variety of capacities for more than 36 years.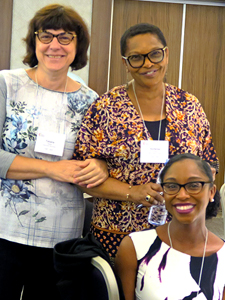 With a wealth of experience in leadership development, nonprofit governance, and fundraising, Ms. Tyrell oversaw United Women in Faith's relationship with National Mission Institutions. She served as staff liaison to Conference Vice Presidents and Program Coordinators providing support as they navigated their responsibilities on their conference leadership teams. In addition, she represented United Women in Faith on the United Methodist Church Immigration Task Force and coordinated the agency's responses to the immigration challenges on the U.S. southwest border.
"Serving the ministries of United Women in Faith has been a great honor and privilege," Ms. Tyrell said. "Over the years, I've experienced United Women in Faith's expressions of divine love flowing unstoppable throughout underserved communities in the United States and beyond. I have genuinely enjoyed my work and will always hold, in my heart, beautiful memories of time spent with my remarkably talented colleagues, passionate United Women in Faith members and committed mission partners."
David Price, former program assistant for Finance and Administration, is now executive for National Ministries for United Women in Faith.