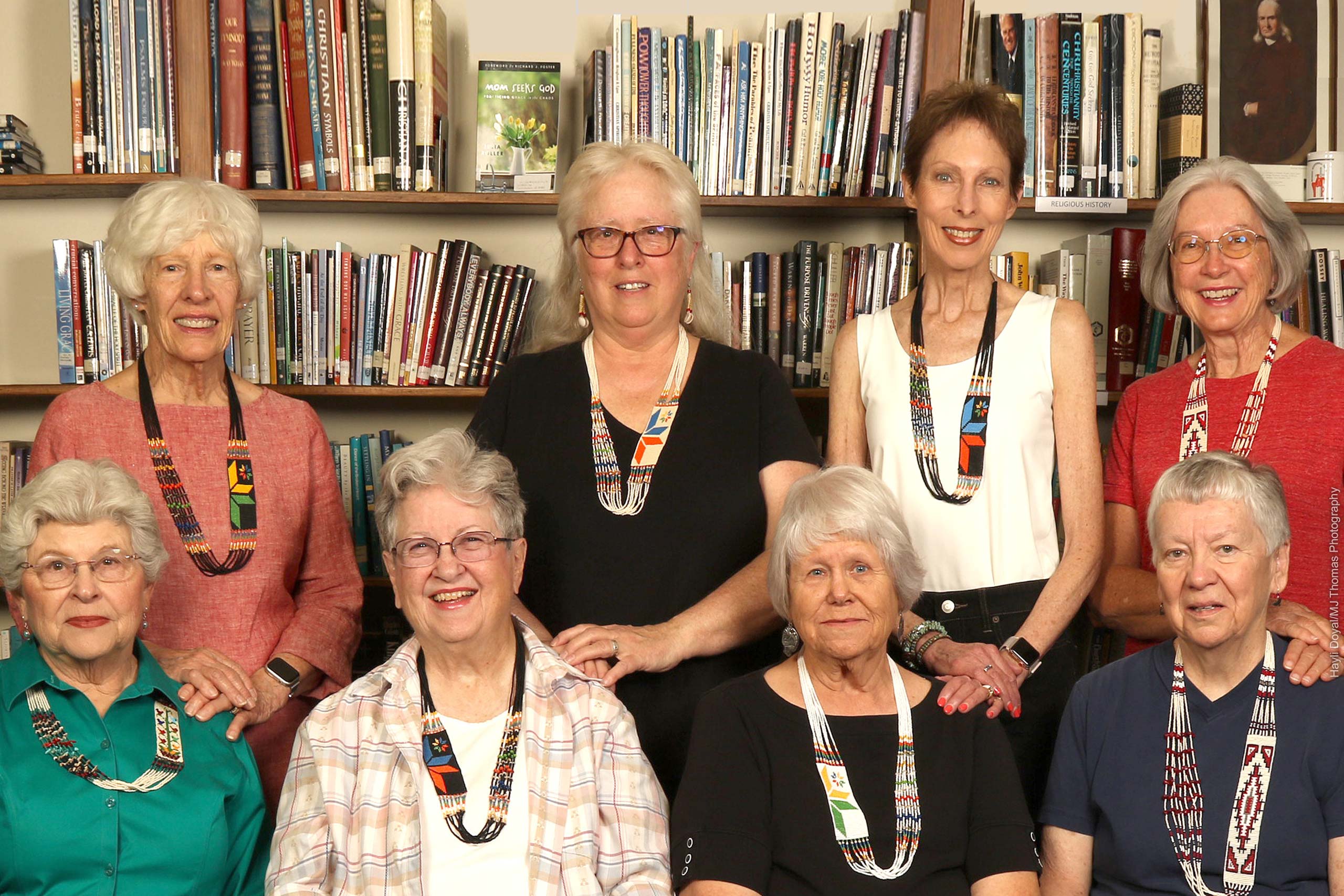 Latest News
Nov./Dec. response: Weaving Relationships
Colorado women's ministry with Native Americans features beadwork.
by Audrey Stanton-Smith
Decades ago, Barbara Phillips, a young Navajo woman, noticed a cross and flame symbol on a thrift shop wall in Shiprock, New Mexico. The United Methodist Church logo and the encouragement of a missionary with Four Corners Native American Ministry became her inspiration to weave the symbol using beads and fishing line. It wasn't long before Phillips was hand-making cross and flame necklaces for United Methodists across the globe.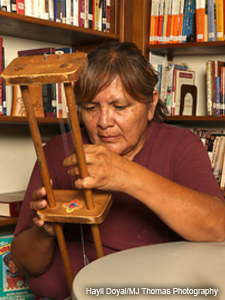 Phillips' son, Dennison Billy Jr., carries on the bead craft tradition with his mother. Most recently, the Phillipses' work has included a United Women in Faith-approved bead-woven necklace featuring the organization's new logo.
It's a story Glenna Kyker tells as she explains the connection between her United Women in Faith sisters in Grand Junction, Colorado, and their Indigenous neighbors.
During her time in Texas, Kyker, who was raised Choctaw in Oklahoma, had served as director of Native American Ministries for the Texas Conference. When she moved to Colorado, she found that Pat Backes, Ellie Young, Pam Bersch, and other United Methodist Women felt as passionately as she did about nurturing relationships with Native Americans. They began visiting with the Navajo United Methodist churches in and around their district, learning from them.
They began buying their crafts, and selling those crafts to grow a ministry. But the connection goes much deeper than selling and promoting traditional bead-weaving to raise money for United Women in Faith and to return to their Indigenous neighbors. For United Women in Faith members, it's about learning, listening, and being in ministry with Indigenous people, not in ministry to them.
"It was not always easy to accept a different way of doing, of supporting projects instead of leading them," Kyker recently wrote for the Utah/Western Colorado District newsletter.
Earlier this year, the Grand Junction First United Methodist unit revived a dormant District Committee on Native American Ministries—implementing listening skills their Navajo neighbors had shared with them and the 2008 United Methodist Women Mission Study course on Native Americans titled "Giving Our Hearts Away."
"It blossomed from there," Backes said, adding that the "Giving Our Hearts Away" study became a foundation for how the unit carries out its ministry. (It even resulted in the unit crafting cloth bags for the Anasazi beans they sell rather than bagging the bean portions in plastic.)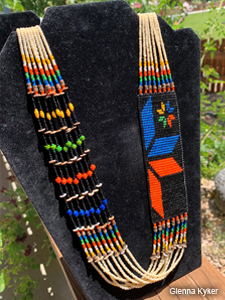 The unit became the primary source for the thousands of pins purchased by the national office of United Women in Faith that will be handed out at General Conference 2024.

Some examples of their ministry include:
Buying a horse for a Navajo girl

Purchasing sheep for a Navajo family

Employing the services of a Navajo artist to design cards

Paying vendor fees for Indigenous crafters at fairs, festivals, and markets

Giving college scholarships and tuition for technical programs paid directly to the institutions

Reaching out to the Native American Student Association at Colorado Mesa University
Paying registration fees for Native Americans to attend Lay Servant Ministries courses in the Four Corners area

Providing income opportunities for crafters

Providing housing for a network of Indigenous friends who are traveling to visit loved ones in hospitals
They also helped start a church, and they paid a Navajo pastor's salary for the first five years of his ministry at Native Grace Intertribal Fellowship.

"We're enthusiastic about what we do," said Young. "We're excited about what we do, we feel good about we do, and we're learning. That's the other piece that we have to keep in mind."

To lead a project for Indigenous people implies to them that their way is not as good as the white person's way, Kyker explained. Instead, it's important to listen to them and journey together.

"We started with the idea of 'How could we create sustainable wages for people who were involved in this very creative work?' And 'How could we then transfer those through sales to other people and utilize the profits that we've made to help?'" Kyker said.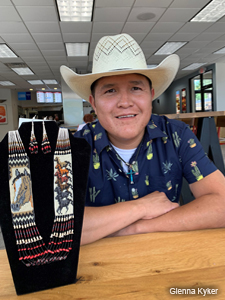 "The first step is listening to them rather than us going out and proselytizing or any of that kind of thing," she added.

The women pay attention when an Indigenous person corrects their terminology—maybe reminds them that it is not a "costume," but "regalia," for instance. Through listening, they establish trust.

"That's the wonderful part of this whole process, that it's been a learning experience for us," Bersch said.
And now, the women are hoping they can help others learn. So, they share articles regarding culture. They advocate for full participation of United Methodist Native Americans at all levels of the church and in the life of the church. They help individual churches write grants for Native American ministry projects. And they're creating a toolkit for land acknowledgments based on what they've learned from Indigenous friends and from books and resources recommended by United Women in Faith. (See the new Reading Program Catalog in this issue for more information. Braiding Sweetgrass: Indigenous Wisdom, Scientific Knowledge, and the Teachings of Plants by Robin Wall Kimmerer is among Kyker's recommendations on the subject.)
For more information or to inquire about a purchase, reach out to the members of United Women in Faith of First United Methodist Church of Grand Junction at uwf.nativeministry@gmail.com. Please be mindful that all items are carefully hand-crafted and thus may not be available for immediate purchase.
Audrey Stanton-Smith is editor of response.