 2014-2021 Press Releases
Thousands of United Methodist Women to Stand in Solidarity With West Louisville Community
Marchers call for economic justice and a life of abundance for all residents of Louisville and people everywhere!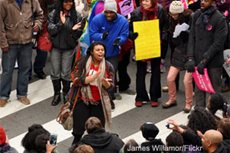 Please join us for the March for a Life of Abundance for All. United Methodist Women and the local social justice community will be marching in solidarity with West Louisville community activists working to realize racial and economic justice for its residents. The rally speakers will highlight issues of food justice, housing inequities, and the need for livable wages for all Louisvillians, among other economic justice concerns.

When
Saturday, April 26, 2014, from 11:30 a.m. to 12:45 p.m.
Where
Starting from the Kentucky International Convention Center at 221 South 4th St., Louisville, Ky., 40202, for a 10-15 minute walk to Baxter Park near Beecher Terrace housing complex.
Who
Thousands of United Methodist Women members from across the nation and members of the social Louisville justice community will march for economic justice. There will be speakers from the West Louisville community at Baxter Park.
Background
Income inequality and other forms of exclusion divide our society, just as 9th St. is said to divide Louisville by race and income. We are marching for policies and practices of inclusion, justice, and peace in Louisville. Every four years United Methodist Women holds its national Assembly, and this year members will be in Louisville, Ky., and will march in solidarity with the community. For more information on United Methodist Women, please visit www.unitedmethodistwomen.org.
Supporting Organizations
The following organizations are among the many that are supporting and endorsing the march:  Agricultural Missions, Kentuckians for the Commonwealth, Louisville Showing Up for Racial Justice, University of Louisville Anne Braden Institute for Social Justice Research, Wesley House Community Services.  
###
Contact: Yvette Moore, ymoore@unitedmethodistwomen.org