 2014-2021 Press Releases
A Place for Human Rights: The Church Center for the United Nations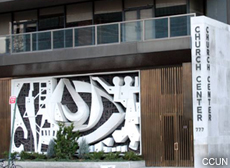 NEW YORK
Today is International Human Rights Day. The Church Center for the United Nations (CCUN), however, is dedicated to peace and justice for all the world's people 365 days of the year. Located directly across the street from United Nations (U.N.) headquarters in New York City, CCUN has a rich history of advocating for human rights.
The building was conceived in ecumenism, but the movement turned to Methodist church women for the $800,000 that secured financing for the construction of CCUN in 1961. Today, United Methodist Women owns the facility and oversees this ministry of hospitality to nongovernmental organizations working for peace, justice, and human rights.
CCUN is a place for ecumenical, multi-faith, and grassroots collaboration. Its prime location puts resident non-governmental organizations, whether church-based or secular, in a key position to advance common values of peace and justice.
Likewise, United Methodist Women programming at the facility includes justice action seminars and women's leadership development events.
"We bring together women who are already engaging in social action as well as women who are interested in developing further skills to be leaders in various fields in our society," said Sung-Ok Lee, general secretary for Christian social action for United Methodist Women.
Organizations housed at CCUN and from other locations heighten their effectiveness by regular interactions with one another at the center. They often come together to monitor the work of U.N. agencies and member states. They also seek to strengthen the commitments of governments during the drafting process of U.N. resolutions, outcome documents, and conventions, as well as the reviews of those documents and the progress of individual nations on those issues.
Over the years, faith-based, grassroots, and other non-governmental organizations working at CCUN have coalesced successfully around such international issues as:
Decolonization efforts and the welcoming of new nations to the United Nations
Adoption of the U.N. Law of the Sea Treaty
Adoption of the U.N. Convention of the Right of Migrants
Creation of the U.N. Permanent Forum on Indigenous Issues
Security Council Resolution 1325, which mandates the inclusion of women in negotiations for peace and security after conflict
Adoption of the U.N. Convention on the Rights of the Child
###
Contact: Yvette Moore, ymoore@unitedmethodistwomen.org