 2014-2021 Press Releases
The Campaign to End Family Detention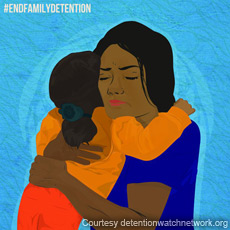 United Methodist Women is collaborating with Detention Watch Network (DWN), National Justice for Our Neighbors (JFON), and the United Methodist community for 10 days of action leading up to Mother's Day, May 10, for the Campaign to End Family Detention. On Saturday, May 2, there will be a rally to close the family detention center in Dilley, Texas. DWN has launched a website— www.endfamilydetention.org—to inform supporters how they can get involved in these actions, as well as sign a petition to Immigration and Customs Enforcement (ICE) Director Sarah Saldaña to end family detention.
After the 10 days of action in May, sustained attention and pressure on government officials will need to continue. For information on continuing the movement with education, service, resources, and tools go to www.unitedmethodistwomen.org/immigration and 
www.unitedmethodistwomen.org/immigration/familydetention.
There you will also find information on how to create a conference United Methodist Women Immigration Team.
The detention of families criminalizes women and children who should have refugee status or a temporary protected status due to escalating violence in Central America, and it exposes them to fear, isolation, further hardship, and abuse. Local United Methodist Women members have responded with love and compassion toward these women and children who have crossed the border seeking refuge. Members worked hard to feed, clothe and provide legal assistance for the families. There is a lot of work ahead and United Methodist Women is committed to ending family detention, for however long it may take.
###
Contact: Yvette Moore, ymoore@unitedmethodistwomen.org