 2014-2021 Press Releases
United Methodist Women and Others to Rally for Closing of Family Detention Center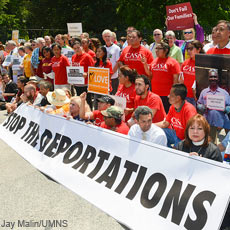 United Methodist Women local members from Austin, Houston, and Brownsville will join a coalition of partners — the ACLU, Detention Watch Network (DWN), and National Justice for our Neighbors (JFON) — to rally for the closing of the family detention center in Dilley, Texas, on Saturday, May 2, 2015.
United Methodist Women local members responded with love and compassion last summer when women and children crossed the border seeking refuge from escalating violence in Central America. The members worked hard to feed, clothe and provide legal assistance for the families. Many months later, hundreds of women and children are still being held in detention centers in Karnes and Dilley, Texas, as well as in Berks County, Pennsylvania, without bond. These privately owned detention centers gain a profit of $343 per person a day. The detention center in Dilley was built to house over 2,000 individuals. The detention of families criminalizes women and children who should have refugee status or a temporary protected status due to the dangers in their home countries, and it exposes them to fear, isolation, further hardship, and abuse.
Success is expected with this new action. In 2009, United Methodist Women members took part in the mobilizations that helped close the Hutto Detention Center in Austin, Texas. Along with the new action, a petition letter will be sent to Immigration and Customs Enforcement (ICE) Director Sarah Saldaña to end family detention in Texas and Berks County, Pennsylvania.
DWN and United Methodist Women are galvanizing local and national participants to act. There are two websites that will help educate the public about the May 2 action and inform on how to advocate throughout the month of May for the families being detained. The websites are:
www.endfamilydetention.org and www.unitedmethodistwomen.org/immigration/familydetention
For more information regarding the action in Dilley, Texas, on May 2 or the "Thunderclap" on Mother's Day, May 10, please contact Carol Barton by e-mail or phone at cbarton@unitedmethodistwomen.org or 212-682-3633.