 2014-2021 Press Releases
United Methodist Women Helps Global Media Monitoring Project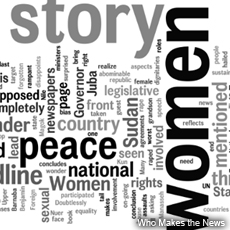 Who makes the news? The Global Media Monitoring Project (GMMP) answers that question; the 2015 research was released on Monday, November 23 and the U.S. portion was released today December 1. Every five years since 1995, GMMP research has taken the pulse of selected indicators of gender issues in the news media, studying women's presence in relation to men, gender bias, and stereotyping in news media content. This year, 114 countries participated in the study.
The U.S. report for the GMMP was coordinated and written by Dr. Glory Dharmaraj. Ms. Dharmaraj is the retired director of spiritual formation and mission theology for United Methodist Women and currently serves as a consultant for the organization. She has been engaged in coordinating media monitoring concerning the role and image of women in the United States since the project's inception by the World Association of Christian Communication (WACC) in 1995.
For the 2015 study, Ms. Dharmaraj led 45 women and teenagers in the data collection process and in analyzing qualitative and quantitative research for the U.S. portion of the GMMP report. The volunteers were United Methodist Women members from around the country, communication students from St. John's University, New York, and middle and high school students from Westchester County, New York, as well as a WACC North America participant in Washington, D.C.  Altogether they monitored 21 newspapers (print), nine television channels, four radio channels, nine Twitter, feeds and eight Internet news sites. Monitoring of the social media website Twitter was a pilot experiment, included as part of the data for the first time this year.
Media literacy and equal representation of women within the news media have been important issues for United Methodist Women members; we have been monitoring the media since 1976. United Methodist Women's national office and members have demonstrated a long-term commitment to gender equality and the welfare of women, children, and youth globally, and have been participating in the Global Media Monitoring Project (GMMP) since its inception in 1995.
"Solving the issues that most directly affect women and girls requires equal representation in the news media. Our coverage has been on the increase compared to 2010 when women as news subjects represented 27 percent of reporting; in 2015, we have increased as news subjects to 38 percent."
—Yvette Moore, director of communications for United Methodist Women.
---
United Methodist Women is the largest denominational faith organization for women comprised of approximately 800,000 members who have put faith, hope, and love into action on behalf of women, children, and youth for nearly 150 years.
The World Association for Christian Communication (WACC) is a non-governmental organization that builds on communication rights in order to promote social justice. The organization offers guidance and support to people of all faiths, ethnicities, and cultures worldwide. WACC coordinates GMMP every five years. Previous reports from 2000, 2005, and 2010 can be found on the WAAC website.
###
Contact: Yvette Moore, ymoore@unitedmethodistwomen.org