 2014-2021 Press Releases
Don't Poison Our Water! Water Is a Human Right!
Rally to demand #cleanh2o4all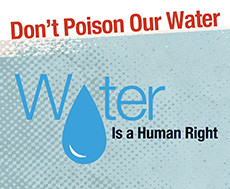 RALLY: Don't Poison Our Water! Water Is a Human Right!
WHEN: Monday, May 16, 2016, 12:45 p.m.
WHERE: Oregon Convention Center, 777 N.E. Martin Luther King Jr. Blvd., Portland, Oregon
WHO: Organizer: United Methodist Women
United Methodist Women and a coalition of church and community partners will rally to demand clean water for all on May 16 at 12:45 p.m., during the quadrennial United Methodist Church General Conference at the Oregon Convention Center in Portland, Oregon.
From a toxic Superfund site on the Willamette River in Portland, to struggles to protect indigenous water in Honduras and Mindanao, Philippines, to corporate pollution in Liberia, to corroded pipes in Flint, Michigan, the contamination of water sources is a crisis for communities of color around the globe. Water is a human right, as recognized by the United Nations 2030 Sustainable Development Goals, and partners will unite at this rally to tell complicit governments and corporations: Don't poison our water!
Speakers include:
Bishop Deborah Kiesey of the Michigan Episcopal Area
Bishop Elias Galvan, retired, Honduras United Methodist Church
Bishop Julius Trimble, Iowa Episcopal Area, United Methodist Immigration Task Force
Harriett Jane Olson, General Secretary, United Methodist Women
A representative from the Portland Harbor Community Coalition
Norma Capuyan of KALUMARAN, Mindanao, Philippines
Rose Farhat, Liberia United Methodist Church
Nichea Ver Veer Guy, Director, United Methodist Women
Oregon's Raging Grannies
Speakers will address:
Portland Harbor Superfund Site cleanup process, Portland, Oregon
Lead in water crisis, Flint, Michigan
United Methodist Women and United Methodist advocacy for clean water in the United States and globally
Firestone rubber pollution of water in Liberia
Impact of corporate pollution of water in the Philippines on Lumad peoples of Mindanao
Remembrance: Berta Cáceres, Lenca leader of Honduras
Partners:
Black Methodists for Church Renewal (BMCR)
Church Women United
Davao Episcopal Area, Philippines Central Conference
United Methodist Church, Discipleship Ministries
Eco-Justice Team of Presbytery of the Cascades
Ecumenical Ministries of Portland and its Interfaith Network for Earth Concerns
General Board of Church and Society
General Board of Global Ministries
General Commission on Religion and Race,
Greater Northwest Area of The United Methodist Church (Alaska, Oregon-Idaho, and Pacific Northwest)
Liberia Annual Conference of The United Methodist Church
Methodist Federation for Social Action
Metodistas Representando la Causa de los Hispano Americanos (MARCHA)
National Association of Deaconesses and Home Missioners
National Federation of Asian American United Methodists (NFAAUM)
Native American International Caucus (NAIC)
Pacific Islanders National Caucus of United Methodists (PINCUM)
Portland Harbor Community Coalition
United Methodist Committee on Relief (UMCOR)
United Methodist Immigration Task Force
United Methodist Women of Oregon-Idaho
###
Contact: Yvette Moore, ymoore@unitedmethodistwomen.org