 2014-2021 Press Releases
Andris Salter Named Associate General Secretary for Administration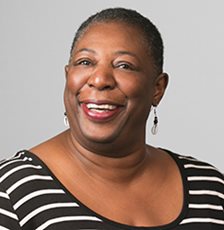 United Methodist Women named longtime executive Andris Salter as associate general secretary for administration, effective April 3. Ms. Salter is responsible for daily operations, including human resources, strategic initiatives, and implementation of innovations to strengthen the organization. Ms. Salter also works with United Methodist Women conference presidents and jurisdictional leadership teams. She continues to oversee the Office of Deaconess and Home Missioner, which was part of her previous job responsibilities as assistant general secretary for mission opportunities.
"The work is both familiar and new," Ms. Salter said. "Working with United Methodist Women conference presidents and jurisdiction leadership teams is very familiar, while strategic planning is new and offers opportunities for moving United Methodist Women forward, building on 150 years of mission."
"We're shaping United Methodist Women as a strong, vibrant, high-performance organization to build capacity, utilize new tools, and develop skills and talents to meet the ongoing needs of women, children, and youth. I'm blessed, excited, and honored to be enrolled in this work."
Ms. Salter joined the national staff of United Methodist Women in 1982 as Staff Assigned to Regions, based in Evanston, Illinois, to work with the conference United Methodist Women. Since then, she has served in executive positions overseeing the organization's work in leadership education, environmental justice, advocacy, general administration, membership and leadership development, and, most recently, national and international ministries and the Office of Deaconess and Home Missioner.
Ms. Salter also worked for four years with the General Council on Ministries as coordinator of Strengthening the Black Church for the 21st Century, 1996 to 2001.
A member of Teaneck United Methodist Church in Teaneck, New Jersey, Ms. Salter is a lifelong United Methodist. She said her childhood church in Richmond, Virginia, helped nurture her growth as a Christian woman.
"My parents, grandparents, Sunday school teachers, and pastors instilled in us the importance of giving back to the community," she said. "My gifts and graces come from the understanding that God is the creator and guide of all things in my life, and without God, I could do nothing. Thanks be to God."
###
Contact: Yvette Moore, ymoore@unitedmethodistwomen.org