 2014-2021 Press Releases
United Methodist Women CEO Joins Interfaith Opposition to Refugee Ban Based on Religion, Nationality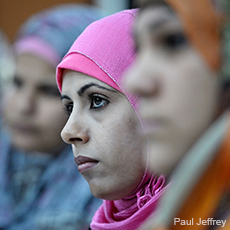 Harriett J. Olson, United Methodist Women chief executive of the national office, joined with interfaith leaders to oppose a proposed U.S. ban on refugees and immigrants based on their national origin or religion. Ms. Olson's January 25 statement against the ban is part of an effort initiated by  Church World Service,  Interfaith Immigration Coalition,  The United Methodist Church's Immigration Task Force, and the General Board of Church and Society.
Ms. Olson stated:
"United Methodist Women takes to hear Jesus' commandment to love God and love our neighbor as ourselves. Throughout our 150-year history, we have carried this out by extending God's love to women, men, youth, and children around the world, including immigrants and refugees. Our foremothers met boats at Ellis Island to support young women and created Gum Moon, a national mission institution in San Francisco to safeguard Chinese immigrant women.  We have been active in receiving refugee families in our communities and welcoming immigrants to our churches. Working with immigrant organizations and The United Methodist Church, we advocate for just immigration reform at state and national levels in the United States and globally. 
"Today, we affirm this history by calling on the United States to protect men, women, and children fleeing war, famine, drought, or persecution. We denounce calls to refuse refugees based on national origin and to turn away Muslim refugees. Our nation has a moral obligation to welcome refugees in numbers commensurate with the need, rather than excluding persons in need due to fear or xenophobia.  The U.S. review process for refugees is already stringent and extensive.
"United Methodist Women joins ecumenical and interfaith partners in affirming our support of refugee resettlement.  We oppose any new U.S. policy that would cut the number of refugees we have agreed to welcome, and any policy that would prevent refugees from selected countries being resettled or exclude religious groups."  
---
United Methodist Women is the women's mission organization within The United Methodist Church in the United States, focusing on the needs of women, children, and youth since 1869. Its programs promote spiritual growth, leadership development, transformative education, and service and advocacy.
###
Contact: Yvette Moore, ymoore@unitedmethodistwomen.org