 2014-2021 Press Releases
United Methodist Women Members Learn How to Become Advocates for Maternal Health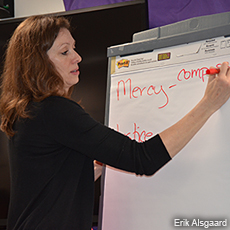 NEW YORK
United Methodist Women co-facilitated, with the General Board of Church and Society, a three-day maternal health advocacy training, April 19 – 21, at the United Methodist Building in Washington, D.C. Participants attended the event prior to Ecumenical Advocacy Days, an annual event in D.C., that brings together people from a variety of faith communities.
The workshop was an interactive skill-building and learning opportunity for participants interested in developing advocacy strategies for these challenging times. Women's health is at risk as lawmakers in Washington work to create policy that impacts maternal health funding in the United States and foreign aid abroad.
Mollie Vickery, the executive for Children, Youth, and Family Advocacy at United Methodist Women, stressed the urgency of this work.
"Routinely, historically, funding for women's health gets left behind or placed on the chopping block. We have in this country a maternal death rate that is going up, and women's health is something that United Methodist Women has been committed to since our earliest days."
In 1869, the Woman's Foreign Missionary Society, a United Methodist Women predecessor, sent an educator, Isabella Thoburn, and the first fully accredited woman physician missionary, Dr. Clara Swain, to India to provide quality health care to women.
Workshop trainer, Dr. Beth Collins-Sharp, the director of Program Innovation in the U.S. Department of Health and Human Services' Office on Women's Health, explored with attendees the reasons why women are still dying in childbirth in 2017. Collins-Sharp pointed to many factors, among them poverty, race, age, and access to health care.
Susan Burton, another trainer at the event and the director of Women's and Children's Advocacy of the General Board of Church and Society, an agency of The United Methodist Church, expressed her intent for the work that needs to be done.
"Our hope is that this advocacy training won't stop with just this week. These are folks who will go back home and continue to work on this issue on a state and federal level."
To learn more about maternal health training, read the full article, Learning to Advocate for Maternal Health, by Erik Alsgaard.
---
United Methodist Women is the largest denominational faith organization for women, who have put faith, hope, and love into action on behalf of women, children, and youth for nearly 150 years.
###
Contact: Yvette Moore, ymoore@unitedmethodistwomen.org