 2014-2021 Press Releases
United Methodist Women Urges Chevron to Defend EPA Methane Protections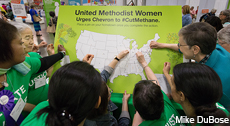 NEW YORK
United Methodist Women is sending member letters and a strong message from its CEO Harriett Jane Olson to Chevron CEO Michael Wirth, urging the company to publicly defend the U.S. Environmental Protection Agency methane rules now under threat of being rescinded.
"These emissions hurt the health of people, harm God's earth, and waste God's resources," Olson said. "Chevron assured us in person that it was committed to reducing methane emissions. We are now concerned that the company is not adhering to this commitment. We urge Chevron to live up to its potential as a leader in this work."
In May, Chevron representatives told a United Methodist Women delegation that the company had signed the "Guiding Principles on Reducing Methane Emissions across the Natural Gas Value Chain." These principles include a commitment to advocate for sound methane policy. Chevron, however, has not publicly opposed the proposed rollback of critical EPA methane rules. Chevron is an influential member of the American Petroleum Institute, which has actively supported the proposed rollbacks.
United Methodist Women calls on Chevron to honor its commitment to sound methane policy by publicly advocating for the EPA methane rules.
United Methodist Women members and their families live in every U.S. state where Chevron operates oil and gas facilities, and so the organization urges Chevron to prioritize the health of women, children and youth who struggle with air pollution–impacted illnesses by honoring its commitments to reduce methane emissions and advocate for sound methane policy.
Methane, the main component of natural gas, is a powerful greenhouse gas that is 87 times more potent than carbon dioxide when released into the atmosphere. The recent Intergovernmental Panel on Climate Change report highlighted the urgency of reducing climate pollutants like methane to stave off the harmful consequences of climate change.
"Exposure to pollutants from fracking, compression or distribution sites and pipelines are linked to respiratory diseases, brain and spinal defects, cancer, congenital heart defects, low birth weight, heart attacks, preterm birth, and reproductive problems. Today, over 15 million Americans live within a mile of oil and gas facilities," said Elizabeth Chun Hye Lee, an executive for economic and environmental justice for United Methodist Women.
Chevron is one of the top 10 producers of natural gas globally, and its production is only increasing. Reducing methane emissions from Chevron's natural gas facilities would reduce many of these hazardous pollutants.
"We call on Chevron to honor its commitments to protect our communities and adhere to sound methane emissions policy," Olson said. "Chevron's silence is tantamount to an endorsement of EPA's dismantling of critical health protections."
In May, United Methodist Women delivered almost 2,000 letters and met with Chevron staff, urging them to sign on to the guiding principles and to reduce leaks across the supply chain.
###
Contact: Yvette Moore, ymoore@unitedmethodistwomen.org