 2014-2021 Press Releases
Momentary Drop-in Air Pollution Is Cause for Vigilance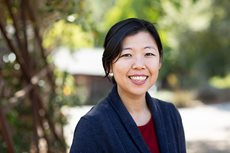 Elizabeth Chun Hye Lee
According to a new study of global carbon output, daily emissions of greenhouse gases dropped 17 percent from April 2019 to April 2020. At certain points during the lockdown, emissions in some countries fell by 26 percent. Elizabeth Chun Hye Lee, United Methodist Women's Executive for Economic and Environmental Justice and Climate Justice Lead, released the following statement:
"Most state governments passed some form of 'shelter-in-place' order to contain the spread of the novel coronavirus between March 2020 and April 2020. Such 'stay-at-home' policies contributed to reduced air pollution by keeping people indoors, thereby limiting pollution from motorcycles, cars, buses, trains, and airplanes.
"However, we should not be seduced into thinking that a momentary drop in air pollution means all is well. As 'safer-at-home' orders are lifted, many people will go back to relying on personal and public transportation, which directly causes air pollution. Further, while indoors, many of us have still relied on energy sources such as natural gas that contribute to the erosion of the environment. The primary method of obtaining natural gas in the United States is hydraulic fracking, which United Methodist Women has strongly advocated against. In places, such as Pennsylvania, where fracking occurs, community members often suffer from respiratory illnesses, infertility, birth defects, and other health ailments. The people most impacted are people of color and persons living in poverty.
"Despite the momentary shift in air pollution, there is still an urgent need to transition to renewable energy that prioritizes and privileges public health, especially for frontline communities and workers whose health has been impacted by our current energy economy. Stimulus and recovery packages should be tied to supporting a renewable energy transition. This includes eliminating subsidies for polluting fuels and ensuring adequate and equitable access to funding and finance for clean renewables, electric vehicle charging infrastructure, zero-emission fleets of school buses, and public transportation that prioritizes marginalized communities. This could include giving more workers the option to work from home, especially in industries where it is safe to do so, incentivizing carpools, redesigning communities so jobs and homes are not only in closer proximity but affordable so persons most impacted are not shut out of opportunities."
###
Contact: Yvette Moore, ymoore@unitedmethodistwomen.org