 2014-2021 Press Releases
Susan Moberg of Centerport, N.Y., Elected Corporate Secretary for National United Methodist Women
For Immediate Release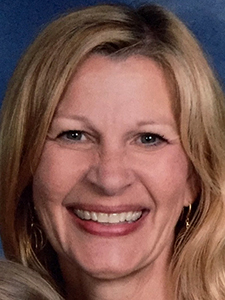 NEW YORK, April 1, 2020 — United Methodist Women today announced the election of Susan Moberg of Centerport, New York, to the position of corporate secretary, effective April 13 on a part-time basis and full-time beginning May 1. The United Methodist Women board of directors' executive committee acted on behalf of the full board.
Ms. Moberg has served at St. Paul's United Methodist Church in Northport, New York, since 2006, first as the church administrator and later its office manager. Prior to this, she worked as an associate production manager and in several other positions at General Mills before leaving the corporate world to raise a family. Ms. Moberg has a Bachelor of Arts degree from Michigan State University.
"I am excited to see Susan in this role," said Shannon Priddy, president of the United Methodist Women board of directors. "I believe she brings ideas and perspectives to this position that will move the mission forward through grace, experience, and a willingness to serve. I look forward to learning from her and with her."
Harriett Jane Olson, United Methodist Women general secretary and CEO, expressed equal support for Ms. Moberg.
"I was very excited to recommend Susan Moberg to the Personnel Committee, and they conducted an on-line interview, leading to their recommendation to the Executive Committee that Susan be elected," Olson said. "I am confident in her abilities and the strengths she will bring to the position. I'm pleased to be able to share this good news during this challenging time."
United Methodist Women's current corporate secretary, Vidette Mixon, will retire May 15.
###
United Methodist Women is the largest denominational women's mission organization in the world, with more than half a million members turning faith, hope and love into action since 1869.
Contact: Yvette Moore, ymoore@unitedmethodistwomen.org