 Press
United Women in Faith Appoints Khia Shaw as New Transformation Officer
NEW YORK— United Women in Faith announced the appointment of Khia Shaw to the position of Transformation Officer effective August 14 after consultation with the Board Personnel Committee.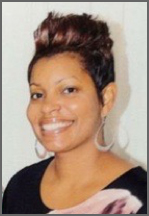 Shaw joined the United Women in Faith staff in 2016 during the onset of the strategic planning process. During her tenure with United Women in Faith, Shaw led the Position priority before transitioning to lead the Engage priority as the director of Membership and Engagement. This role included infrastructure development, innovation for membership and giving growth, spiritual formation, Mission u, and distance learning.
Shaw has been instrumental in designing new initiatives that align with the organization's strategic plan by developing metric standards and introducing marketing as a vital part of program success. Some of her contributions have been developing the prototypes for Leadership Touchpoints and Thrive newsletters, which were designed for leaders and members respectively. Shaw also spearheaded the development of the flagship Soul Care program, intended to serve as a marketing and engagement tool for substantial membership growth.
Prior to 2016, Shaw was the CEO of Universal Consultant Group in Southern New Jersey where her company specialized in creating unique collaborative partnerships that led to increased visibility and funding opportunities with government, private sector, and foundations. Shaw also served as a lead law/business instructor at Premier Education Group in Cherry Hill, New Jersey. At the Camden County Prosecutor's Office/Attorney General's Office, Shaw was the director of Community Justice. It was there that she oversaw the third phase of Operation Sunburst, which brought together law enforcement, community representatives, nonprofits, government agencies, and independent authorities to assess the legal issues surrounding housing, economic development, and education, recreation, and family needs of identified communities to develop plans and solutions accordingly.
Shaw holds a bachelor's degree in political science from North Carolina Central University where she also pursued graduate studies in law. She attended North Carolina College where she studied in the master's program for theology and is currently pursuing a master's in international business. She is dually certified in Life Skills Education Training and Diversity Training.
###