 Press
United Women in Faith Board Elects Sally Vonner General Secretary and CEO
For Immediate Release
Contact: Yvette Moore, Director of PR & Marketing, ymoore@uwfaith.org
NEW YORK, NY—United Women in Faith is pleased to announce the election of Sally Vonner to the position of General Secretary and Chief Executive Officer, effective June 1, 2023. The May 22 board vote culminated a six-month nationwide search.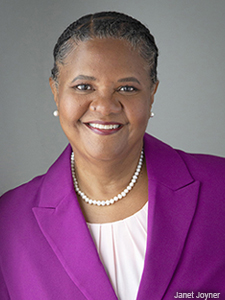 Ms. Vonner joined the organization's national staff in 2010 as Assistant General Secretary of Membership and Leadership Development. With reorganization in 2018, she became the Transformation Officer, coordinating the organization's visioning and strategic development to positively impact the lives of women, children, and youth. She oversaw an organizational rebranding that opened new ways for women to join, introduced program innovations and initiatives, and rolled out United Women in Faith as the new public-facing name.
"Sally is not just a woman who knows this organization but also a visionary who possesses a wealth of knowledge and experience," said 'Ainise 'Isama'u, board president. "She is the kind of leader who understands where we've been, where we are, and where we need to go."
Board Vice President Cynthia Rives said, "Sally's grasp of the current strategic plan will enable her to lead United Women in Faith boldly as we live out our belief that love in action can change the world. Equally important, she brings stability in a time of change as she is well grounded in our organization, knowledgeable of our history, and today's United Women in Faith."
Ms. Vonner is ready for the new challenge.
"My primary focus is to continue and expand the mission and reach of United Women in Faith as we put our love and faith in action to change the world, and work to improve the lives of women, children, and youth around the world," Ms. Vonner said. "I commit to lead with faith and trust in God, the support of the directors, the Program Advisory Group, my colleagues, and most of all, the members of United Women in Faith.
"I look forward to connecting with members, soon to be members, and The United Methodist Church family in the weeks, months, and years to come. Get ready for the awesome future God has for us."
The Texas native has served The United Methodist Church in several other capacities including women's retreat leader, and jurisdictional conference delegate and alternate in 2008, 2016, and 2020 representing the North Texas Annual Conference. Ms. Vonner was an organizer for the denomination's work on immigration assistance, community development initiatives, and dismantling racism work. She was commissioned as a U.S. missionary by the General Board of Global Ministries in 2000 to serve in the North Texas Annual Conference as the Communities of Shalom Coordinator. Ms. Vonner also served as the Associate Director of Connectional Ministries for the North Texas Annual Conference, 2005-2010.
Ms. Vonner serves on the boards of The Wesley campus ministry at her alma mater Texas A&M Commerce and is vice president of the New York Justice For Our Neighbors. She is a longtime member of Black Methodists for Church Renewal at the conference, jurisdiction, and national levels. She is also part of a women's leadership cohort with J.P. Morgan Chase's Community Development division, since 2021.
Ms. Vonner is a graduate of Perkins School of Theology with a M.Div. and Women's Studies Certification and Texas A&M Commerce with a B.S. in Biology.
A longtime member of First United Methodist Church of Grand Prairie, Texas, she regularly attends Teaneck United Methodist Church in New Jersey, where she is a member of the local United Women in Faith group. She is an active member of the Bergen County Alumnae Chapter of Delta Sigma Theta Sorority, Inc.
Ms. Vonner enjoys spending time with her adult children, Wesley and Lessie, reading, walking, and traveling.
Friends can celebrate Ms. Vonner's election with a gift to mission at uwfaith.org/give
United Women in Faith connects spiritual women to act boldly for justice and transform communities. It is an agency of The United Methodist Church with a special focus on the needs of women, children, and youth.