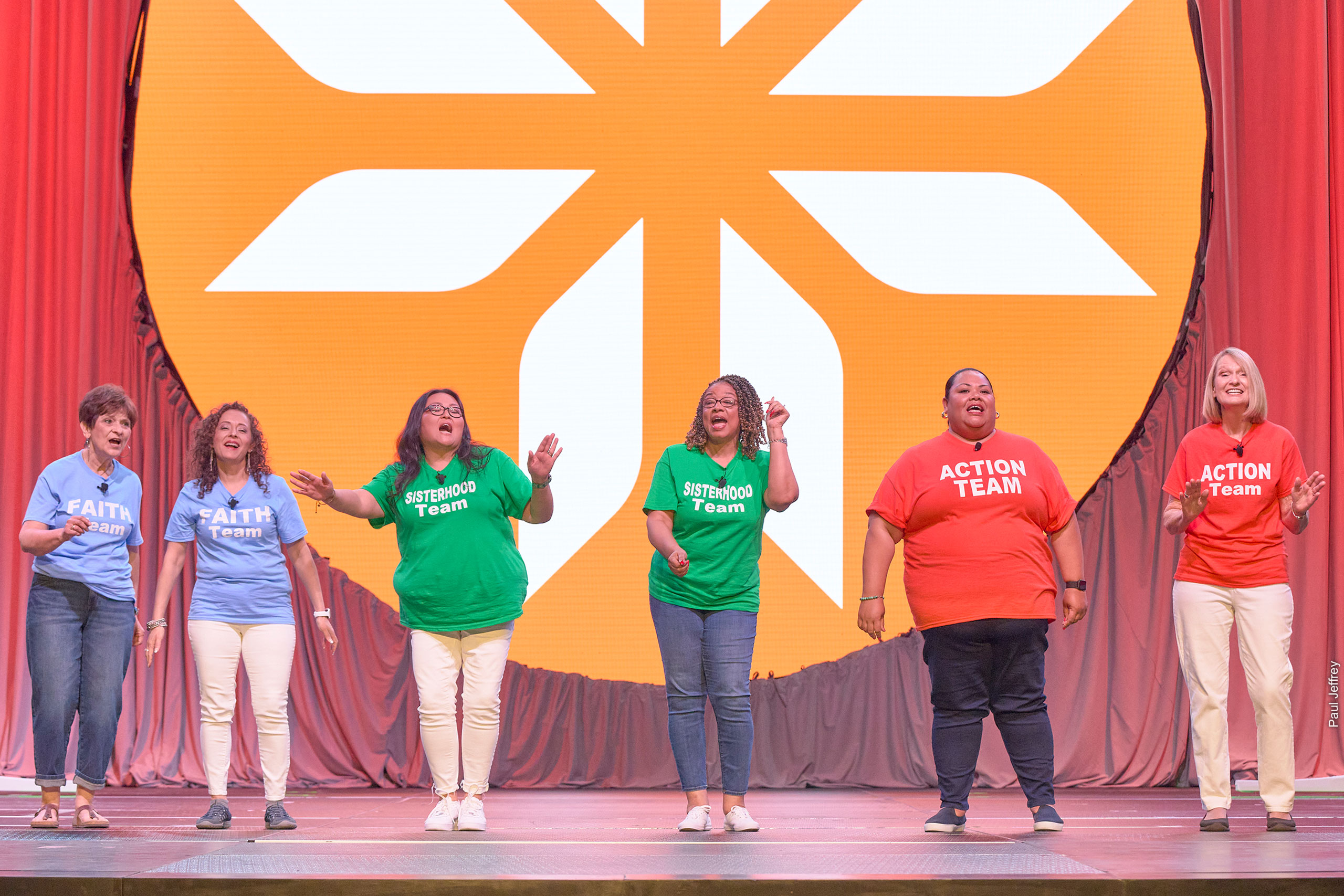 Latest News
Sept./Oct. response: Faith, Action and Sisterhood
United Women in Faith leaders share how we can excite and invite new members.
by Jessica Brodie
Bold and spirited energy filled the room for Assembly 2022's Saturday evening worship, as United Women in Faith leaders took to the stage to name and claim a fresh future for the organization.
"Are you ready? Can we turn it up together tonight?" National President 'Ainise 'Isama'u asked as nearly 3,000 women in person and online gave a resounding "We can!"
Calling faith, action and sisterhood "foundations of our journey," 'Isama'u welcomed other board leaders who teamed up to represent faith, action and sisterhood, each sharing new and exciting opportunities available to inspire, influence and impact women and girls across the globe.
Uplifting faith, action and sisterhood
Wearing t-shirts reading "Faith," United Women in Faith Board of Directors members Louise Niemann and Heidi Careaga said everything United Women in Faith do is rooted in faith.
"Faith is our oxygen," Niemann said. "This is how we tap into God's abundant love, which gives us the power to do more."
In addition to a host of existing faith-centered efforts, such as mission studies and the Daily Prayer Guide, the Faith team emphasized something new: Soul Care. They also lifted up Faith Talks, a bimonthly podcast, and shared about a refresh for Mission u that will introduce three new curricula each year, all focusing on a shared biblical theme and adaptable for different settings.
Then all sang and danced to the worship song "Si Tuvieras Fe (If You Only Had Faith)," with some attendees dancing in the aisles and many virtual attendees dancing at home in their chairs.
A celebratory mood continued with the Sisterhood emphasis, as board member Darlene Alfred and board secretary Bethany Amey-Sutton shared about the many ways women support each other in good times and bad, with laughter and tears.
Fun events and leadership trainings are always a big part of sisterhood cultivation, and now a new, flexible national membership option has launched.
"Our model is called All Access," Amey-Sutton said, noting any woman anywhere who believes in faith, sisterhood and action can join with no barriers to participating. "We are opening our arms wider so that more of our sisters can feel they belong."
They also shared other opportunities, including Soul Care retreats, the new interactive website, Thrive e-newsletter, social media and more, concluding their time onstage with the song "We Are Family" by Sister Sledge.
Finally, representing the Action team, Isama'u and Vice President Cynthia Rives shared about the organization's long history of work for racial justice, climate justice and women's economic empowerment, from the Charter for Racial Justice adopted in 1952 to new initiatives today, such as the virtual Voices From the Field quarterly program to update people on work led by regional missionaries, global leaders and national mission institutions.
They welcomed onstage the Rev. Alzira Machauene and Keziah Kargbo to discuss ways they have been putting love in action in their nations, including a fish farm in Mozambique and young women's leadership in Sierra Leone.
As a way to put faith and love into action that very night, women were given postcards and asked to fill them out, urging congressional support for several initiatives: a new Breathe Again Collaborative on climate and air pollution, a Counseling Not Criminalization in Schools Act, a Protecting Our Students in Schools Act to mitigate corporal punishment, and an Ending Pushout Act to reduce disparities in discipline for girls of color.
Excite and invite
At the beginning of the program, each attendee received a new Excite and Invite Recruitment Guide, either at their seat or via download online. This new guide works to answer the long-asked question: "How do we invite new members?"
The Saturday evening program and recruitment guide went hand-in-hand — and the entire Saturday evening segment of Assembly is available at youtube.com/uwomenfaith for members to use along with the recruitment guide, available on the downloads page at umwmissionresources.org. There the guide comes in a variety of formats along with instructions and additional videos for you to use to help remind current members of our inspiring sisterhood and encourage even more women to put love in action as we build the kin-dom together.
The evening ended as the all-women praise band performed a "We Are Family/Turn It Up!" mash-up, and presidents and treasurers swarmed the stage to place their conference offerings in a basket, dancing out parade-style as the music played.
Jessica Brodie is editor of the South Carolina United Methodist Advocate.