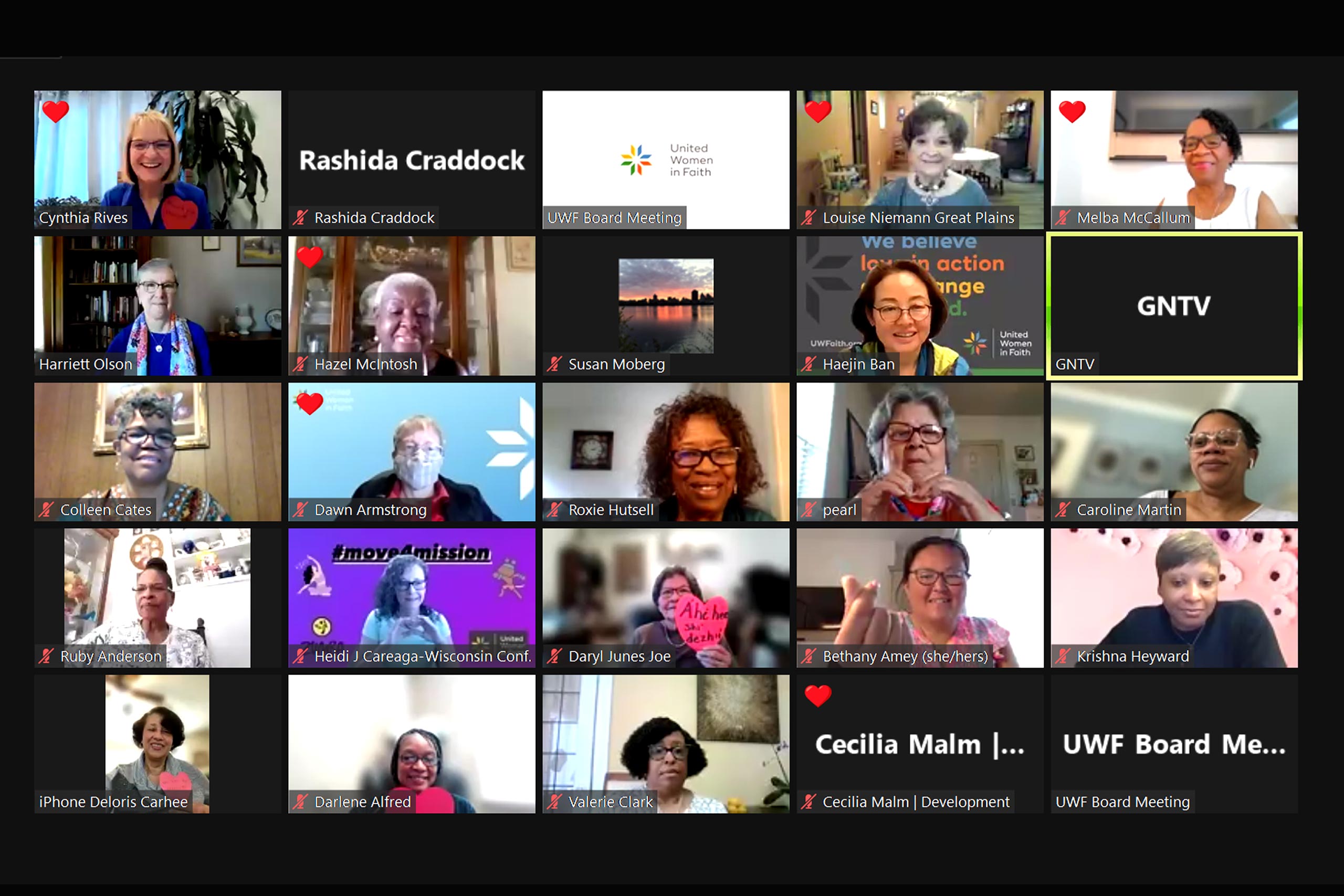 Latest News
Board of Directors Meets April 14-15
Business includes appointing of interim CEO.
by Audrey Stanton-Smith
The United Women in Faith Board of Directors gathered virtually for its semiannual meeting April 14-15. Directors heard reports from outgoing Chief Executive Officer Harriett Jane Olson, Treasurer and Chief Financial Officer Tamara Clark, and National Vice President Cynthia Rives, who was stepping in for National President 'Ainise 'Isama'u during her bereavement leave.
Pearl Thomas offered the opening devotion.
Olson, in her final board of directors meeting as CEO and general secretary, called on the directors to continue building relationships and looking for opportunities to lead. She asked them to consider "how we are engaged in this work of offering water, pointing to the life-giving water of spirit and faith, and where waters of righteousness are flowing with abandon and we need to participate."
"Scripture often talks about thirst or dryness and water as part of the process of seeking and following God," she said, "hungering and thirsting after righteousness, for instance, or looking ahead toward righteousness like an ever-flowing stream. United Women in Faith is part of helping us both whet our thirst for God and quench our thirst to be about God's work and to be useful in the world."
Because Olson would be retiring in May, directors, in a closed session of the meeting, approved the personnel committee's recommendation to elect Mollie James-Vickery to serve as interim general secretary, beginning May 8.
Mollie James-Vickery
James-Vickery, a United Methodist deaconess, joined United Women in Faith's national staff in 2014 as executive for Children, Youth, and Family Advocacy and was later promoted to director of Mobilization and Advocacy before the board elected her to serve as operations officer in 2021 to oversee the organization's day-to-day administrative and operational functions.
James-Vickery continues to handle her operations officer duties in addition to serving as interim CEO and general secretary while the search process for the organization's next CEO and general secretary enters its final stages. CEO and General Secretary Olson announced her retirement last fall and officially retired on May 5.
In other business, Heidi Careaga, chair of the Finance Committee, presented a report that included a recommendation for a grant of $25,000 to Partners in Ministry in East Laurinburg, North Carolina, to support a capital campaign to build a community education center on the PIM campus. Directors approved the grant, which is funded through the National Mission Institution annual grant budget.
Directors also ratified a property grant from the National Property Fund to be awarded to the Friendly Center in Toledo, Ohio, for up to $7,952 to support the repair of radiators in the center.
CFO Clark challenged directors to increase Mission Giving this year. You can learn more about what your generous Mission Giving and United Women in Faith funds support on our finances page.
Speaking on behalf of the Development office, Cecilia Malm and Dawn Armstrong reported that the year saw 75 new Legacy Fund donors and that recent donations made in honor of Olson had exceeded early goals.
"I'm delighted to say today that we clearly underestimated the love and generosity that Harriett inspires," Malm told the directors.
Gift to Mission in Honor of Harriett Olson
You, too, can honor Olson on the occasion of her retirement with a Tribute Gift to Mission card that will support all the work carried out by United Women in Faith, making a difference in the lives of women, children, and youth around the world. Gift to Mission cards are available from your local and district treasurers, or you can give online.
Directors also heard from auditors Crosslin PCCL and received investment updates from Wespath. Representatives from Wespath also shared a report about shareholder advocacy, pointing out that these mindful investments are working toward a just transition to a low-carbon economy, with the goal of net-zero emissions before 2050.
In other business, directors approved the 2024 Reading Program list, readopted resolutions to be submitted to General Conference 2024, and readopted the Charter for Racial Justice. (You'll hear more about legislation and United Women in Faith's presence at the 2024 United Methodist General Conference in the coming year in response magazine.)
Closing worship took place at the Church of the Village in New York City, with Council of Bishops President Thomas Bickerton presiding at the Consecration Service for the Order of Deaconess and Home Missioner. Eighteen deaconesses and home missioners were consecrated. Deaconess and former Vice President of the Board of Directors Clara Ester offered the message. (Watch for coverage of the consecration service and more about deaconesses and home missioners in the September-October issue of response.)
"Friends, the landscape can fool you," Olson said in closing remarks. "At first glance you may see disruption and change as boulders and obstacles, and they may be that. But make no mistake, there is water here. Water of life, rippling water, water of righteousness. This is our opportunity to join in, to jump in, to pick up our buckets, and to make a difference."
Audrey Stanton-Smith is editor of response.