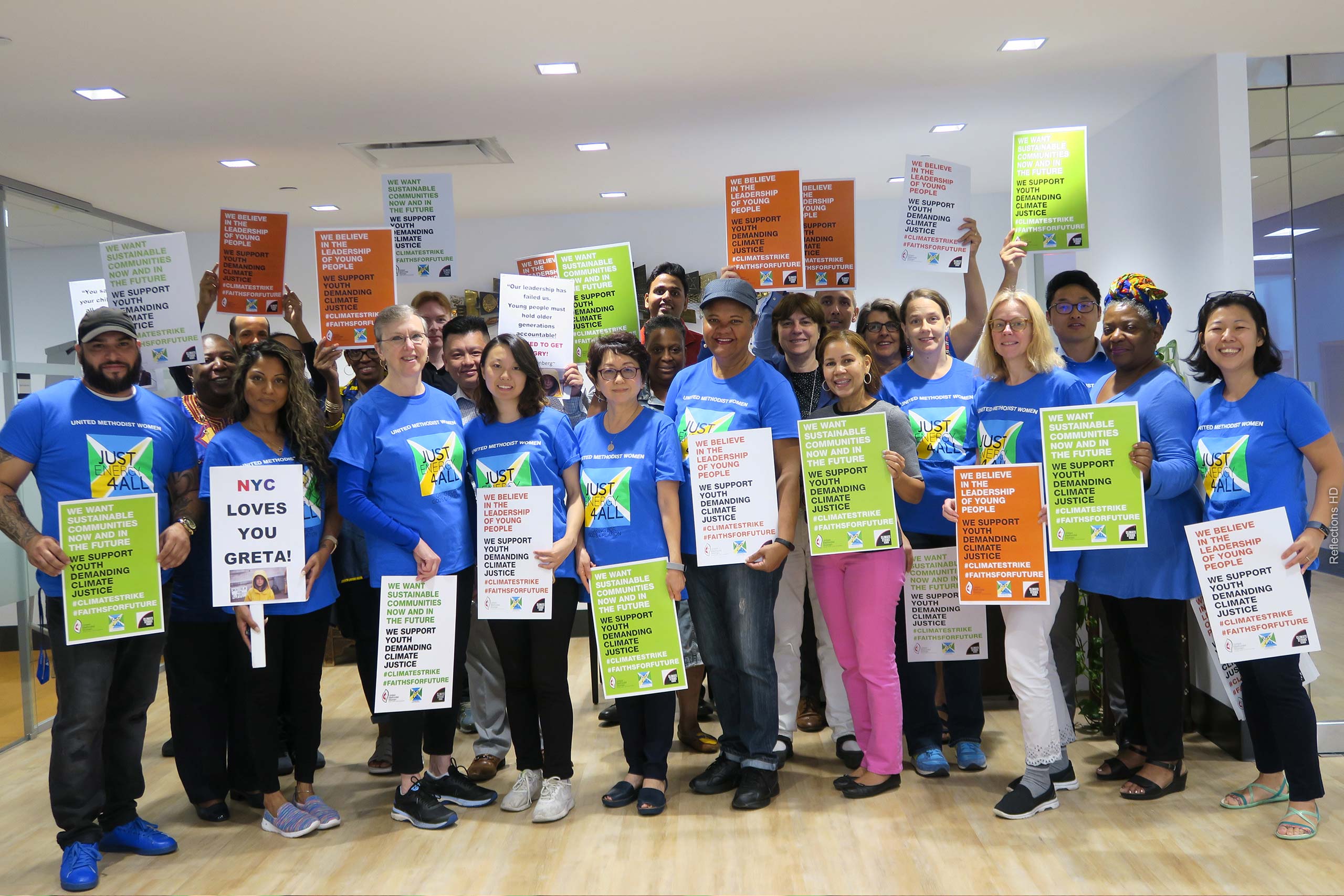 Latest News
Join the March to End Fossil Fuels
On September 17, join the call for President Biden to take action to end fossil fuels.
United Women in Faith and our Office of Economic and Environmental Justice invite you to take part in the March to End Fossil Fuels. On September 17, the March to End Fossil Fuels in New York will be an opportunity to put our love and faith into action and march to demand a just energy future.
Our reliance on unjust energy from fossil fuels is harming communities across the states and the world, increasing global warming, and polluting the air our families breathe. It's never been clearer than this summer, with wildfire smoke and heatwaves choking us: Fossil fuels are driving the climate crisis.
As women of faith we believe that we have an urgent responsibility to love the earth and all of God's children, and that is why we are working to advance renewable energy that is centered on justice and equity. The march will take place ahead of the United Nations Climate Ambition Summit where world leaders will gather on September 20th to commit to phasing out fossil fuels.
Join thousands of voices calling for just energy and the end of fossil fuels. United Women in Faith along with 600+ organizations will call on President Biden to:
Stop federal approvals for new fossil fuel projects and repeal permits for climate bombs like the Willow Project and the Mountain Valley Pipeline.
Phase out fossil fuel drilling on our public lands and waters.
Declare a climate emergency to halt fossil fuel exports and investments abroad, and turbocharge the build-out of more just, resilient distributed energy (like rooftop and community solar).
Provide a just transition to a renewable energy future that generates millions of jobs while supporting workers' and community rights, job security, and employment equity.
Fill out this form to RSVP for the march and get involved. For more information, visit endfossilfuels.us
Can't join the march but want to take action to end fossil fuels? Fill out our U.S. Fair Share petition and ask Congress to fund our fair share of climate finance programs and phase out of fossil fuels to decrease our emissions.
Details at a Glance
Date: Sunday, September 17, 2023
Location: Meet at Columbus Circle in Manhattan (register for details), New York, NY
Schedule:
11 a.m. – 12:45 p.m.: Coordination & interfaith service
1–4 p.m.: March
Stay connected with United Women in Faith
Join the monthly Just Energy for All webinars to build a team within your unit, district, or conference and sign up to receive climate justice updates.
We want to hear from you! Let us know what steps you are taking to end fossil fuels by sharing updates and photos with us via Facebook or e-mail: climatejustice@uwfaith.org
#ClimateEmergency #JustEnergy4All