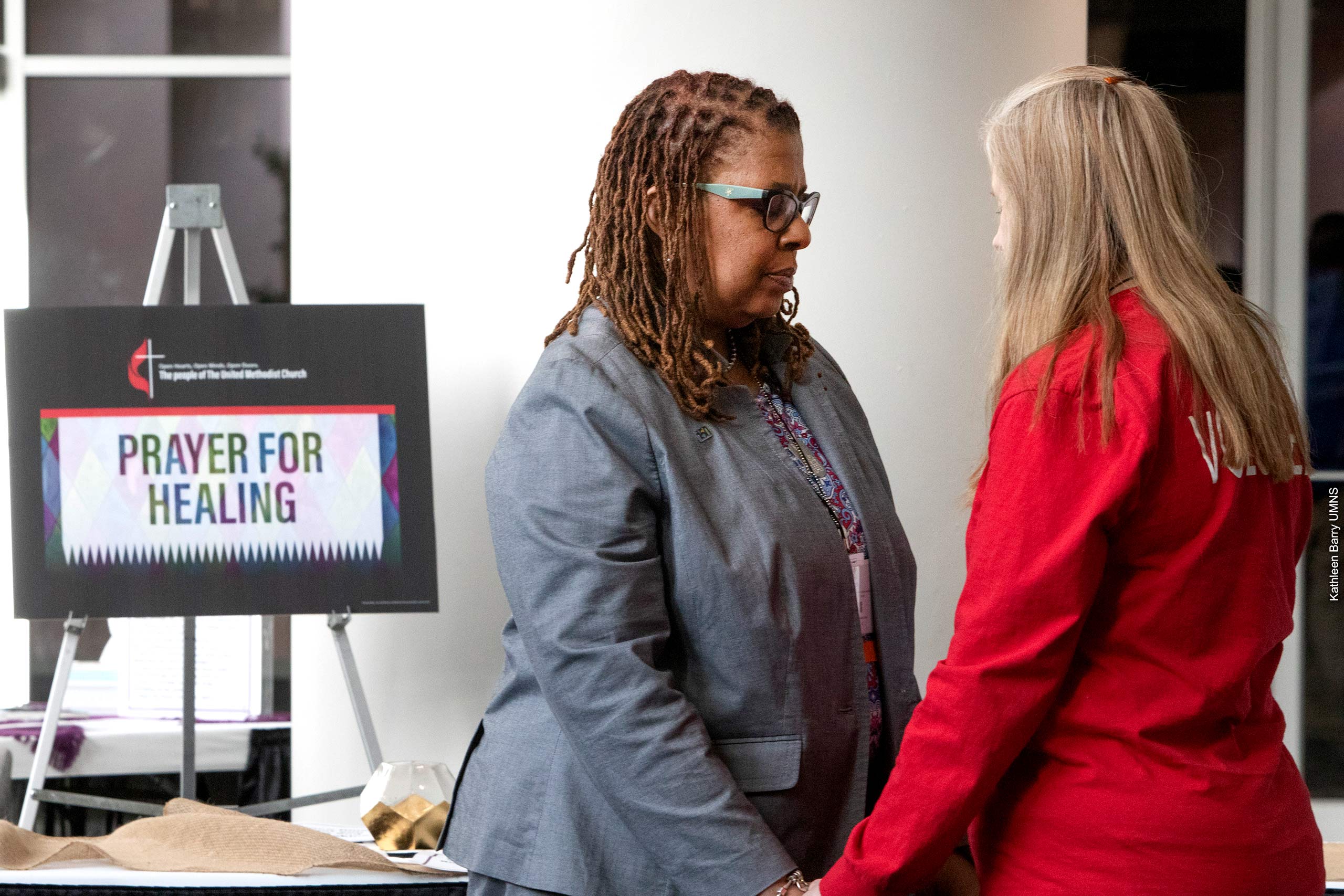 Latest News
May/June response: What's Happening in The United Methodist Church?
Amid exits and misinformation, change is a chance for hope and renewal.
by Tara Barnes
It's a time of change and transition in The United Methodist Church. As members of United Women in Faith and faith leaders in your churches and communities, you can be a source of strength and vision as we navigate new waters together.
This past year, hundreds of churches disaffiliated from The United Methodist Church, leaving the denomination to become independent congregations or join another denomination. Since 2019, around 2,000 churches have left the denomination, according to United Methodist News and the United Methodist General Council on Finance and Administration.
So what's going on?
In 2019, after a special session of the United Methodist General Conference, a new paragraph was added to The Book of Discipline of The United Methodist Church allowing local churches to leave The United Methodist Church, or disaffiliate, and keep their church building. Before 2019, leaving the denomination meant closing the church, with church property given to the annual conference board of trustees.
The provisions of the new disaffiliation paragraph expire Dec. 31, 2023, which explains some of the current urgency.
What isn't going on is a church split. There are more than 40,000 United Methodist churches worldwide, with nearly 13 million members. Nor have disaffiliations led to a mass exodus—but they have taken a toll.
How did we get here?
The 2019 General Conference that introduced disaffiliation into the United Methodist law book was an attempt by the global decision-making body to address the church's longtime and ongoing disagreement over homosexuality.
The special session was born of a recommendation by the Council of Bishops in 2016 "that the General Conference defer all votes on human sexuality and refer this entire subject to a special Commission, named by the Council of Bishops, to develop a complete examination and possible revision of every paragraph in our Book of Discipline regarding human sexuality." The goal was to keep our global denomination united and better able, by moving beyond our impasse, to make disciples of Christ for the transformation of the world.
The special commission, called the Commission on a Way Forward, offered a report on which the General Conference would act and included three possible plans for the future of the church: one that allowed but did not require the ordination and marriage of LGBTQ+ United Methodists, one that created three values-based conferences that churches could join, and one that maintained the denomination's wedding and ordination bans and increased the penalties for clergy who violated those bans.
By a difference of only 54 votes, General Conference supported the Traditional Plan, which reinforced the instruction that the "practice of homosexuality is incompatible with Christian teaching" and strengthened enforcement of church restrictions related to homosexuality. The new paragraph, "Disaffiliation of Local Churches Over Issues Related to Human Sexuality," also passed.
What resulted was a denomination with a broken heart—and United Methodists with heels dug in. Instead of exiting, many United Methodists who want the marriage and ordination exclusions removed have stayed to continue to work for a more inclusive church.
In response, in the leadup to General Conference 2020, an exit plan was brokered that would, if passed, allow local churches to keep their property and give $25 million to a traditionalist splinter group hoping to establish its own denomination. This legislation, called "Reconciliation and Grace Through Separation," or the Protocol, was more palatable to many traditionalists than the disaffiliation paragraph passed in 2019, so, though the disaffiliation paragraph was in effect, many churches decided to wait to leave until the next General Conference in hopes the Protocol would pass.
COVID-19 safety restrictions ultimately postponed the 2020 General Conference to 2024—past the disaffiliation time limit—and traditionalists decided to move forward with their new denomination in May 2022. With the disaffiliation deadline looming, the new denomination is rushing to encourage United Methodist congregations to leave The United Methodist Church. The proselytizing is at full steam, and misinformation continues to spread.
What do we need to know?
As members of United Women in Faith, it's important for you to know that you can remain a member even if your church disaffiliates. You can continue to meet as a United Women in Faith group, or your local unit can also become a cluster group with other units or become a district unit.
There's also All Access Membership, which offers an opportunity to remain connected to the work at the national level independent of a unit or with a new All Access group.
Individuals can join nearby and district groups and also become an All Access member. There are many ways to be a part of our sisterhood and make an impact! You can learn more at uwfaith.org/all-access-membership. Contact membership@uwfaith.org with questions.
If your church is leaving and you wish to remain United Methodist, you can transfer your membership to another United Methodist church. Contact your district superintendent to learn more about your options. You may even have an opportunity to become part of a collective, like Lighthouse Congregations, until you find your new church home. Your United Methodist conference should have some resources to help you remain United Methodist as well.
Because The United Methodist Church is not splitting, a vote by local churches on affiliation or disaffiliation is not required—no congregational action is necessary for United Methodist churches to remain a part of The United Methodist Church.
Know, too, that United Women in Faith is and remains the official women's organization of The United Methodist Church. This does not mean you must be United Methodist to be a member—it means our theology and practices of faith align with those of The United Methodist Church. We are a bold, welcoming sisterhood and a safe, empowering space for women to belong and grow in faith, leadership, and mission.
To learn more about who we are, check out our resources on our website at uwfaith.org.
Getting it right
We're in a strange place where folks are leaving The United Methodist Church based on a perceived future, and it seems the sky is the limit as far as some of those predictions go. You may have heard it said that The United Methodist Church will soon no longer believe in the divinity of Jesus, will edit the Bible, will disregard core tenets of Methodism altogether, will completely change its social and moral stances to extreme viewpoints in just a few years, will force out traditionalists, and other forecasting meant to instill anxiety and fear. None of this is true. Nor is it true that members of disaffiliated churches can continue to serve in leadership positions in The United Methodist Church, or that exiting congregations can continue to offer the same health benefits and pensions to staff, or that all pastors leave with their churches.
The United Methodist Church makes decisions together through elected delegates from around the world coming together to conference and vote. These delegates bring a great variety of reason, tradition, experience, and understanding of Scripture to these decision-making spaces, and United Methodists strive for diversity and unity, not conformity.
The future of The United Methodist Church is ours to make.
Hope for the future
Methodism dates back to 1730, when John and Charles Wesley started small student groups at Oxford University in England. The United Methodist Church was founded only in 1968 as the coming together of many Methodist and Evangelical United Brethren denominations that had their own splits and mergers. Our organization has had more than 20 names and iterations. In other words, we've been here before, and the church is still here today.
Disaffiliation is a big decision that should not be made without prayer, transparency, information, and conversation. You, as a faith leader, can be a great resource for your congregation and Methodist siblings in this time in our church, lending your ear, faith, and knowledge and offering clarity, conversation, and comfort.
You are a member of United Women in Faith. You dare to believe in a bright future—and do the work to make it happen.
We are in a time of change. Like the women who faced such challenges before us, it's our turn to make change an opportunity to reach and uplift even more women while we take care of one another in the transition. It won't be easy, but it will be worth it. Joy will be found, for we know who and whose we are. We are faith, action, and sisterhood. The next United Methodist General Conference will take place April 23 to May 4, 2024, in Charlotte, North Carolina. United Women in Faith will be there.
It is our ability to change, grow, and continue to let God perfect us in love that keeps us going. God is still at work in The United Methodist Church. United Women in Faith has a crucial role to play in building God's kin-dom.
Tara Barnes is director of denominational relations for United Women in Faith.
---