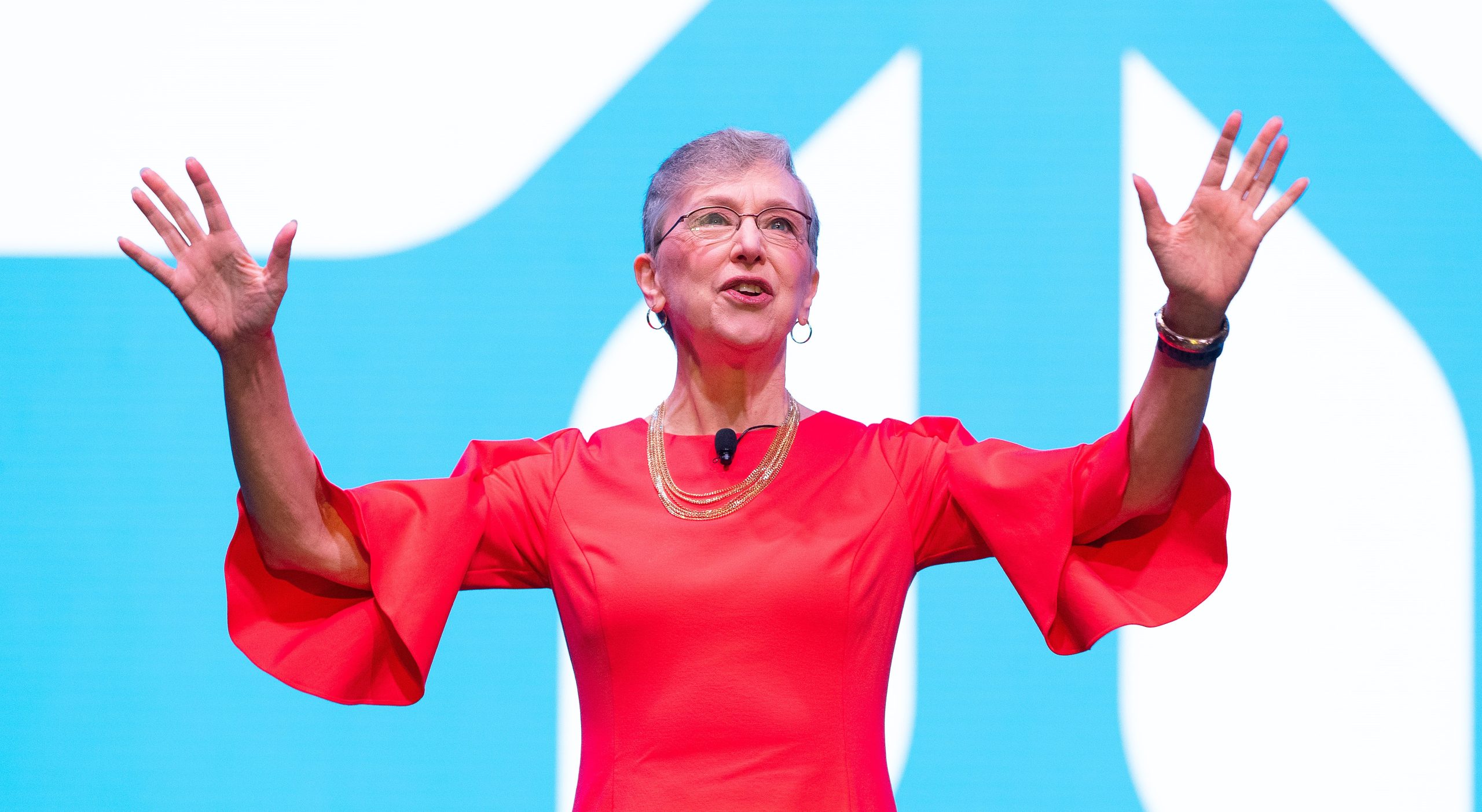 Blog
Women Turn It Up at Assembly 2022
Thousands celebrate United Women in Faith at the 2022 Assembly
by Tara Barnes, Jessica Brodie, and Mary Beth Coudal
More than 3,000 gathered in Orlando, Florida, and online for United Women in Faith's Assembly 2022, held May 20-22 at the Orange County Convention Center. Twenty-four countries and all 50 states were represented at the event with the theme "Turn It Up!"
Hundreds of women even came a day early for an Ubuntu Day of Service on Thursday May 19, putting together seed, meal, and hygiene packets for local Florida outreach organizations, including Cornerstone Family Ministries, a United Women in Faith national mission institution supported by members' giving.
Keynote speakers were the Rev. Sung Yeon Choimorrow, Heather McTeer Toney, and General Secretary Harriett Jane Olson. This Assembly also featured a theologian-in-residence, Janet Wolf, author of United Women in Faith's mission study Practicing Resurrection: The Gospel of Mark and Radical Discipleship, who preached throughout the weekend.
"I often say that though it was divinity school that officially set me on the path to ordination, it was United Women in Faith that helped me believe that women are ordained by God to be full partners in ministry," Wolf said. "And it was United Women in Faith who propped me up on every leaning side when the going got hard."
United Women in Faith Board of Directors member Daryl Junes Joe opened the first Community Gathering by naming Florida's Indigenous Peoples into the space.
Choimorrow is executive director of the National Asian Pacific American Women's Forum. She spoke on Friday morning about the rampant racial discrimination and injustice toward Asian American women and girls and challenged attendees to show love for neighbors in ways that are bold and inconvenient in order to change the trajectory of racism.
Lawyer and environmentalist Heather McTeer Toney spoke about the urgency and joy of caring for creation.
"When people tell us it's too big, that environmental justice is too hard, that climate crisis is just too massive, our response should be: 'But you don't know my faith because nothing is too hard for God,'" Toney said. Toney attends Oxford University United Methodist Church in Oxford, Mississippi.
U.S. Secretary of the interior Deb Haaland also joined Assembly 2022 via video, speaking on the moral responsibility women of faith have when it comes to climate change, environmental reform and caring for the earth.
Attendees also heard from National President 'Ainise 'Isama'u and other members and leaders during the Community Gatherings, town halls and workshops, and the Rev. YaNi Davis brought prophecy through poetry.
United Methodist Bishops Kenneth Carter, LaTrelle Easterling, Cynthia Fierro-Harvey, Peggy Johnson, Tracy Smith Malone, Karen Oliveto, and Ann Sherer-Simpson participated throughout the weekend along with United Methodist General Secretaries Greg Bergquist, Ashley Dreff, Roland Fernandes, Jeffrey Campbell, Dawn Hare, Susan Henry-Crowe and Chief Connectional Ministries Officer for the Connectional Table Kennetha Bigham-Tsai.
A new way to assemble
For the first time in the history of the event, Assembly offered a virtual attendance option. More than 1,000 people participated in Virtual Assembly 2022, joining the Community Gatherings live and gathering together for their own virtual workshops, the slides from which were available for download after the workshops.
Virtual attendees were offered the first opportunity to purchase United Women in Faith tote bags and received exclusive backstage interviews with speakers, band members, and dancers. They also received exclusive access to the documentary Pushout: The Criminalization of Black Girls in Schools.
Attendees of the virtual event were encouraged to create their own sacred space and were given journal prompts, prayer and meditation resources, and a guide to gentle yoga.
"Virtual Assembly left me feeling inspired, energized, and excited, and it connected me to United Women in Faith sisters," said Gail Nelson from Wisconsin. "Attending virtually provided a full Assembly experience; it was not a 'second-best' way of attending."
Virtual participants even had their own mix and mingle and do-it-yourself Ubuntu Day of Service.
Putting love in action
On Saturday evening United Women in Faith's Elizabeth Chun Hye Lee and Emily Jones invited Assembly attendees to join in the organization's Just Energy for All and Interrupt the School-to-Prison Pipeline campaigns.
On each chair in Orlando were postcards to be sent to elected representatives urging them to pass legislation that advances climate justice and helps protect children from racist policies in their schools. Attendees filled out their cards, which were collected to be mailed by the United Women in Faith national office.
"I urge you to act," said Lee, United Women in Faith's executive for environmental justice. "Thousands of these postcards will flood Congress from May to July. And you can amplify your voice by organizing a postcard writing campaign utilizing our online toolkit. It's that simple. Thank you for taking collective action, because we are more powerful together."
Virtual attendees joined in the action by signing petitions online. The four petitions are "Access to Healthy Air Is an Inherent Human Right," "End Corporal Punishment in Schools," "Counseling Not Criminalization in Schools," and "Help End School Pushout."
Learning for transformation
Workshops at Assembly focused on soul care, leadership, and change-making. More than 40 workshops were offered, including 10 on a Leadership Development Days track for women serving in conference-level leadership roles in United Women in Faith.
Renee Airhuoyo attended the workshop "Learning to Breathe: Understanding the Power of Our Emotions."
"I am a teacher in the New York City public school system. Because of COVID-19 and all the things that are going on, trying to control my emotions and manage them are key to having a successful day in this school, so I knew I could benefit from learning how to breathe and address my emotions," she said.
Assembly 2022 also featured a live Faith Talks podcast recording about women in leadership and two town halls focusing on United Women in Faith advocacy issues: "Restoring Just Relationships: The Critical Role of Just Transition Toward Climate Justice, Just Energy for All" and "For Such a Time As This: Racism, Antiracism and The United Methodist Church." Virtual attendees also got access to the podcast recording and town halls.
Music that moves
Assembly 2022 featured an all-woman band, which was co-led by Grace Pugh Hubbard and Makeda McCreary. The music complimented perfectly the mood and the message of each Community Gathering. The musicians worked together virtually to plan for the large event. They didn't meet in person until the week of Assembly. McCreary said they learned one another's styles and cues quickly, and the newness of being together brought a special energy that may not have existed otherwise.
"There was a bit of anticipation and nervousness wondering how we were going to vibe," admitted McCreary, "but there was also the feeling of, 'Yeah! Let's see how we all put it together! This is going to be an adventure!' and that brings an excitement to it."
Vibe they did. So well, in fact, they composed an original song for Assembly appropriately titled "Turn It Up!"
Band members included Hubbard and McCreary along with Ana García Caraballos, Lydia Smith, Jessica Fox, Lynn Braun, and Maria Sottile.
Golden moments of sharing and networking
This year's experience hall featured more than 40 exhibitors, including many United Methodist agencies and organizations. The exhibit space also offered a large section dedicated to spontaneous gatherings for various affinity groups. These mix-and-mingle spaces, complete with comfy chairs and table groupings, allowed women to informally network and make new acquaintances. Visitors could even play corn hole or join a knitting group!
Innovative resources on display included videos of new opportunities for membership and participating, like the All-Access Membership and the Soul Care retreats. Each of the five jurisdictions hosted a table, signing up volunteers to help organize United Women in Faith jurisdiction events in 2024 and sharing their own region's bright and creative ways of nurturing and growing membership. The Legacy Fund was represented with an interactive display where attendees could play games.
The Experience Hall also featured a bookstore where attendees could purchase United Women in Faith resources like the Prayer Guide, Program Resource, mission studies and response magazine. Upper Room provided books on spiritual growth, soul care and racial justice. The bookstore also featured jewelry and new United Women in Faith tote bags. Author signed books throughout the weekend. By Saturday evening, everything had sold out. You can find United Women in Faith resources at our e-store.
Finding peace at Assembly
Set up and sponsored by deaconesses and home missioners, Assembly 2022 also offered a place for attendees to rest and nurture their souls and connect with God at the prayer and meditation room, open all day each day of the event and featuring a prayer labyrinth, prayerful art activities, mini workshops, visio divina, creating psalms and more. The room was sponsored by Brooks-Howell.
A community of fierce, compassionate, powerful women
General Secretary and Chief Executive Officer Harriett Jane Olson brought the message for Sunday morning's closing worship.
She spoke about her experiences in high school theater, about the various roles needed to bring a play together: actors, directors, costumes, orchestra, sets, lighting, rehearsals, faith.
"And then suddenly it's opening night," she said. "The lights come up. The orchestra plays. The pieces come together and—pop: the story takes over. The characters come alive. All of that learning and all of that preparation comes together in an amazing way that you never thought was possible."
That's what it's been like not only for Assembly but for imagining what it might mean to be United Women in Faith, she said.
"We're working to see God's call into the future and—pop: here we are. Around the connection people are seeing the potential."
Olson shared a vision for the future of the women's organization.
"I imagine a community where diversity is baked in, not something we struggle with every day but part of who we are because we know that it's necessary to be who God calls us to be in the world. I imagine a community that's so compelling that women are coming to us and saying, can I join? I imagine a community of fierce, compassionate, powerful women known as United Women in Faith."
A personal commitment to making an impact and extending the sisterhood is one way Olson offered for living into this future.
She spoke of the organization's ability to adapt to changing needs to keep the work going. The work of the board, of partnerships, of outreach, of learning, of hope continue even under difficult circumstances because of a creative sisterhood connected to make an impact.
She also spoke about the years of listening and learning United Methodist Women engaged in on the journey to becoming United Women in Faith. Though different women and different generations may have different styles and strategies, she said, their core commitments, work for justice, love of God, and care for women and children are shared values.
"Friends, that's great news," Olson said.
"We need to tell our story of our impact. So get those horns out, get them polished, and start tooting them! We can be even more a place where women of all ages, all ethnicities, cultures, economic classes, LGBTQ women, straight women, rural women, urban women, all women can know this is a place where they can feel safe and belong."
Leaving a legacy
For the first time Assembly goers had a chance to attend a Legacy Banquet in support of the Legacy Endowment Fund, a future-facing endowment to ensure the work of United Women in Faith continues for 150 more years and beyond. More than 700 members and supporters attended the dinner.
To support the ongoing work of the organization, members generously donated more than $25,000 to the Assembly 2022 offering—with more to come! If you'd like to contribute to the Assembly offering, you can donate through your local treasurer or send a check with "Assembly offering" in the memo to: United Women in Faith, Attention: Gift Processing 475 Riverside Drive, Suite 1500, New York NY 10115.
You can also give online and leave a comment noting that your donation is in celebration of this amazing Assembly.
Be sure to join us for the next Assembly May 15-17, 2026, in Indianapolis! Check out photos on our Flickr page, and subscribe to response magazine today so that you do not miss the September/October 2022 issue that will feature even more stories and photos from Assembly 2022.
"Now is our chance to live the vision to make an impact, to build the sisterhood, to be change-makers in a change-making organization," Olson said in her Sunday address.
"Are you feeling bold? Are you feeling empowered? Are you feeling excited? Are you ready? I'm ready. Let's do this."
Tara Barnes is editor of response magazine. Jessica Brodie is editor of the South Carolina United Methodist Advocate. Mary Beth Coudal is a writer and teacher in New York City.